Netball State Champions
13/09/2023
School Sports Victoria – State Netball
Year 7 Girls & Year 8 Girls
Year 7 and Year 8 girls travelled to the Waverley Netball Centre in Melbourne on Friday 1 September to represent Catherine McAuley College at the School Sports Victoria State Netball Championships. Both teams had a sensational day with the Year 8 team making the semi finals while the Year 7 won their Grand Final to become State Champions.
Year 7
In a stunning display of talent and unwavering determination, our Year 7 CMC Netball team made an enduring impression State Netball Championships.
During the preliminary rounds, our players displayed their exceptional talent and determination, going undefeated and leaving their mark on the competition. The semi-finals saw them continue their winning streak with a comfortable victory over St Helena Secondary College.
However, the ultimate challenge awaited in the Grand Final against Western Heights College, a team they had previously defeated with ease during the rounds. In a thrilling and closely contested match, our Year 7 girls emerged as the State Champions, securing the title in dramatic fashion by one goal! It was an incredible game to watch. We are immensely proud of their outstanding performance, which exemplified not only phenomenal netball skills but also unwavering sportsmanship.
Congratulations to our Year 7 State Champions!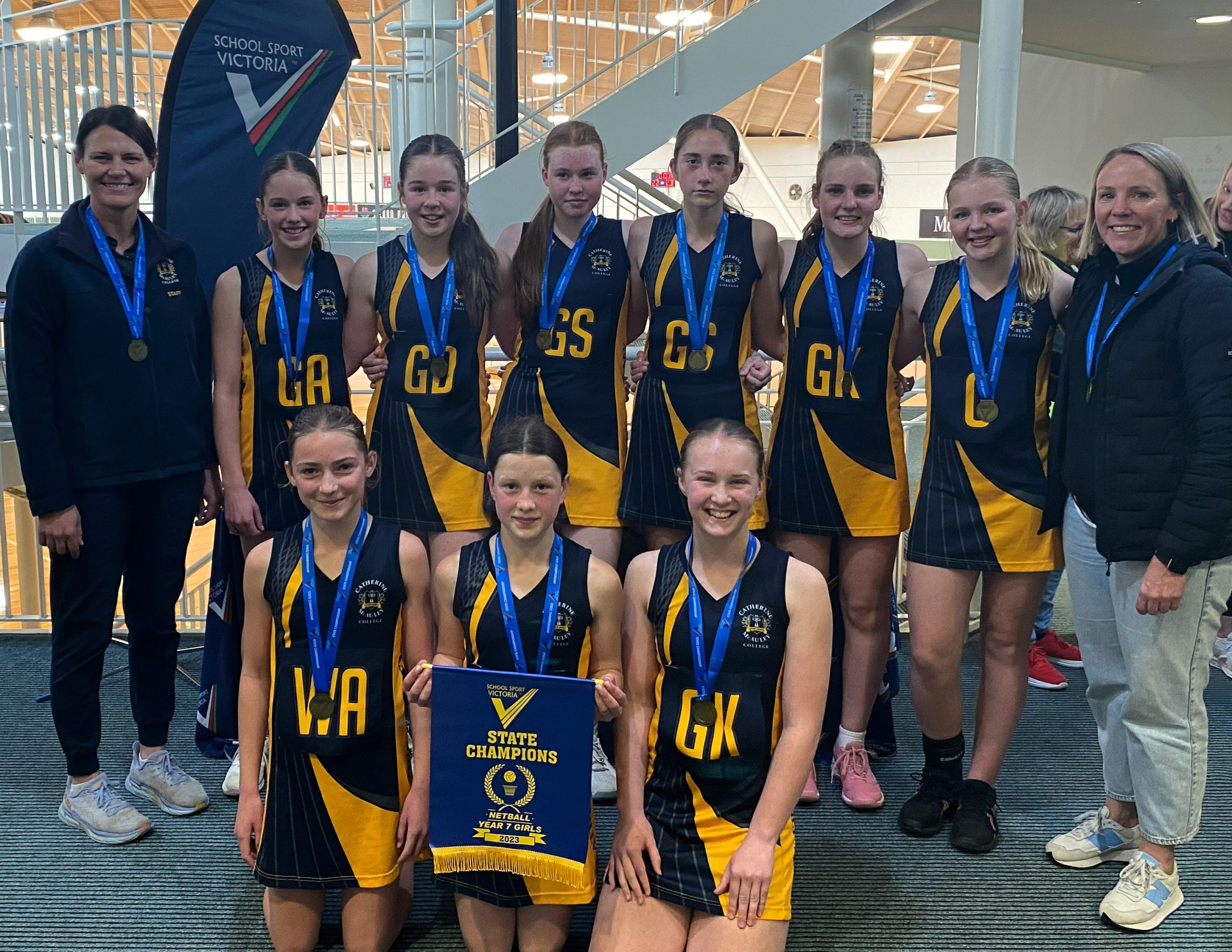 TEAM: Hannah Gretgrix (Coach), Molly Beasley, Eva Grant, Mia Cox, Sophie McDermott, Macey Pinner, Lilly Teuma, Belinda Pinner (Coach), Imogen Brown, Tarli Nihill, Ella Tyrrell, Alexis Arundell
Year 8
The first game for the Year 8 Girls was against Lavalla Catholic College. A win of 26-8 with a very strong second half was a great start to the day and gave us the opportunity to rotate players.
The next game, against Williamstown High School, was closely contested. Although we were down at three-quarter time, we were able to work strongly across the court to win by just one goal – 17-16.
We lost to Rowville Secondary College 16-19 in what was a tough and physical contest where there was never more than one break or intercept between us. Although we had our chances, Rowville took the advantage by three goals in a very tight game.
After making it into the State semi-final we were up against Emmanuel College, the team we played in the State Final last year. We knew it would be tough and Emmanuel got a five-goal jump on us in the first quarter. From there it was a very even contest, with our team combining to work hard over the court to try and peg the lead back. Emmanuel are an amazing team and we really did ourselves proud in the game team, finally conceding the match 23-30.
Emmanuel went on to be overall State Champions defeating Rowville Secondary College by six goals in the Grand Final.
Everyone in the team represented the College with pride and amazing sportsmanship throughout the day. Umpires made mention of the beautiful game the girls play and how nice it is to umpire them! Congratulations to everyone involved in the team and to all our entourage who travel with us!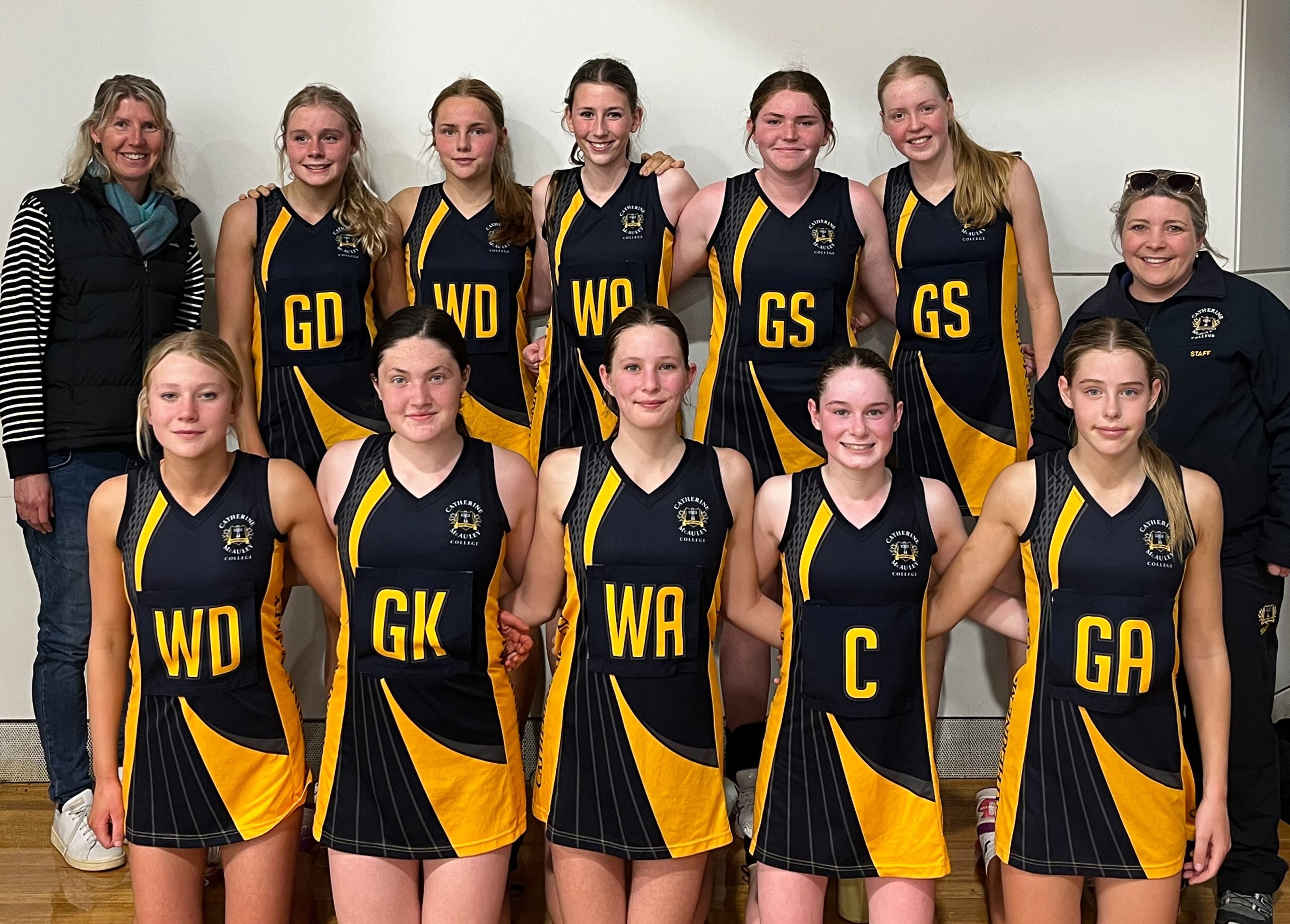 TEAM: Julie Fennell (Coach), Eden Pollard, Stephanie Ingram, Bella Lalor, Ginger Hay, Lexie Fennell, Sharna Frawley (Coach), Chella Fitzgerald, Lexi Brennan, Juliet Hogan, Maggie Lamb, Dempsey McDonnell