Netball – fast paced at Victorian Schools Championships
10/08/2018
VICTORIAN SCHOOLS NETBALL CHAMPIONSHIPS
Five teams represented Catherine McAuley College at the preliminary rounds of Victorian School Netball Championships that were held in Melbourne on Tuesday 31 July. All teams played amazing netball and should be very proud of their efforts and the way they represented the College.
Senior Girls
The Senior Girls played five games against some challenging opposition; at the conclusion of all rounds they finished a very credible 3rd in their pool.
Game 1 v Sacred Heart Kyneton. Loss 7 – 12: The first half was a tight contest with the girls chasing every ball. Sidney Niemann played a strong game in GS despite the physicality of the GK. Sidney was fed well by Paige Ryan at WA. At half time we were down 5 – 6. Abbey Powell came on in Centre and provided some strong drives out of the defensive end. Unfortunately, we went down by 5 goals to the overall pool winner.
Game 2 v Aquinas College Loss 2 – 7. We had a slow start to this game. Ally Rosaia came on into GS and moved and shot very well. Phoebe Kane worked overtime in WD and managed a few turnovers, but opportunities were few and far between. We were down by 2 goals going into the second half. The opposition goalers were unstoppable in the second half, despite brilliant work by Bridie Semmens in GK and Abbey Powell in WD.
Game 3 v Ave Maria. Win 12 – 7. We mixed up the line-up for this game with Mikeely Baber starring in WA feeding Ellie Wilson and Ally Rosaia in goals. All goalers were very consistent all day. Bridie and Emmie Banfield demonstrated outstanding defensive work and caused many turnovers and enabling a win – it was a great team effort.
Game 4 v Eltham College. Win 13 – 4. Sidney and Ellie combined very well in the goal circle, creating space and using smart tactical plays. We were up 7 – 4 at half time. Matisse Perez came on in the second half and dominated the Centre position. She was able to use the space well on the court and get the ball quickly out of defence. Bridie and Emmie exhibited a perfect defensive effort in the second half, keeping Eltham to scoreless. A great win.
Game 5 v Camberwell Girls Grammar School. Win 13 – 1. Phoebe moved into GD and was consistently hard at the ball creating many turnovers combined with the great back-up skills of Emmie. Mikeely created some great attacking plays in WA with Paige providing some strong drives onto the circle. At half-time we were up 8 – 0. The second half saw Ellie and Ally combine in the circle with Matisse providing many scoring opportunities for the goalers from the centre position. A great end to the day.
Congratulation to Ellie Wilson and Paige Ryan who, throughout their six years at the College, have both been selected and played in every netball team. They have shown great athleticism, talent and sportsmanship.
Congratulations to the remaining year 12 girls who have also represented the College in netball for several of their secondary school years – Phoebe Kane, Sidney Niemann, Mikeely Baber and Ally Rosaia. Thank you for your dedication to take time away from your schooling and your commitment to trainings.
Thank you to Abbey Powell for willingly coming in at the last minute to replace an injured player. Champion! Thank you to Bridie, Emmie and Matisse for putting in such a consistent effort all day and taking time away from your studies.
Thank you to Maree Pearce for all your organizational work in the lead-up and on the day. Thank you for the many and varied roles that you undertake to make our experience just that extra bit special.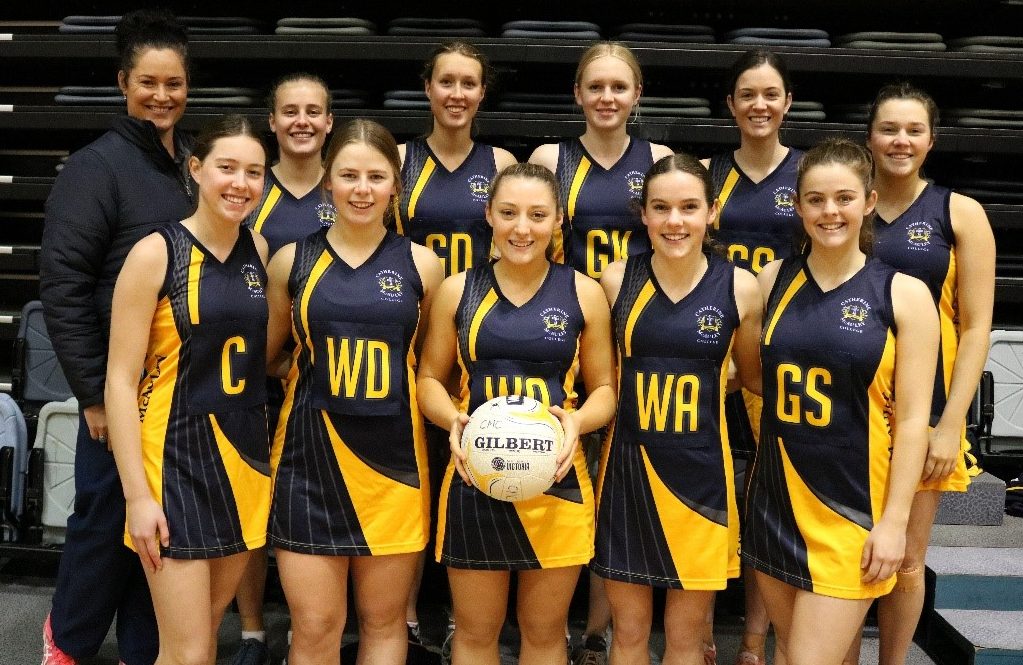 Back Row L-R: Miss Anthea McEniry (Coach), Ellie Wilson JR10, Bridie Semmens CH10, Emmie Banfield VT11, Sidney Niemann BK7, Mikeely Baber BK7
Front Row L-R: Matisse Perez JR10, Phoebe Kane MY9, Paige Ryan MK11, Abby Powell BK8, Alessandra Rosaia VT9
Intermediate – Year 10 Girls
The Year 10 girls had a rough start to the day by first up playing the team who ended up undefeated for the day. The girls ended up going down by 13 goals. Coming into the second game, the girls refocused and went back to the basics and this helped them to come away with a win by 10 goals in a 14-minute game.
Games 3, 4 and 5 saw the girls play outdoors where they would have to factor in the wind and cold breeze. Fortunately this didn't change the team's focus as they won all three games by at least 10 goals.
The final game of the day was a fight for second spot on the ladder against Forest Hill Secondary College. The girls were up by 5 goals at half time, all they had to do was play their game and maintain possession to take out the win. Luckily, the girls made good decisions with the ball and created space to allow them to win the game by 6 goals. The girls finished second on the ladder for the tournament – Congratulations and well done girls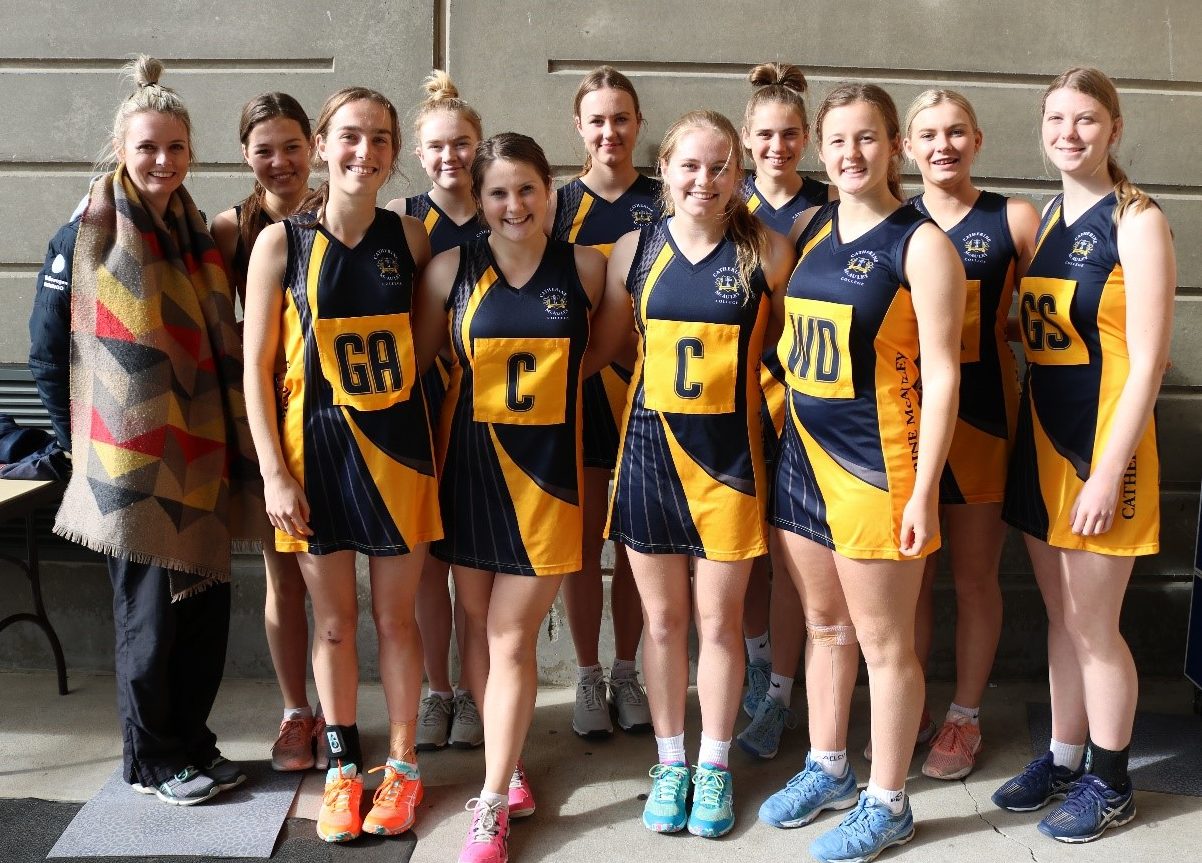 Back Row L-R: Aleisha Gill (Coach), Bridget Turner CH7, Bronte McConnachie MK9, Ruby Turner CH8, Madeline Marks JR11, Lily Dickson MY7, Morgan McClellan MY10.
Front Row L-R: Tess Keating CH9, Holly Normoyle CH8, Cailin Green JR7, Livia Rosaia VT7
Intermediate – Year 9 Girls
On Tuesday 31 July, we competed in the Victorian Schools Netball Championships at the State Netball Hockey Centre in Melbourne. We played in the Intermediate competition against both Yr 9s and Yr 10s and were split into three pools to compete across the day.
Our first game was against Ave Maria College and we won 10-4. Our next games were all wins against Bentleigh SC (17-5), Camberwell Girls Grammar College (19-4), Wesley College Glen Waverley (12-1) and Templestowe College (19-3). Our last game to ensure we kept top spot on our Pool ladder was against Wanganui Park Secondary College, winning 20-8. This meant we had finished on top of our pool and progressed to the State Finals in September. Playing impressively throughout the day, the girls represented CMC admirably, showing excellent sportsmanship and determination as well as having many laughs! Our defensive pressure all over the court, the ability to move the ball from defence to attack seamlessly, our accurate goaling and very tight defence set us up for a great day. Well done girls!
Sharna Frawley (Coach)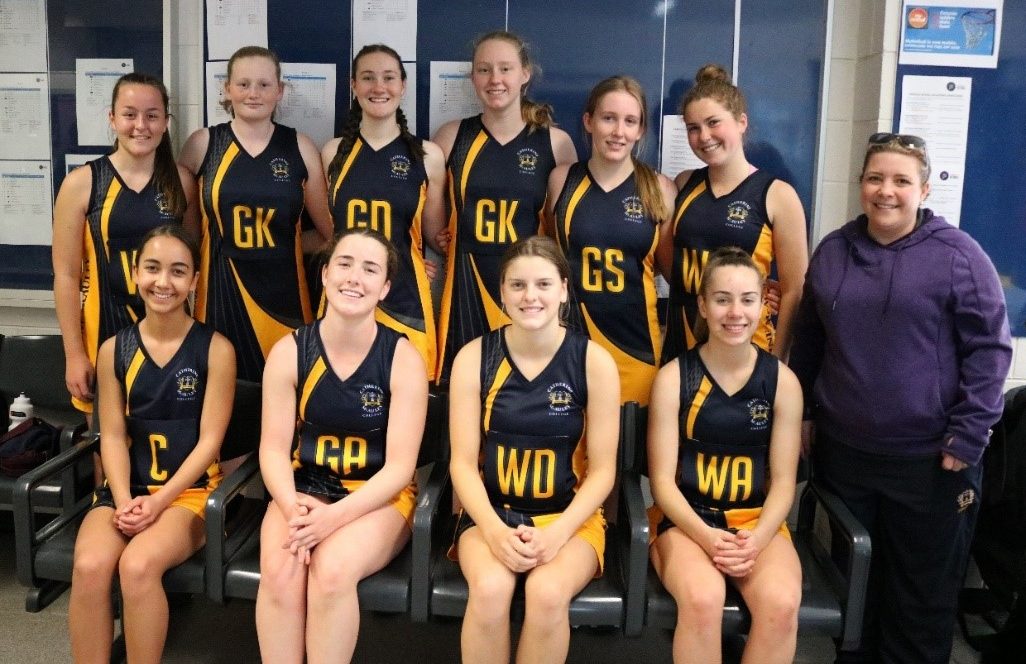 Back Row L-R: Ellie Donnellan MY3, Nikita Matthews MY1, Deanna Duane CH3, Piper Dunlop VT3, Tahlee O'Keefe MY3, Carissa Brook MK3, Mrs Sharna Frawley (Coach)
Front Row L-R: Tiahna Leader MY3, Abbey Clohesy MK1, Milly Moon-Manning BK3, Meg McCarthy VT3
Junior – Year 8 Girls
The Year 8 girls had a massive day at the Vic Schools Championships. They played 8 games in total and won 7 of those games. They unfortunately lost their first game against Maribyrnong College, which meant they did not progress to the next stage, but they stood out as very talented team throughout the day. Ava Hamilton captained the team and they all demonstrated some fantastic netball skills, encouraged each other and had lots of fun at the same time. Overall, a fantastic day. Thank you to everyone who was involved.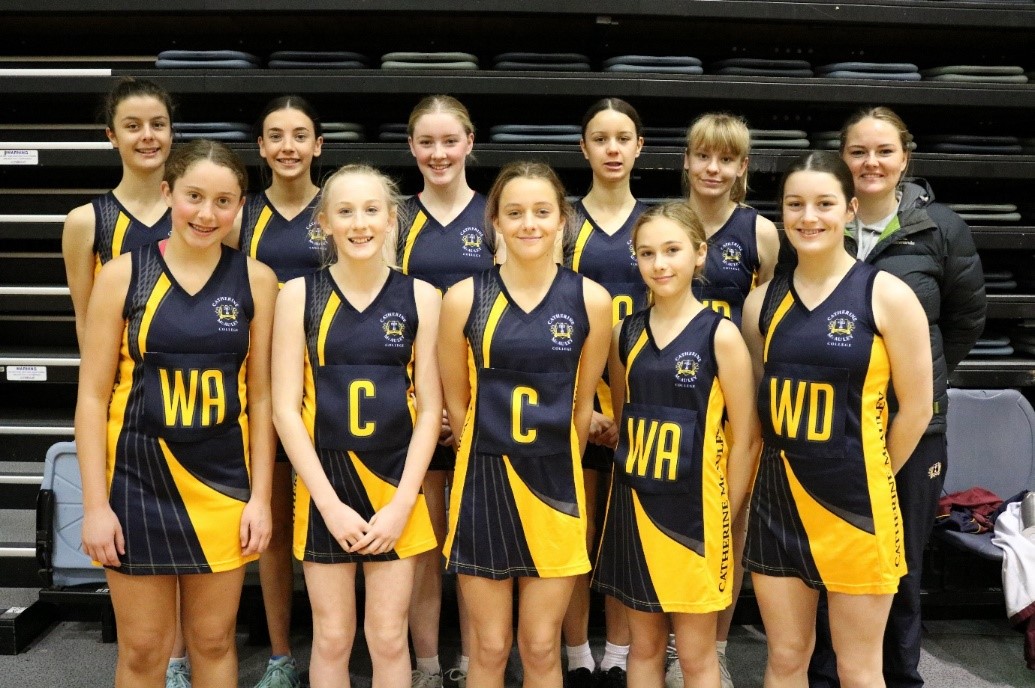 Back Row L-R: Katie Dean VT2, Ava Hamilton MK2, Eloise Pinniger MK4, Aimee Dean VT1, Charlotte Crouch MK3,
Front Row L-R: Jorja Whatley BK3, Amaya Schmidt MY4, Lily Trimby BK4, Hannah Kopp MK4, Tahlia Isaac MY2
Junior – Year 7 Girls
Our first two games were against Aquinas College and Lauriston Girls School. They were both tough games and we took some time to adjust to the faster pace. In the third game, we came up against Wanganui Park SC from Shepparton. It was a low scoring game with both teams evenly matched, finishing with a 3-all draw.
We were desperate for a win, and played a strong game against Presbyterian Ladies College, taking the match 10-7. In the next game, we faced Eltham High School. Although Maggie and Hannah did not miss a goal, the game ended in yet another draw – 8-8.
Williamstown High School were the leading team and got a shock when they faced us in the next round. They were expecting an easy game, but found they were drawing at half time. They upped the ante in the second half and we went down to the eventual winners.
Trinity Grammar School also proved too strong for us, but we finished the day on a high; winning our final two games against Wesley College and Sacred Heart Kyneton. Nine games later, we were exhausted, but happy that our netball had improved, and we had done ourselves proud competing in the Year 7-8 competition.
We will come back again next year bigger, stronger, and more knowledgeable about the game we all love. Congratulations to each of the girls who have been excellent ambassadors of our college throughout the season, demonstrating outstanding sportsmanship at all times.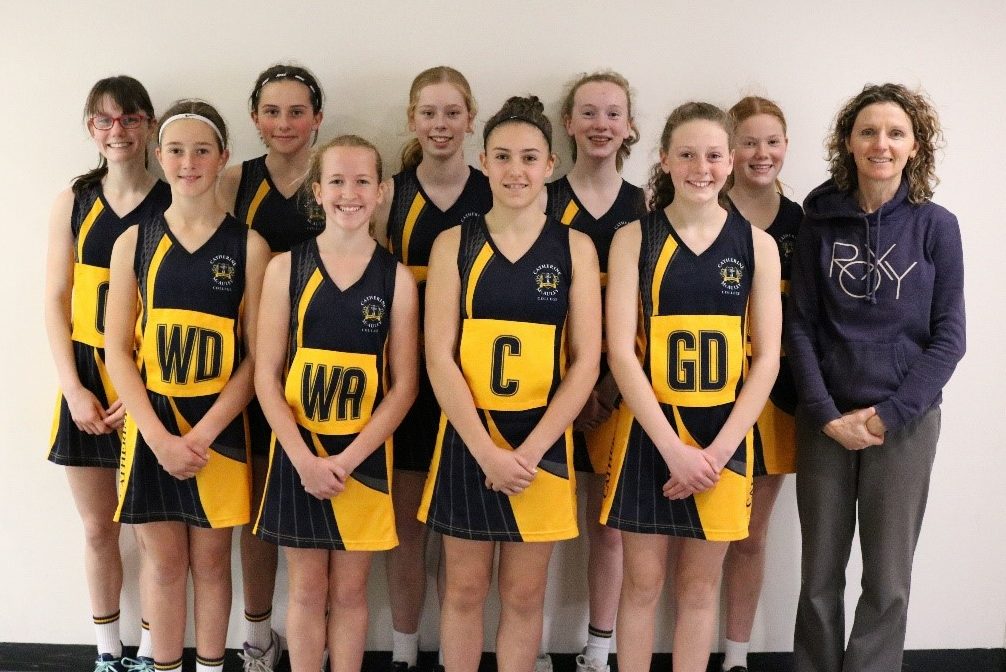 Back Row L-R: Maggie Keating CH5, Bryde O'Rourke JR4, Jade Kelly CH4, Hannah Tyndall MY1, Maggie Burke MK4, Mrs Kate Kingsley (Coach)
Front Row L-R: Alex Langley CH5, Caitlin Evans JR1, Ella Raco JR2, Akeily Pearce MY1