Maya Flood named Musician of the Year for 2019
20/09/2019
Congratulations to Year 10 clarinettist Maya Flood who was awarded the prestigious Musician of the Year Award at the annual concert on 12 September.
Thirteen performers from Years 8 – 12 took to the stage for this major event in the annual performance calendar, impressing the audience with a wide variety of instruments, styles and genres.
Maya played Flight of Fancy by Matthew Orlovich. The competition was extremely close, making the decision difficult for the adjudicators. Blaze Houlden (saxophone) and Peter Shearman (drums) took out second and third prize respectively. Adjudicators named Amelie Ryan (voice) winner of the Emerging Artist Award.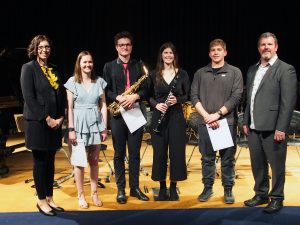 The College was very fortunate to engage the services of two highly-experienced Bendigo musicians and educators to adjudicate the evening, Cally Bartlett and Matthew Pankhurst.
It is important to celebrate music at a high level, to showcase those working towards big goals in their musical education. The Musician of the Year evening reflected this hard work. It was awesome to experience such good quality of music on display. I really enjoyed sitting and listening to these students getting up and performing.
The performance experience was a valuable part of the night, giving students a sense of the energy and poise needed on stage. Of course, it was also good for them to practise managing their nerves when performing.
I am proud of all the students who put themselves forward for the Musician of the Year concert. Performing in front of an audience is the only way to improve your performance skills.
We are very grateful to Cally Bartlett and Matthew Pankhurst for adjudicating the evening and to Adam Przewlocki for accompanying our students. Thank you to our generous sponsor Fine Music. Thank you also to our dedicated music staff for their efforts in staging this evening.
The Stage Band also entertained the audience at the Musician of the Year evening, beginning and ending the concert with great energy and style.
This event is only one on the College's busy performing arts calendar. The music program at Catherine McAuley College is growing exponentially. With a burgeoning concert band co-curricular program, students have a wealth of opportunities to develop their performance skills. Earlier this year, our bands competed in the Victorian Schools Music Festival, in Melbourne for the first time, coming home with two silver medals.
Mrs Ashleigh Yeates, Instrumental Music Coordinator