Loddon Mallee Tennis
16/06/2021
SCHOOL SPORT VICTORIA –  LODDON MALLEE REGION
Students demonstrated their commitment to tennis by setting off at 4 .15am to compete in the Loddon Mallee Region Tennis finals in Mildura on Monday 26 April.
Year 7 Girls
Despite a valiant effort, the Year 7 Girls team, unfortunately, lost to St Joseph's College Echuca, ending their school tennis campaign.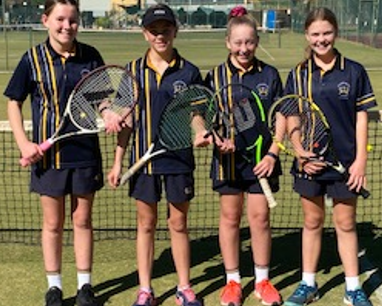 L-R: Ava Terry, Milly O'Shannessy, Samantha Hill, Isabella Monotti
Year 8 Girls
The Year 8 Girls team successfully won their division, beating Irymple Secondary College – 22 games to 9, Swan Hill College – 20 games to 14 and St Augustine's College Kyabram – 20 games to 5. The girls now progress through to the State Finals.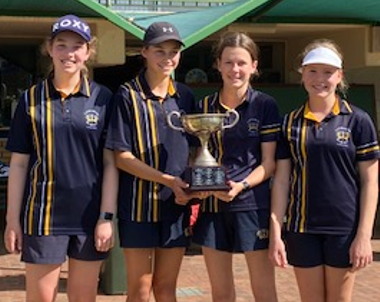 L-R: Meg O'Callaghan, Genevieve Nihill, Lucy Trewick, Sophia Monotti
Year 8 Boys
Our determined Year 8 Boys also had a great day. They defeated St Augustine's College Kyabram in a close match – 19 games to 16, followed by a strong win against St Joseph's College Mildura. Choosing to play on the hard court for their matches proved to be the right decision. The boys now progress through to the State Finals.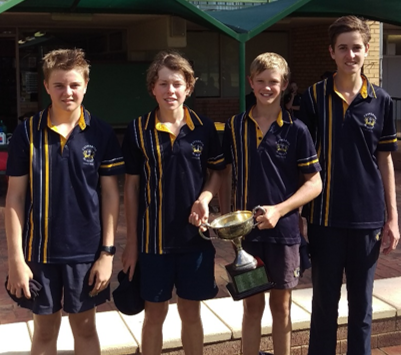 L-R: Seth Moore, Jaidi Jackson-Leahy, Bailey Warfe, Charlie Duke
Intermediate Boys
The Intermediate boys played three rounds of tennis for the day. The team lost 4 sets to 2 against Kerang Technical High School. However, some close matches against Rochester College and St Joseph's College Mildura saw them finish with 3 sets each, but losses overall based on games. Despite the results, the boys played some terrific tennis and were a credit to themselves and the College. Special thanks to Jasper Cheesman who agreed to play at the very last minute.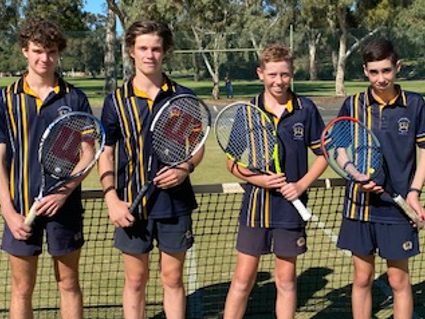 L-R: Toby Harrison, Jasper Cheesman, Flynn Saunder, Jaxon Mullane
Senior Boys
The Senior boys had a convincing win against Swan Hill College with all winning their singles 4 sets to 1. This win gave them the confidence needed to take on a challenging Echuca College team. Several of the matches saw some displays of excellent tennis, with an overall win of 4 sets to 2.
Once again, the boys are to be commended for their sportsmanship and effort on the day. The Senior boys won overall and will be continuing to Melbourne to compete in the state finals.
L-R: Nicholas Martini, Connor Moore, Jackson Davis, William Gee
Congratulations to all the students for their sportsmanship and behaviour at the competition. Good luck to those students who are going on to the next stage of the competition, we wish them all the best.