'Living Mercy' 2020 – our first digital magazine
11/12/2019
DIGITAL EDITION
We are excited to  have launched our first ePub digital magazine Living Mercy, the College Magazine for 2019. This is in line with the College's commitment to sustainability and protecting the environment.  It includes some extras exclusive to the ePub. There are links to additional stories, photos and videos, as well as reports on events such as Graduation Mass and Energy Breakthrough that occurred after the print deadline.
Log in to PAM and click the link under Parent Resources, Living Mercy Magazine 2019.
Please note:
All efforts have been made to optimise the viewing experience across various platforms, however viewing may vary between devices – desktop, tablet and mobile.
Load time may vary depending on internet connection available and device capabilities.
On mobile, use two fingers to "pinch zoom" in on text area of interest. Double tap the screen to return to fit to screen view.
If a page is sluggish, wait a few seconds (don't touch any of the buttons to go back or forward). This should allow time for the page to load and create the cache for viewing.
Another option may be to click forward and then come back to the previous page as the cache will have been made quite quickly.
The ePub cannot be downloaded.
PRINT EDITION
Those who ordered a printed copy of Living Mercy, received these on the final two days of school. If you ordered a magazine and didn't collect it, it can be collected from the relevant campus office. There is a magazine for each 2019 Year 12 student, available from St Mary's Office.
The hard copy magazine was printed locally on Monza Recycled which contains 99% recycled fibre, and elemental chlorine free pulp which ensures that pulp is derived from well managed forests and recycled wood of fibre. Monza Recycled is manufactured by an ISO 14001 certified mill.
FEEDBACK PLEASE
Please take a moment to let us know what you think of the magazine format/s – email magazine@cmc.vic.edu.au to share your thoughts on 2019 and ideas for 2020.
COVER DESIGN COMPETITION RESULTS
Well done to all students who entered the Magazine Cover Design Competition, it was a difficult choice for the selection committee.
Congratulations to the winner, Isaac Richardson (Year 11) and to Danika Wagner (Year 9), Jedd Phillips (Year 7) and Claudia Scott (Year 9) whose designs were highly commended.
Speaking about his design, Isaac said "My design tells a story as it shows the vulnerability of starting out in Year 7 and the growth through the school to graduation."
Danika's design was reproduced on the back cover, "I've called my cover this year 'Part of the Whole', because of how each square is part of a whole cover, just as how each person is part of our whole community."
We hope you enjoy viewing the ePub Magazine, Living Mercy 2019. Feedback is welcome and encouraged: magazine@cmc.vic.edu.au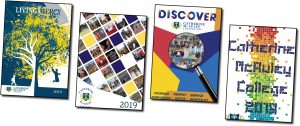 (L-R) WINNER: Isaac Richardson (Year 11); HIGHLY COMMENDED: Danika Wagner (Year 9); Jedd Phillips (Year 7); Claudia Scott (Year 9)