Junior Tennis teams demonstrate great sportsmanship
16/03/2021
YEAR 7 TENNIS
On Tuesday 16 March, CMC competed in the 2021 Year 7 Sandhurst Tennis Competition as part of School Sport Victoria competition. Everybody had a fun day and all teams showed great sportsmanship.
YEAR 7 BOYS
Our boys' team played some great tennis on the day, losing only one match against Bendigo South East College (BSE).  As it turned out, BSE claimed the victory with our CMC team coming second, followed by Marist College, Crusoe College and Victory Christian College (VCC). It was a fun day.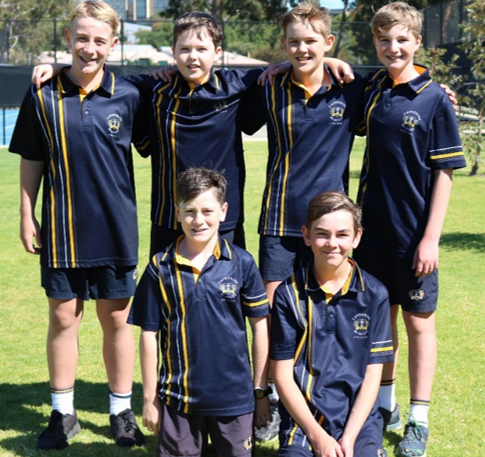 Back L-R: Jake Schubert, Joshua Giffard, Chase Poyser
Front L-R: Eamon Austin, Tobias Sexton
YEAR 7 GIRLS
The CMC girls team had a very successful day, coming first against Marist College and VCC.  Although there were only three teams in this competition, it was a great day of tennis. We wish the girls luck as they proceed to the Loddon Mallee Region stage of the competition.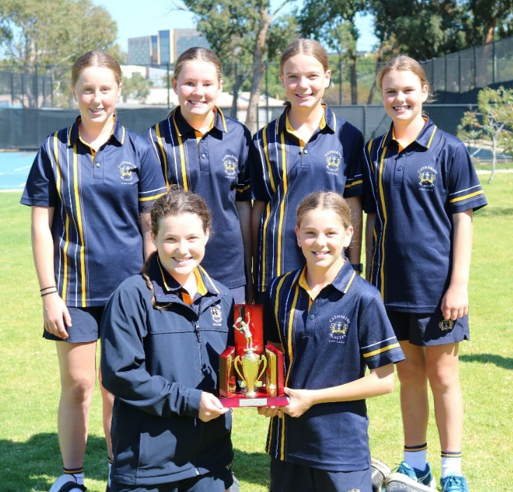 Back L-R: Georgia Bennett, Ava Terry, Belle Smith, Isabella Monotti
Front L-R: Gemma Fox, Milly O'Shannessy
YEAR 8 TENNIS
The Year 8 Tennis Day was held on Wednesday 17 March at the Bendigo Tennis Centre. It was another perfect day, with sunny weather greeting the players as they arrived. The day just got better from there.
YEAR 8 BOYS
The Year 8 boys started the day against Marist College and won a tight contest, 2 sets to 1.  They then went on to defeat BSE, Girton Grammar School, East Loddon P-12 College and Crusoe College, whilst conceding just fourteen games in the process. These outstanding results saw the boys win the day. They were fantastic ambassadors for the College.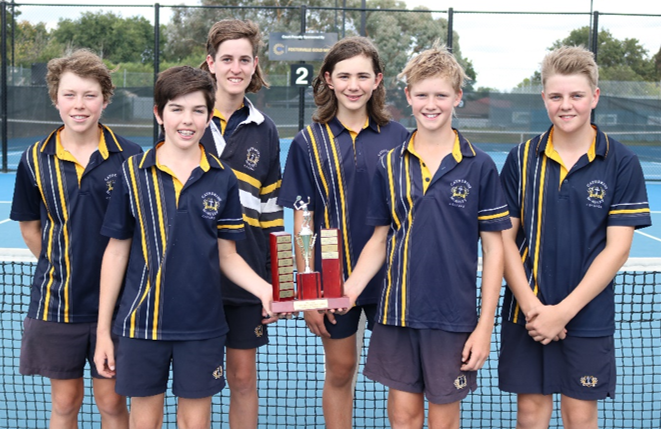 L-R: Jaidi Jackson-Leahy, Jack Harvey, Charlie Duke, Lars Poyser, Bailey Warfe, Seth Moore
YEAR 8 GIRLS
The Year 8 girls performed in much the same way as the boys, dominating the competition from start to finish.  They won all their matches against Marist, BSE, East Loddon and Castlemaine in brilliant fashion. Their toughest match was against Girton which they won in a very tight contest of 2 sets to 1.  Their ability to fight out all points in this match secured them the win and a place at the Loddon Mallee Regional Finals next term.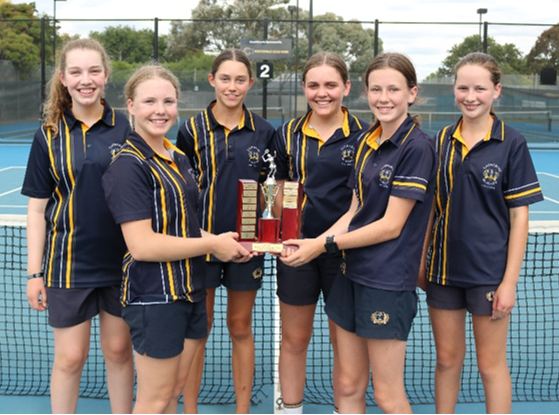 L-R: Meg O'Callaghan, Sophia Monotti, Genevieve Nihill, Mia O'Keefe, Lucy Trewick, Madalyn Nihill
CONGRATULATIONS to ALL teams on your amazing performances.