Junior Soccer Tournaments at Epsom
School Sport Victoria: Sandhurst Division
YEAR 7 GIRLS
On 23 May, Year 7 students from Catherine McAuley College attended the Sandhurst Division Soccer tournament. The girls played three games throughout the day. They played Bendigo South East in the first game losing 4-0. In the second game, they played Marist College. Two goals from Lila Keck brought us level with Marist 2-2, going into penalties. We scored one goal in the penalty shootout, with Marist College scoring zero. We then faced BSE in the final. Unfortunately, we lost 3-0. Overall, it was a great day and everyone enjoyed it and had lots of fun!
Audrey Gargiulo MK1, Scarlett Scott VT3, Cate O'Bree VT2 & Pearl Sullivan MK2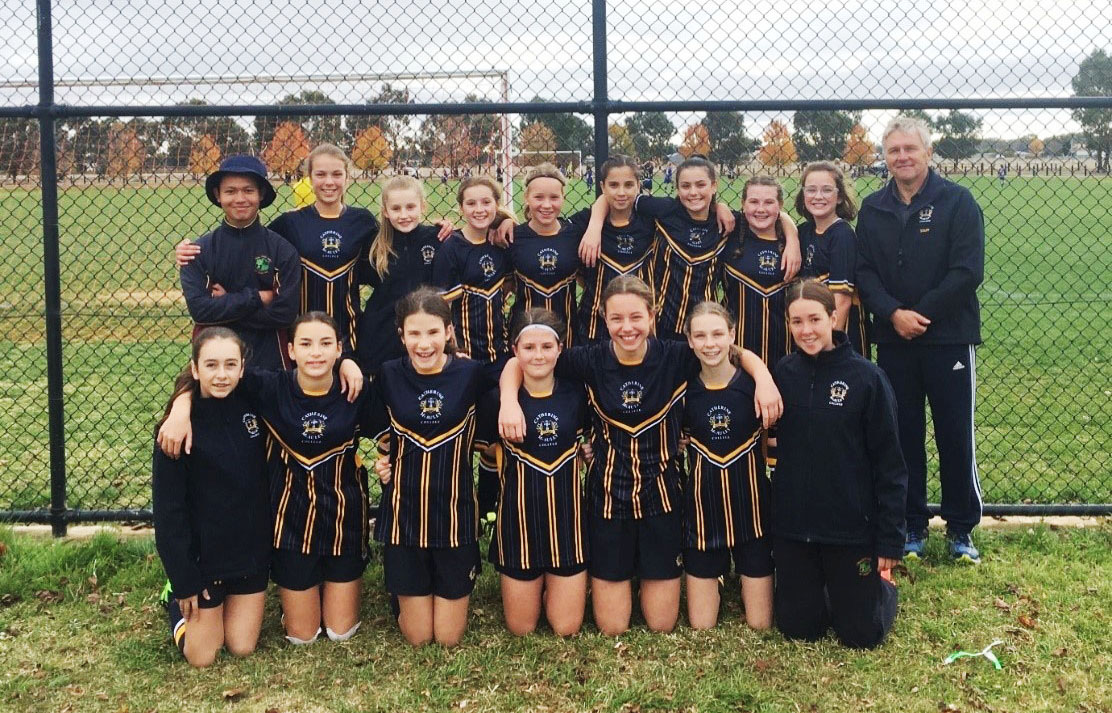 Back Row L-R: Ma Kor Hser Thay CH4 (Assistant), Lateisha Gronow CH2, Penelope Curwen-Begg JR3, Scarlett Scott VT3, Cate O'Bree VT2, Audrey Gargiulo MK1, Jorja Sargeant JR1, Jayda McDonald VT2, Aggie Minne MK1, Mr Damian Driscoll (Coach)
Front Row L-R: Kadeisha Smith JR3, Madison Muller MY4, Emilia Artavilla CH4, Lila Keck MK4, Pearl Sullivan MK2, Olivia Nihill CH3, Ellie Vlaeminck MK1 (Assistant)
YEAR 7 BOYS
On Wednesday 23 May, the Year 7 Boys Soccer team headed to the Sandhurst soccer tournament at Epsom. We had a great day and had some good results including a 1-0 win over Weeroona College and a 2-0 victory over Marist College, to earn us a spot in the final. Jesse Honeychurch, Min Min Soe and Jacob Floyd scored one goal each.
In the final we played Bendigo South East. It was a tough game and unfortunately, we lost 2-0. The boys played well and had a great day.
Jacob Floyd JR4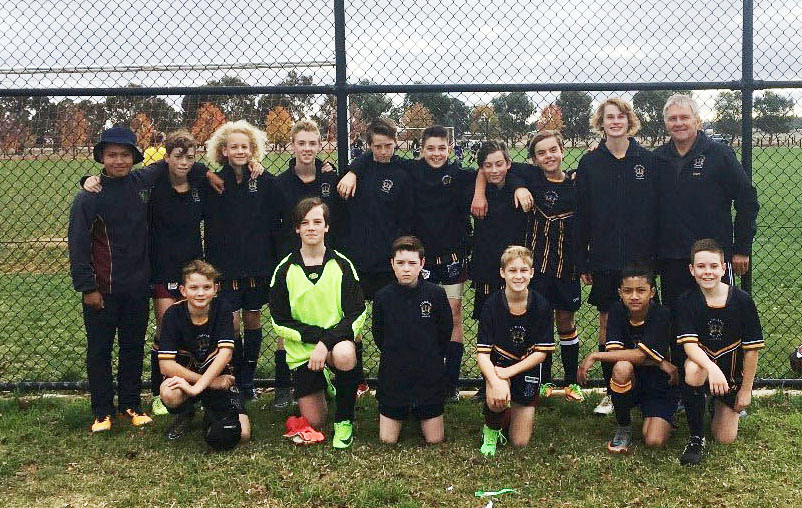 Back Row L-R: Assistant: Ma Kor Hser Thay CH4 (Assistant), Patrick Hannaford MK3, Benjamin Kirby VT2, Ethan Yates MK1, Rory McCrann-Peters CH2, Charlie Edwards MK2, Jesse Honeychurch VT4, Oliver Prowse JR3, Harry Roberts VT4, Mr Damian Driscoll (Coach)
Front Row L-R: Jacob Floyd JR4, Carter Shevlin CH4, Flynn Anderson JR2, Kael Rainey CH5, Min Min Soe JR4, Thomas Dixon JR4
YEAR 8 GIRLS
The Year 8 Girls had a wonderful time participating in the Sandhurst Soccer Carnival. First, we played BSE and lost 2-0; the girls held their heads high and fought hard. Their competitive spirit shone through and they beat Eaglehawk 1– 0 and Marist 2- 0. Then because of our good efforts through out the day we got into the semi-final against Girton Grammar and unfortunately lost 8-0. We would like to thank Miss Haring and all of the helpers for this day – we appreciate it!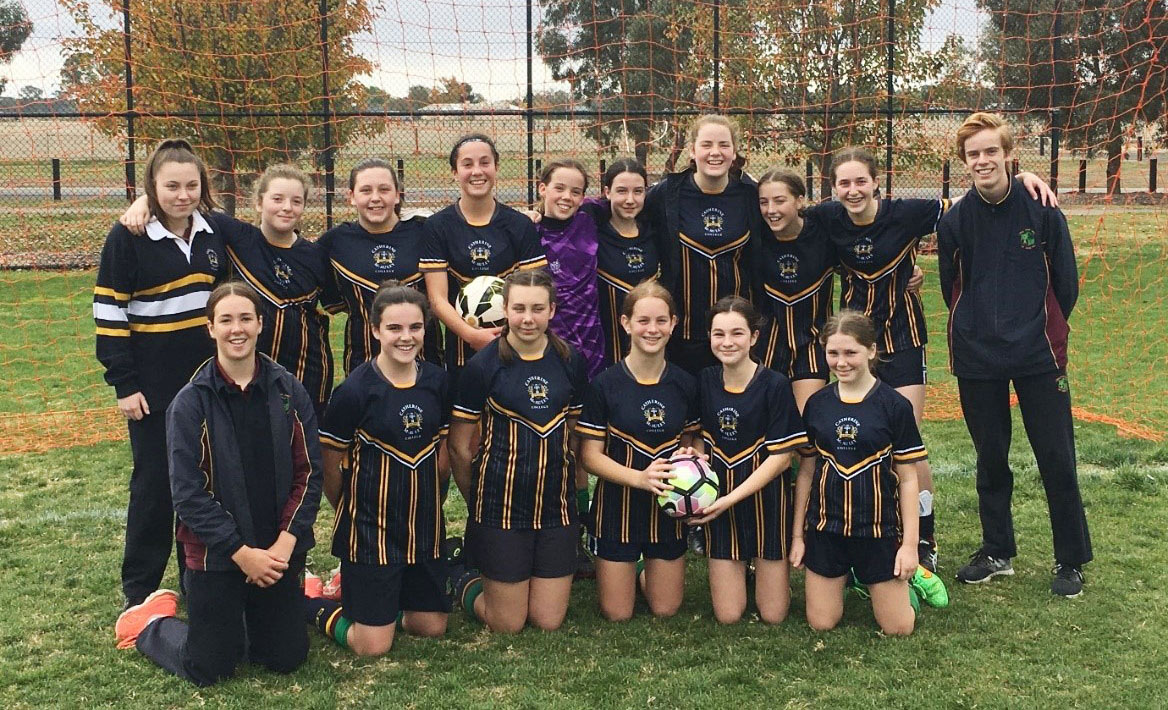 Back Row L- R: Ebony Miller VT1, Rebecca Niclasen VT3, Charlotte Thompson VT4, Arkie Donnelly MK1, Hannah Maher CH3, Tomia Damchef VT3, Máire Coleman BK2, Chloe Edwards BK3, Piper Smith JR2, Riley Joss MK2 (Assistant)
Front Row L – R: Ellie Vlaeminck MK1 (Assistant), Chelsea Tobin VT4, Grace Reading CH4, Rhian Hobbs MY3, Emily Pengelly VT1, Olivia Pope JR2
YEAR 8 BOYS
On Tuesday 22 May the Year 8 Boys went out to the Epsom Recreation Reserve for the Sandhurst schools soccer competition. The boys started the day with a 0-0 draw against Castlemaine, then went on to beat Eaglehawk 3-0 – the squad's first victory together. Girton Grammar was next and it was a tight one all game. Poung Shu scored the first goal to put us up 1-0 but then Girton got an equaliser and the half ended at 1-1. Then in the second half, Anthony Hutchinson crossed the ball in from the corner and it deflected off a Girton player straight to Eli Pearce who scored a goal. The boys ended up winning 2-1. That win put them in the finals and they had to play Marist. Once again Poung Shu scored the first goal and it was 1-0 but then an own goal occurred and it was 1-1. It stayed this way for the rest of the game which then led to a penalty shootout. Both teams made their first four penalties. Our goalkeeper stepped up next (Anthony Hutchinson), who just snuck it in. At 5-4 Marist had to score or they lost; they stepped up and missed meaning we were through to the Grand Final. In the final, we played BSE and fell short 2-0, but we put up a good fight. It was a great fun day.
Timothy Long MK3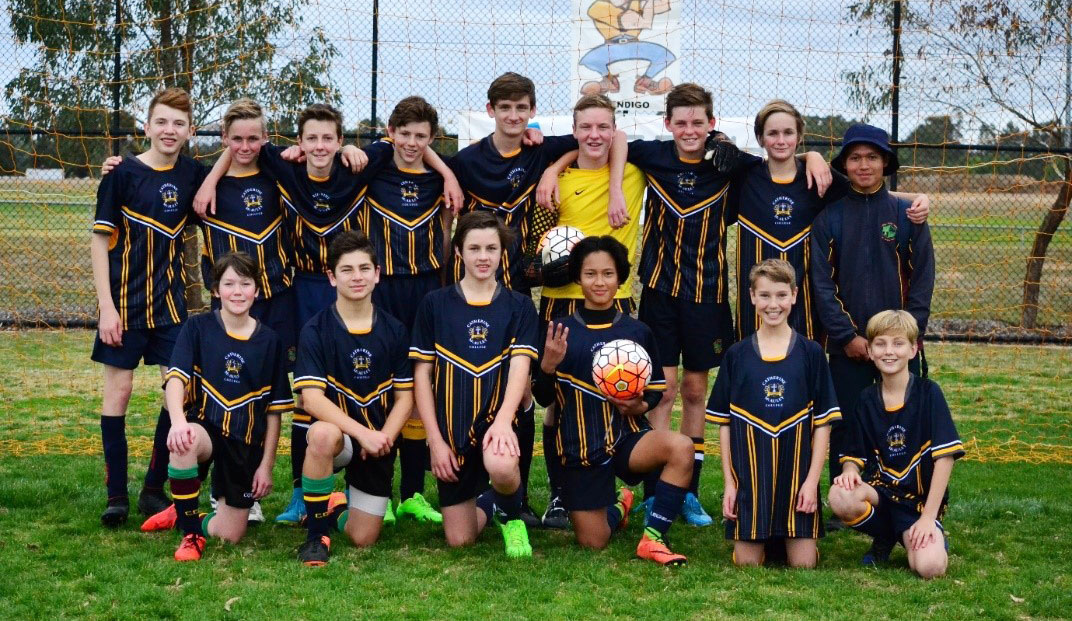 Back Row L-R: William Aylmer VT2, Benjamin Wallace MK3, Lochlan Eastwood MK1,
Timothy Long MK3, Matthew Wernert MY3, Anthony Hutchinson JR4, Eli Pearce VT4,
Alexander Wallace MK2, Ma Kor Hser Thay CH4 (Coach)
Front Row L-R: Mitchell Worme VT4, Dylan Arnold MK2, Lachlan Doran BK2, Poung Shu Thay CH5, Finn Cushing VT3, Joshua Harrison MK3