Junior Soccer 2022
26/05/2022
SCHOOL SPORT VICTORIA: SANDHURST DIVISION
On Thursday 26 May, soccer teams from Catherine McAuley College competed at the Sandhurst Division soccer tournament at the Huntly Epsom Recreation Reserve in wet and cold conditions.
Junior Girls
The Junior Girls had a successful day, despite playing together for the first time as a team. They won all the games in their pool and finished on top after defeating Bendigo South East College in the finals.
The girls showed great sportsmanship throughout the day and their confidence and structure grew as the day went on. They are excited to progress to the Loddon Mallee Region level in Term 3.
Thank you to Bella Goggin for her assistance on the day.
Game 1 – CMC defeated Girton Grammar School 4 – 0
Goal scorers: Evie Nuttal (4)
Game 2 – CMC defeated Weeroona College Bendigo 3-1
Goal scorers: Madeline White (1), Evie Nuttal (2)
Game 3 – CMC defeated Victory Christian College 4-0
Goal scorers: Evie Nuttal (2), Rubi Phillips (1), Madeline White (1)
Final – CMC defeated Bendigo South East College 7-1
Goal scorers: Abbey Reid (1), Madeline White (3), Evie Nuttal (2), Isabella Monotti (1)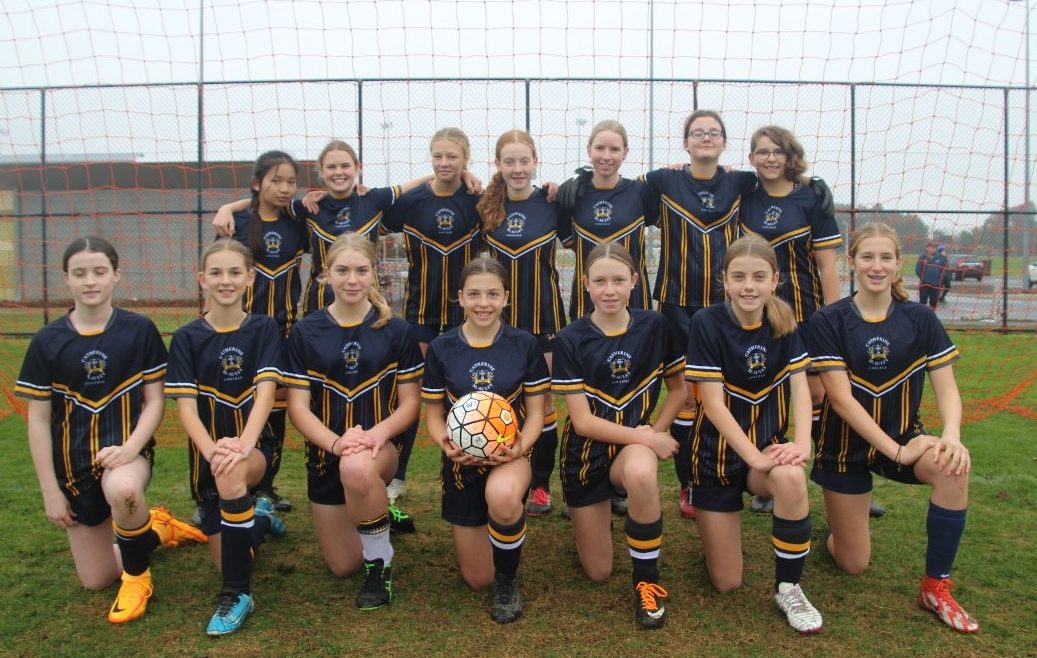 Back L-R: Rosie Meh, Isabella Monotti, Evie Nuttal, Rose McSweeney, Louise Khodja, Harper Lee-Basten, Chloe McCullough
Front L-R: Zarah Reynolds, Rubi Phillips, Madi Morrison, Madeline White, Ava Dickson, Ashlee Campbell, Abbey Reid
Junior Boys
In their first game, the Junior Boys defeated Bendigo South East College 2-1 in a nail-biting match. The second game ended in 5-0 win against Weeroona College Bendigo, highlighted by a hat trick from Ted Humphreys.
Winning two games earned the boys a spot in the final against BSE. After going down 1-0 early in the game, the boys rallied to score an equaliser in the second half. The game ended in a draw and penalties decided who would go onto the next stage. Unfortunately, the penalties ended 6-5 in favour of BSE. The CMC boys displayed great teamwork, leadership and sportsmanship throughout the day, despite the limited training sessions.
The team was also grateful for the assistance of Harry Morrison who was lineman for the day.
Game 1 – CMC defeated Bendigo South East College 2 – 0
Game 2 – CMC defeated Weeroona College Bendigo 5 – 0
Final – Bendigo South East College defeated CMC 6-5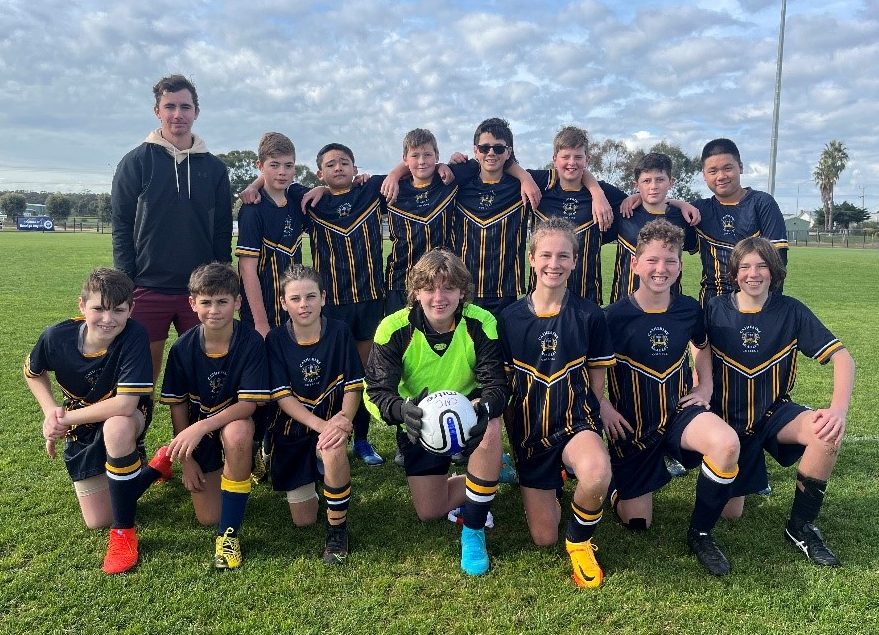 Back L-R: Mr Xavier Dunham, Jamie Dearricott, Josiah Pae, Hudson Archer, Griffin O'Shea, Ted Humphreys, Harry Canny, Henry Bui
Front L-R: Lucas Wheelhouse, Maurice Nihill, Nate Fitzpatrick, Tyson Owen, Izaiah O'Meara, Charlie Harrop, Owen Perry
Year 8 Boys
The Year 8 Boys soccer team played five games in wet and wintery conditions. Despite their best efforts, they came away with one draw and one win and were outclassed against the other teams.
CMC got off to a good start with a draw in the match against Victory Christian College. This was followed by their best match of the day when the team defeated Weeroona College Bendigo 2-0. The team's star striker, Daw Lar kicked both goals and was unstoppable in a very exciting match.
Two strong offensive players, Sam O'Kane and Rylan Keetelaar attacked the ball consistently while Sein Ya Lay defended well against strong opposition.
Unfortunately, both the Girton Grammar School and Bendigo South East College teams were too strong and experienced for CMC, both teams defeating the boys 3-0.
Thank you to the Year 9 and Year 10 helpers who umpired and ran the boundary on the day.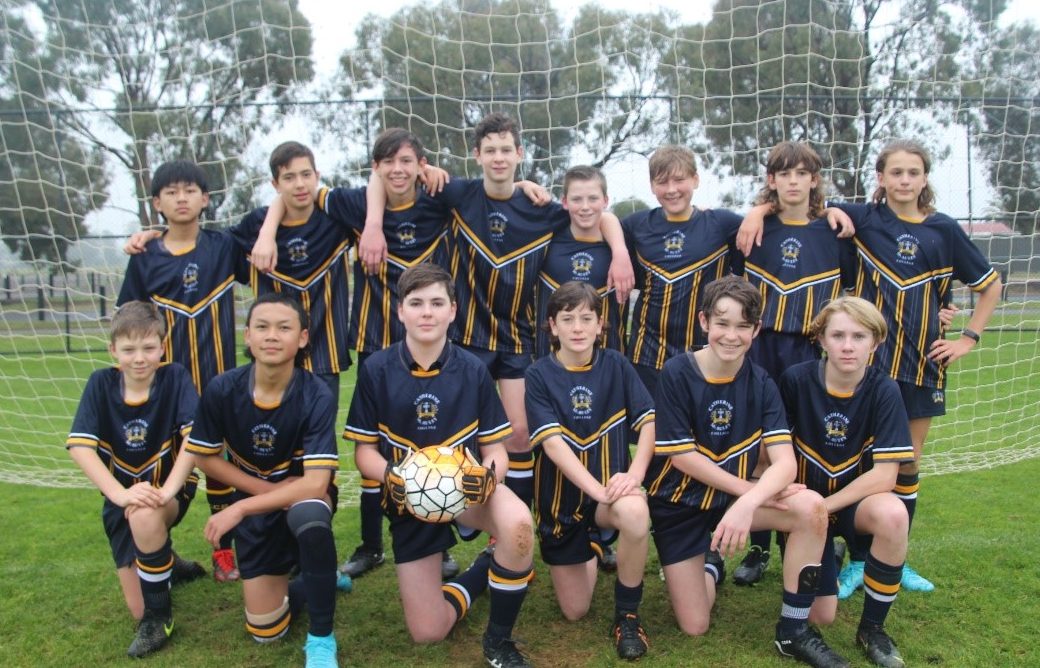 Back L-R: Sein Ya Lay, Billy Dearicott, Archie Short, Oliver Robins, Jack Kelly, Toby Holland, Ted Harrop, Rylan Keetelaar
Front L-R: Will Rainey, Daw Lar, Miller Armstrong, Eamon Austin, Samuel O'Kane, Ethan Pope