Junior Netballers highly competitive
18/06/2018
School Sport Victoria: Sandhurst Division
On 22 May, Catherine McAuley College was represented by four teams at the Sandhurst Schools Netball Tournament that was played at the Golden City Netball Courts. Below if a brief overview of how each team performed.
Year 7A
In the first game we played Crusoe COllege, which we won easily, 23-6. The second game was against Girton, the hardest match of the day. We were a few goals down in the second half but we managed to fight back hard, in time to earn us a draw, 10-10.
In the last pool match we played Castlemaine. It was a great game and everyone played well, taking the win, 29-2. As we were up on percentage and finished at the top of our pool we made it through to the grand final. We won the final easily against BSE, 13-6. As the winners of the Sandhurst tournament, we will next head to the Loddon Mallee Region Championships in Echuca in July.
Ella Raco JR2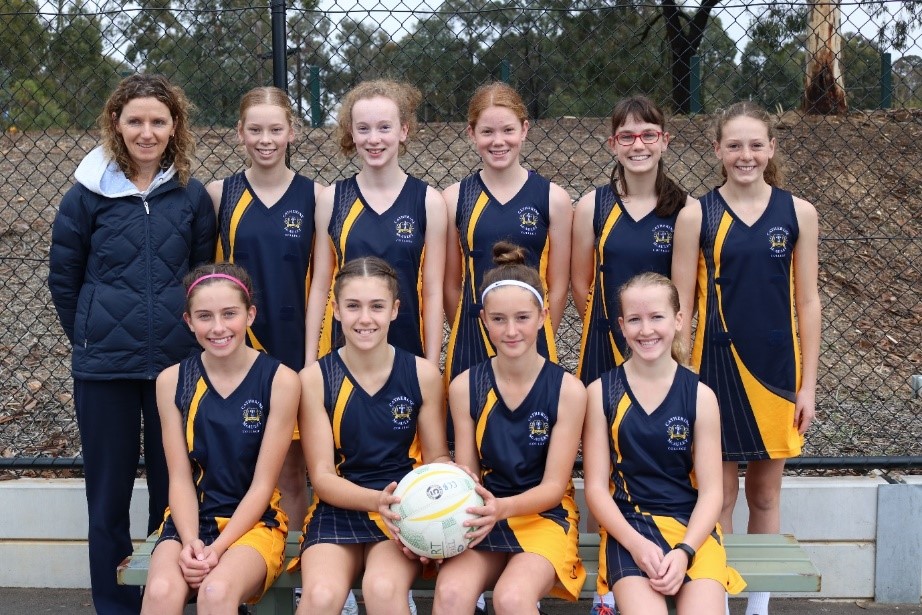 Back Row L-R: Mrs Kate Kingsley (coach), Jade Kelly CH4, Hannah Tyndall MY1, Maggie Burke MK4, Maggie Keating CH5, Akeily Pearce MY1
Front Row L-R: Bryde O'Rourke JR4, Ella Raco JR2, Alex Langley CH5, Caitlin Evans JR1
Year 7B
We won our first two games against Crusoe College and East Loddon convincingly, which meant we finished at the top of our pool. We then progressed through to play the top teams of the other two pools, who were Bendigo South East (BSE) and Marist College. We came up against some top competition in BSE, however, in the second half we pulled away to win easily. Finally, Marist College was our toughest competition of the day, however, we managed to win by seven goals in the end. Thank you to Mrs Gretgrix who was our coach and well done to all of the girls who participated.
Maddy Bennett, Adele Barber & Marley Gallagher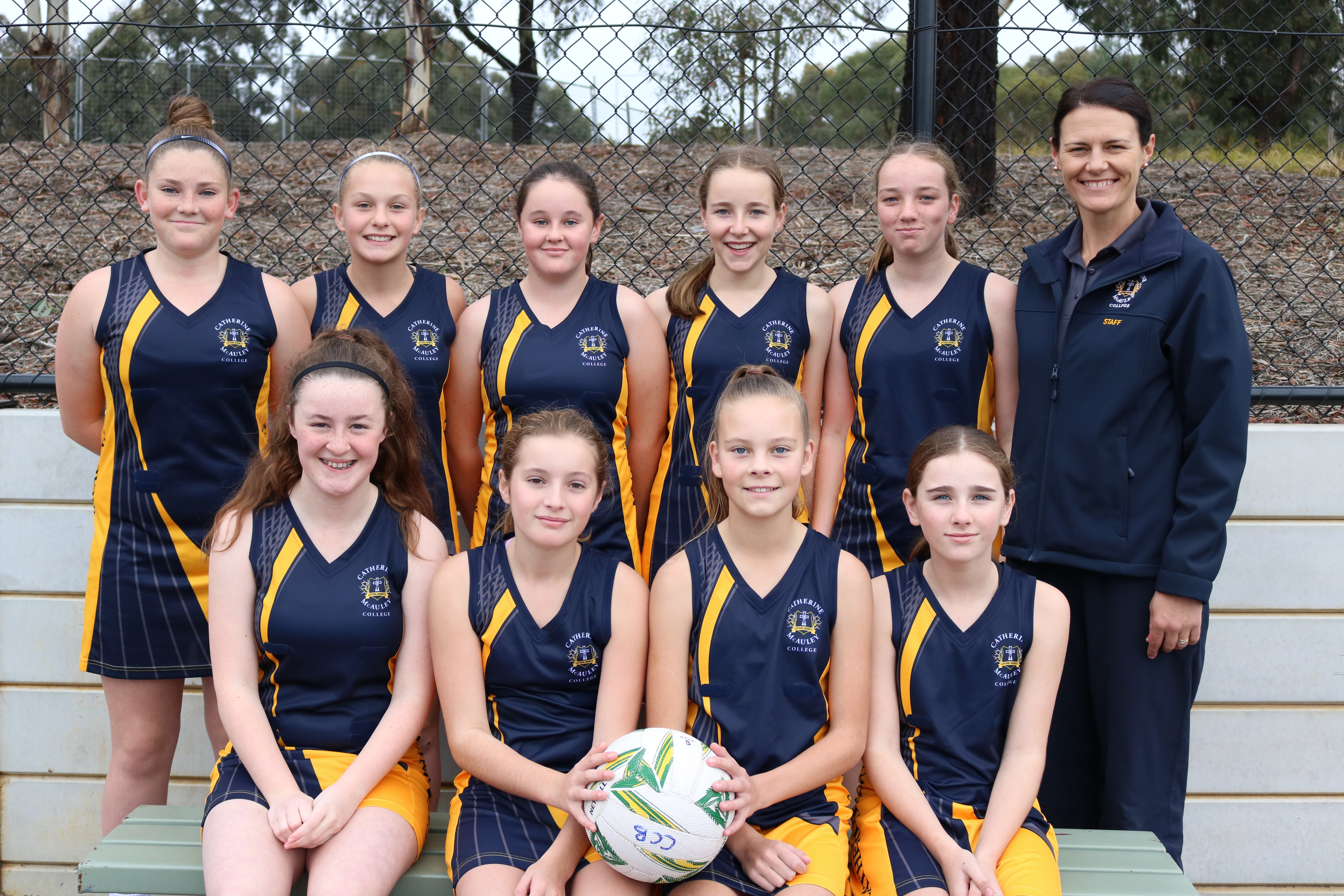 Back Row L-R: Sophie Giles , Ellie Bonnici, Madeline Bennett CH2, Adele Barber MK4, Marley Gallagher MY1, Mrs Hannah Gretgrix (Coach)
Front Row L-R: Layne Austen, Scarlett Scott, Holly O'Brien, Tess Rule
Year 8A
The Year 8 netballers competed at the Sandhurst Netball Competition. The first two games were quite easy with wins against Crusoe College and East Loddon College. We then went up against Bendigo South East College and it was a very tough game for the girls, with the score close throughout the game. We ended up with a 4-goal win. Lastly, we played Girton Grammar; we had to win this game to take out the competition and luckily we played well and won.
We would love to thank Miss Steen for giving up her time to coach us. Overall it was a very fun and successful day, with all the girls looking forward to the next stage.
Ava Hamilton & Jorja Bish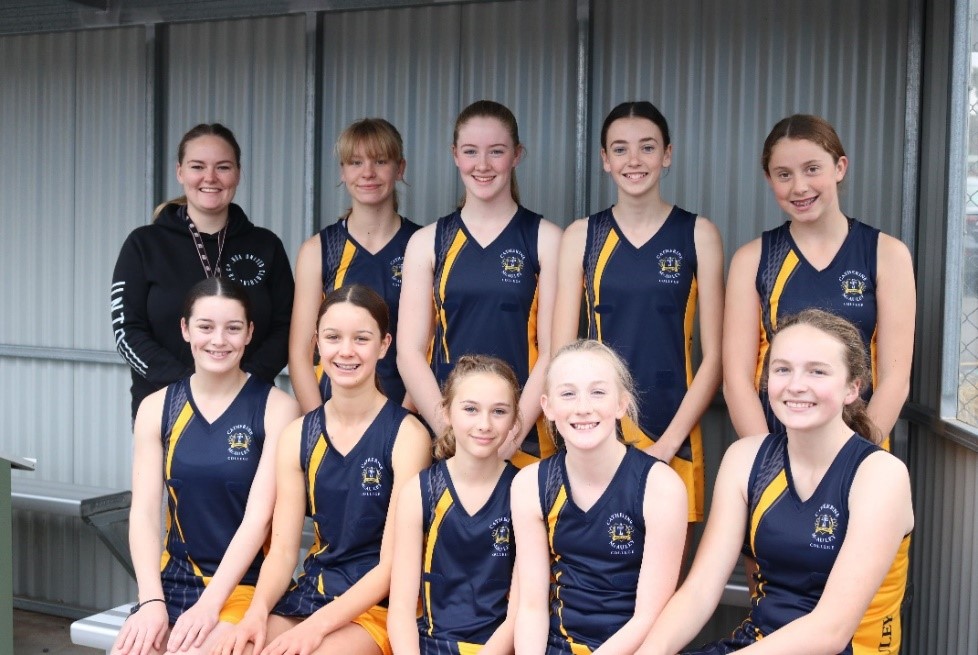 Back Row L-R: Tia Steen (Coach), Charlotte Crouch MK3, Eloise Pinniger MK4, Ava Hamilton MK2, Jorja Whatley BK3
Front Row L-R: Tahlia Isaac MY2, Amy Dean VT1, Hannah Kopp MK4, Amaya Schmidt MY4, Charlotte Sexton JR2
Year 8B
In the Year 8B pool there was Crusoe College, Girton Grammar and Weeroona College. In our first game we played Crusoe and won 38-2. In the second game we played Weeroona and won 29-3. In our last pool game we played Girton and won 36-6. We then played in the final to determine the winner of the B Division. We played Bendigo South East and won 21-8 which meant we were the B Division Winners on the day. The day was very fun and enjoyable. We hope to go again in 2019.
Cleo Jones & Aimee McMahon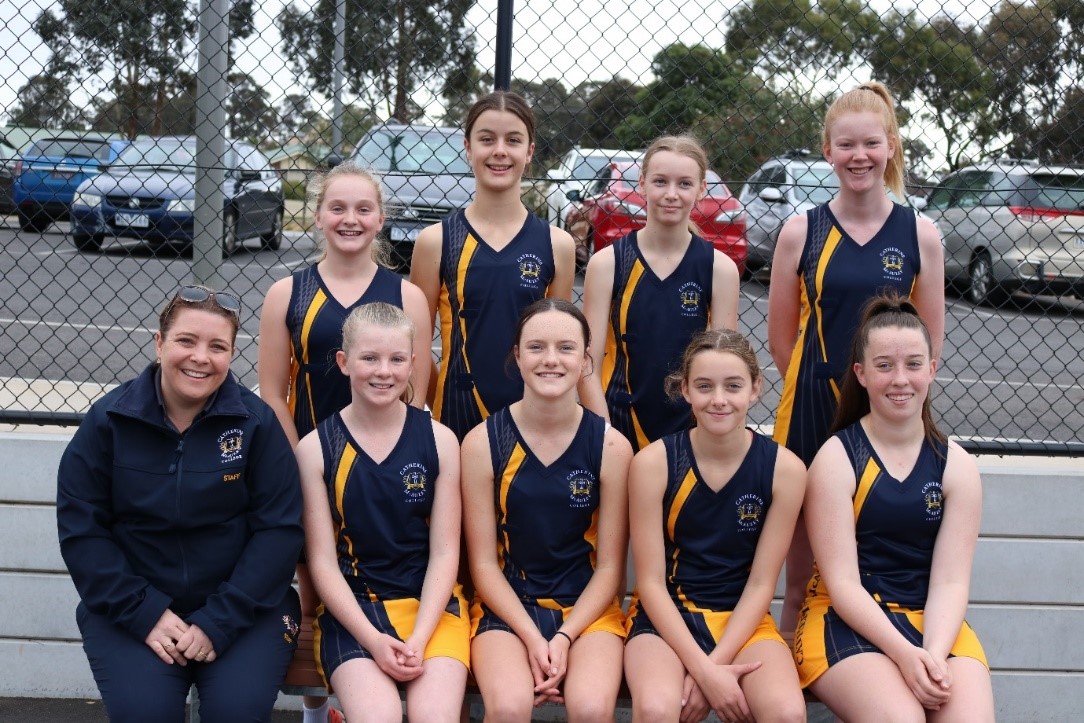 Back Row L-R: Aimee McMahon BK3, Katie Dean VT2, Cleo Jones CH2, Siarne Cass MK1
Front Row L-R: Mrs Sharna Frawley (Coach), Caitlin Millar MY4, Marnie Wakefield CH5, Lily Trimby BK4, Ruby McMahon CH3