Junior Netball
17/06/2021
SCHOOL SPORT VICTORIA – SANDHURST DIVISION
The Year 7 and 8 girls participated in the Sandhurst Division netball tournament on Tuesday 27 April with both Year 7 teams finishing the day undefeated.
Year 7A
What a great day for netball. The weather was fantastic – the girls might have said almost a little too warm as, but at least we weren't freezing and getting wet. The team played a total of seven games for the day with not much time to rest.
The girls won all their games – most of them convincingly and played so well as a team. Lots of rotations were made and many of the girls showed their versatility in being able to play in many positions on the court. Every player chased the loose ball, worked hard to get a tap or intercept and didn't stop until the siren went. The team was an absolute pleasure to coach, and there is so much talent to work with.
Thanks to all the parents that came to support and help score.
Results:
Game 1: CMC 31 def Eaglehawk 1
Game 2: CMC 13 def Castlemaine 11
Game 3: CMC 21 def BSE 3
Game 4: CMC 32 def Crusoe 1
Game 5: CMC 21 def Girton 1
Game 6: CMC 31 def Weeroona 0
Game 7: CMC 24 to Marist College 5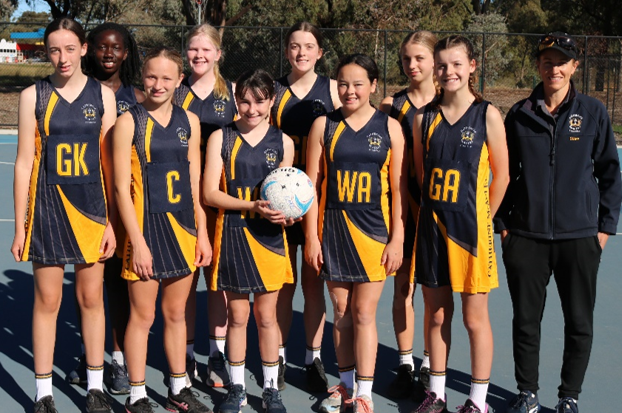 Back Row L-R: Diana Napoleon, Maeve Cass, Lila Kelly, Emersyn Newlan.
Front Row L-R: Ella O'Gorman, Lilly Hope (Capt), Charli McInerney, Zaidee Khong, Lexie Austen
Coach: Rachel Winfield
Year 7B
The Year 7 Girls B Team arrived at the tournament excited and ready to play. Our draw consisted of five back-to-back games against Marist College, East Loddon P-12 College, Castlemaine Secondary College, Weeroona College and Bendigo South East College where we came away undefeated.
We then took to the court for our first final against Castlemaine, securing an easy win and our place in the Grand Final. We faced Marist College in the Grand Final and after a huge effort came out WINNERS!
Well done to everyone who played and thank you to all who came to support – it was much appreciated. What a great day and start to Term 2!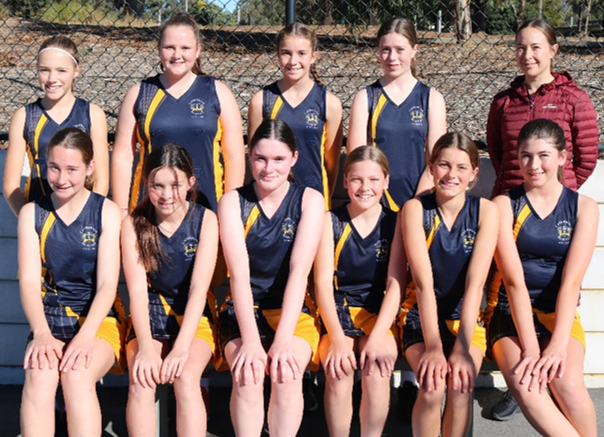 Back Row L-R: Charlize Pinder, Sophie Tyrell, Maeve Hannaford, Layla Pearce, Ms Livingston (coach)
Front Row L-R: Georgia Moulday, Maddie Dunn, Olivia Kean, Milla Sherriff, Sunny Childs, Danika Bell
Year 8A
The Year 8 Division A Netballers achieved second overall at the school netball on Tuesday 27 April. This was the first-ever opportunity for the girls to compete at a secondary school level and they rose to the occasion. They showed maturity, endurance, resilience and respect throughout the entire day, losing only one match against the overall winners from Marist College.
Throughout the day the girls' connections on the court improved out of sight. Some girls played out of position, they endured a pretty hot day and never gave up. Although we just missed out on the win, it was an exceptional day. Congratulations to all the girls who participated!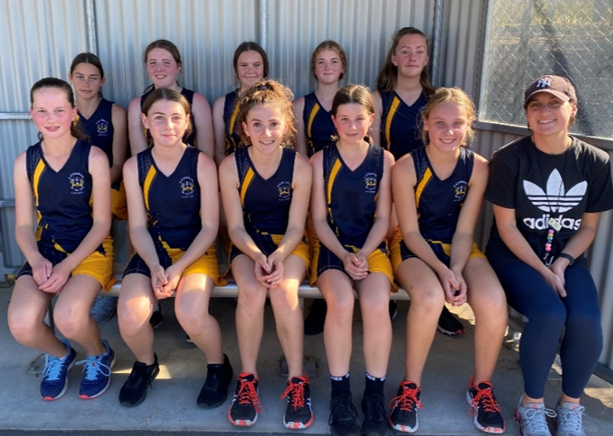 Back Row L-R: Genevieve Nihill, Maisy Pinninger, Jorja Brown, Myia Nicolson, Ciarah McDermott
Front Row L-R: Madalyn Nihill, Samantha Tuohey, Jaida Raco, Milla Finch, Neve Pinner
Year 8B
The Year 8 Netball Division B for 2021 team demonstrated a high level of maturity in the way everyone contributed to the combination of players and positions for each of the matches played. We tried to give everyone equal time on court, with the girls discussing and negotiating changes.
As a coach, I was so impressed with the team spirit of everyone. They are a credit to our school. Well done Harriet who kept up a smiling face all day despite a twisted ankle that prevented her from playing after the first match. She demonstrated resilience and good humour.
I chose Scout Tyler as Best and Fairest for the day. Her presence in centre was terrific.
It was a pleasure to 'coach' these young women.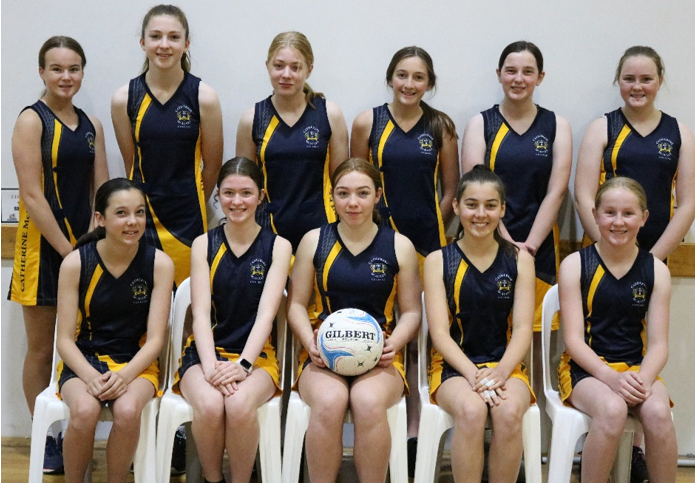 Back Row L-R: Luci Korman, Harriet Whiteacre, Claire Drake, Taylah Griffin, Grace Tyndall, Lucy Wilkinson,
Front Row L-R: Caitlyn Kelly, Tarah Frawley, Scout Tyler, India Parker, Ava Harris