Junior Girls & Year 7 Boys Football
16/05/2019
Our Junior Girls and Year 7 Boys football teams showed impressive skills, teamwork and tactics to win through to the Sandhurst Division grand finals on 5 June after winning all their games at the Sandhurst round robin competition day.
SCHOOL SPORT VICTORIA: SANDHURST DIVISION
Junior Girls
On Wednesday 8 May the Catherine McAuley College (CMC) Junior Girls Football Team played in the preliminary rounds of the Sandhurst Junior Girls Competition. After a few days delay due to inclement weather, the girls were very keen to take to the field.
The girls played great football all day and their skill level was fantastic. All of their results were outstanding and as such have now qualified for the Grand Final which is to be played against Bendigo South East on Wednesday 5 June.
Congratulations girls on an awesome day.
RESULTS
CMC defeated East Loddon P-12 College (7-11-53 to 0-0-0)
CMC defeated Marist College Bendigo (2-2-14 to 1-1-7)
CMC defeated Girton Grammar (7-6-48 to 0-0-0)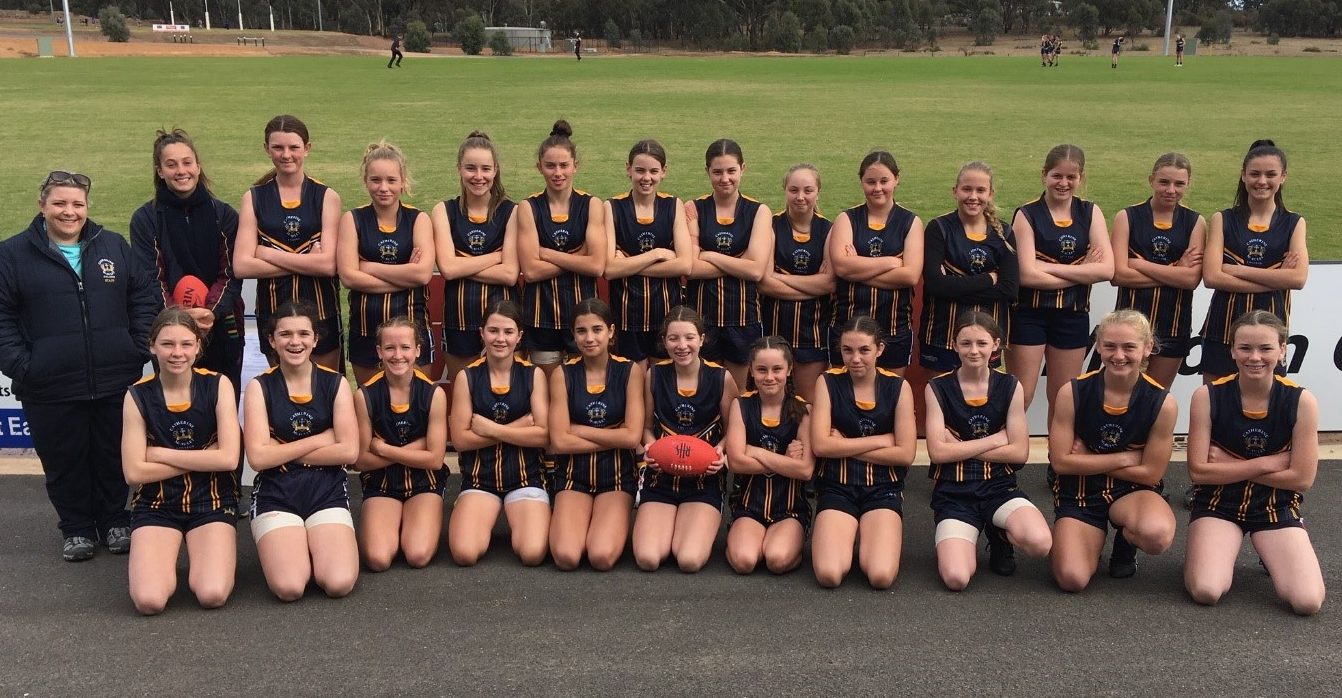 Back Row L-R: Coach Mrs Sharna Frawley, Assistant Arkie Donnelly, Layla O'Shea, Cate O'Bree, Adele Barber, Bryde O'Rourke, Phoebe Maher, Matisse Sheahan, Milli Newlan, Madeline Bennett, Taylah Petrusma, Alex Duke, Laila Day, Jorja Sargeant.
Front Row L-R: Olivia Nihill, Amy Wrigglesworth, Caitlin Evans, Lila Keck, Audrey Gargiulo, Mackenzie Allford, Lily Franklin, Emarnee Davies, Ella Wills, Jorja Morrison, Grace Kealy
Year 7 Boys
Our Year 7 Boys Team had an incredible day. Also playing in a round robin event, the boys took no time at all finding good system and cohesion. Their transfer of play from forward to back and through the middle of the ground was a highlight, as was their link up play around the stoppages.
They looked like that they had played together for years as they won both of their pool matches to qualify for the Sandhurst Division Grand Final to be played on Wednesday 5 June. We wish them the best of luck going forward and well done on a terrific day.
RESULTS:
CMC defeated Crusoe College (12-5-77 to 1-1-7)
CMC defeated Weeroona College (17-13-115 to 1-0-6)
Boys team not pictured