Junior girls make State Cricket finals
24/11/2022
SCHOOL SPORT VICTORIA – STATE FINALS
Year 7 Girls
State Quarter Final
On Friday 18 November the Year 7 Girls cricket team competed against Melbourne Girls' College at Strathfieldsaye in the State Quarter Finals. The weather was perfect with sunny skies and a slight breeze.
Since the first competition against Marist College Bendigo, the girls have improved immensely and developed more skills, demonstrated by their win 136-99. Special mentions: Maeve Caine with 15 runs and 4 wickets, Layla O'Brien with 10 runs and 3 wickets, Madi Morrison with 10 runs and 3 wickets. The other girls all did a great job with their bowling, fielding and batting efforts. The girls now progress to the State Finals held in Melbourne on Thursday 24 November. Overall, the girls had an awesome day and lots of fun.
State Semi-Final
On Thursday 24 November, the Year 7 Girls cricket team made the very early start to Northcote to play in the State Finals. The semi-final against Strathmore Secondary College was played on an unusual pitch with undulating runups. The girls batted first which suited the team as the ground was also a bit wet. The girls were great and put on a total of 7 for 71. Strathmore's opening batters came out firing, but determined bowling saw the girls take a couple of wickets early on. Strathmore finished their innings at 9/77 runs (which meant that the girls won by 2 runs as each team gains 4 runs per wicket taken in their bowling innings).
Our wicket-takers were Maeve (3), Layla (3), Madi White (2), and Dempsey (1). Madi Morrison was tenacious behind the stumps as wicketkeeper.
State Grand Final
The win resulted in the girls qualifying for the State Grand Final which was played against Glen Waverley on the same day. This team seemed to have a lot of depth in their bowling and batting lineup. The girls lost the toss and were sent in to bat. Maeve, Zoe and Madi Morrison were strong with the bat and helped the team get to a competitive total of 74.
Unfortunately, the girls lost 9 wickets to a strong bowling attack, so the pressure was on. When Glen Waverley went into bat they played extremely well, however, some terrific bowling saw the girls take the equivalent number of wickets – 9. Since Glen Waverley made a total of 75 runs to our 74, the girls lost the Final by a solitary run!
It was an amazing effort that the girls got so close as Waverley has a lot more experienced players. It was terrific that the girls got so close, and they should be extremely proud and happy to finish as the State Runners Up.
Across the day all players from all schools and staff demonstrated fantastic sportsmanship and played with positivity and kindness. It was such an enjoyable day and an amazing experience. A big thank you to our scorer and square leg helpers – Finn Miller and Tom Smith. Also, to Mrs Maree Pearce for driving the bus and assisting on the day.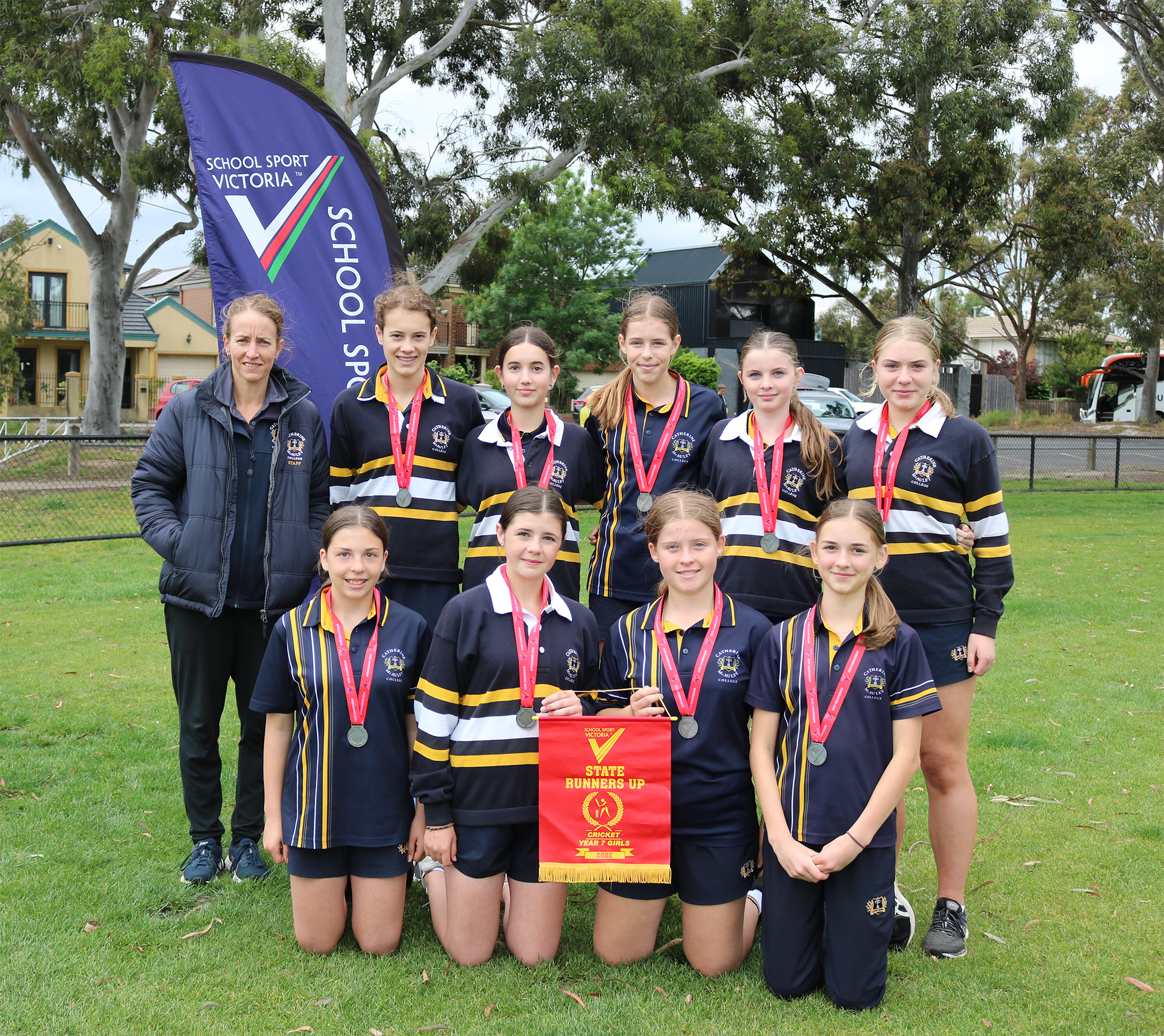 Back L-R: Mrs Rachel Winfield (Coach), Holly Hembrow, Grace Clark, Dempsey McDonnell, Zoe Reynolds, Madi Morrison
Front L-R: Madeline White, Maeve Caine, Layla O'Brien, Rubi Phillips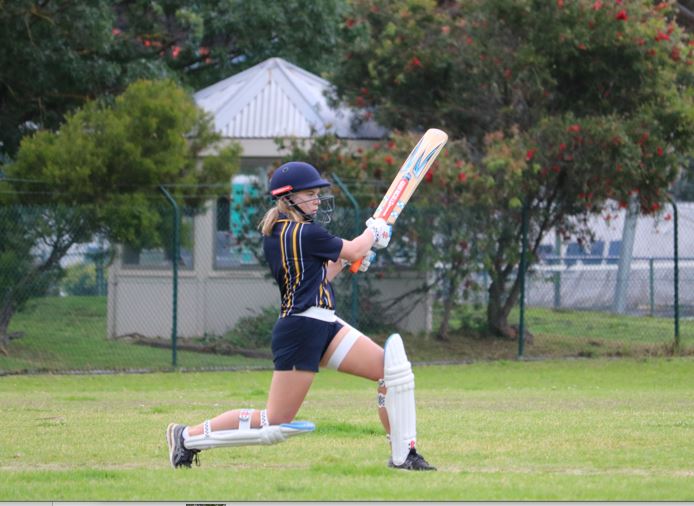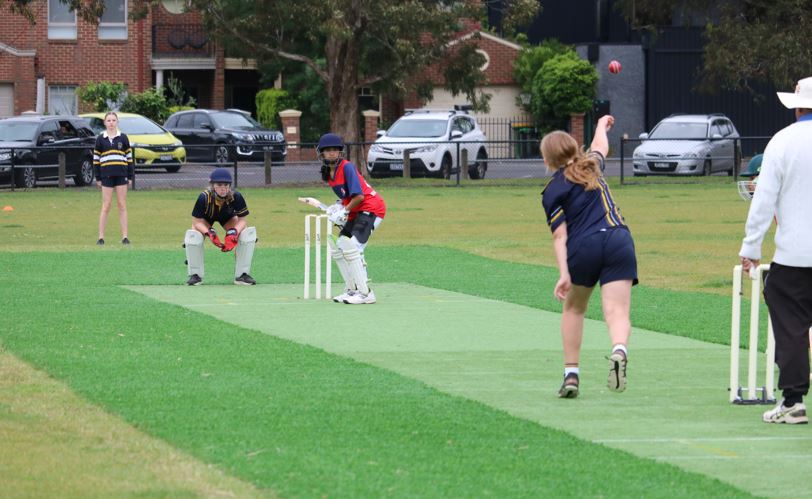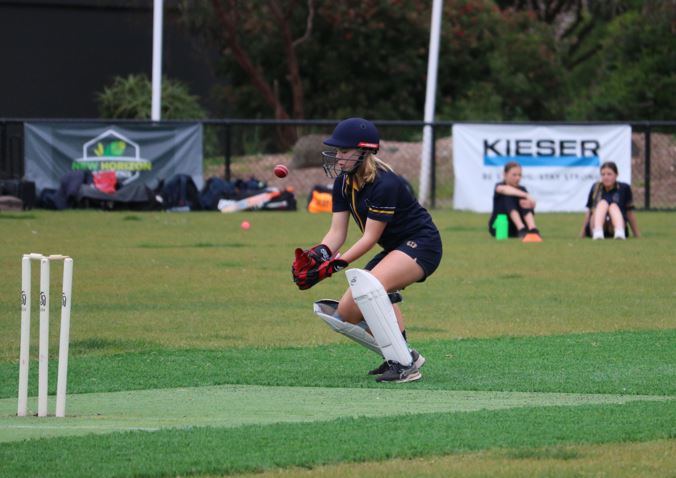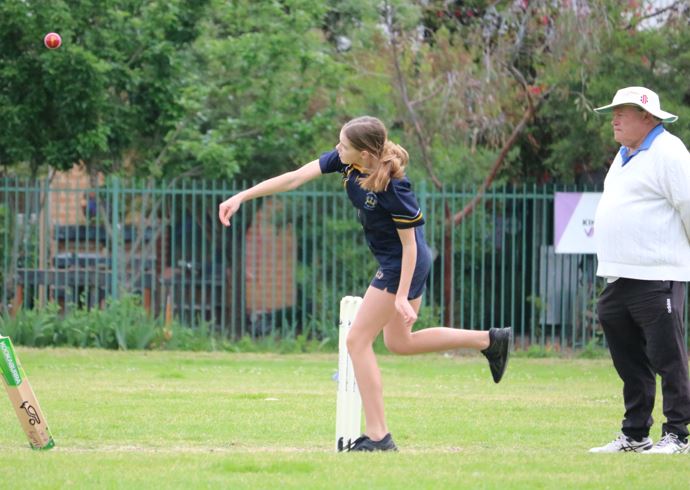 Year 8 Girls
State Quarter Final
Players in our Year 8 Girls cricket team were pumped for a tough game against a Melbourne side. It was perfect weather for cricket, and they started the day batting. Their confidence in batting had improved immensely since their last competition, with the most valuable partnership of the day being Georgia and Evie, hitting 10 boundaries between them.
The sun continued to shine in the afternoon for the girls to take 5 wickets for the day and take home the win. Alysha and Evie took 2 wickets each with Alysha getting two wickets in a single over. The skills and confidence of the team continued to improve, with lots of the girls new to cricket and excited to get this far.
State Semi-Final
The day started with a long drive to Melbourne to play against Trinity College Colac. The girls knew that they would be in for a tough day after making it to the top 4. They started the day batting and Trinity College had some fantastic bowlers, which the girls hadn't experienced before.
The girls knew that they needed to step up their bowling and fielding to keep up with Trinity. Although it was their best bowling and fielding so far, Trinity College were too good, and we went down by 30 runs. In the team of nine girls only two of them had played cricket before, and to finish third in the state was an incredible effort. All team members were always positive and encouraging to each other and were an absolute delight to coach.
Thanks also to Mr Timmins for driving the bus and to Miller Armstrong and Jackson Harris for scoring and umpiring
Miss Steen, Teacher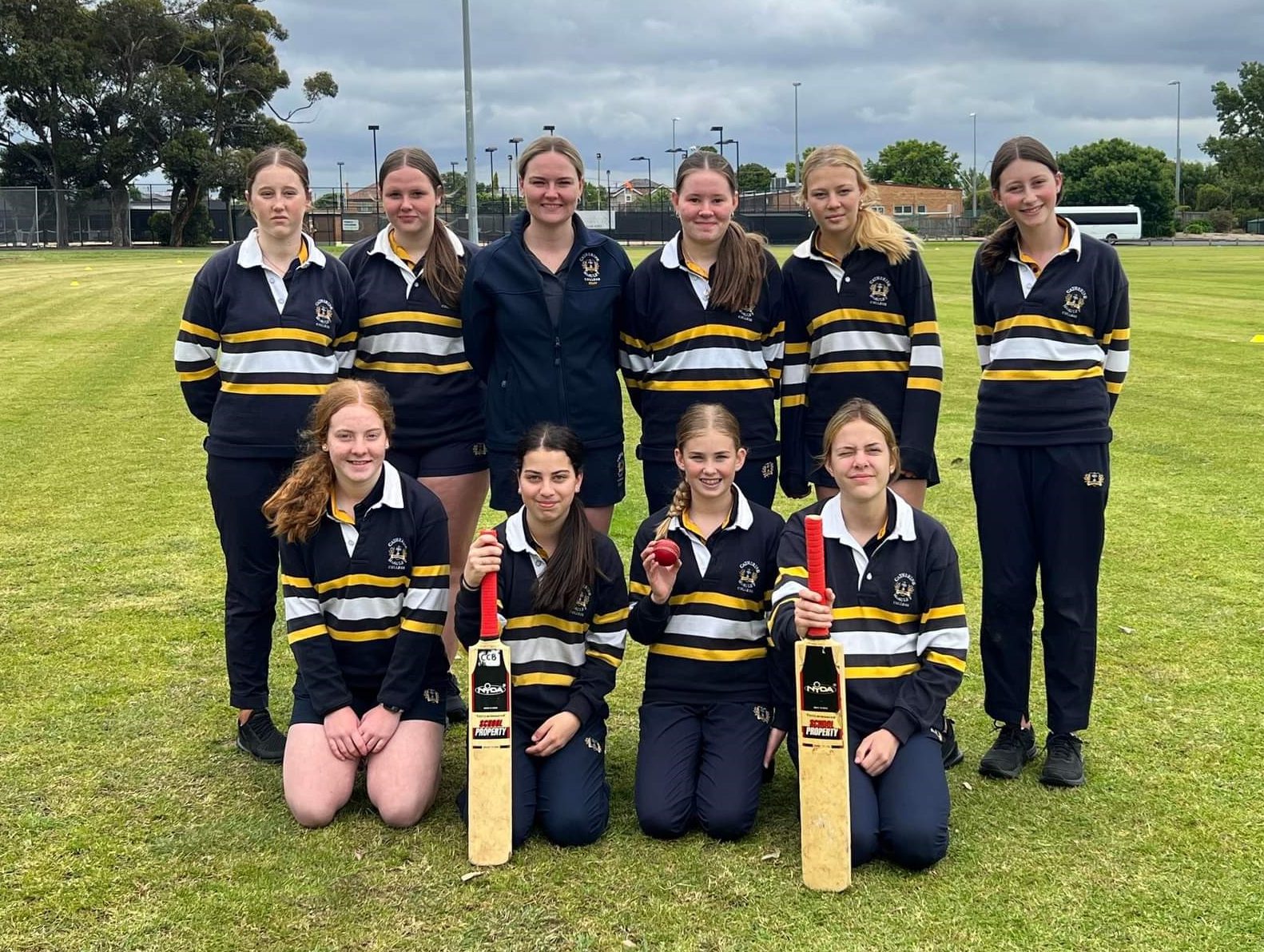 Back L-R: Georgia Bennett, Sophie Tyrrell, Miss Tia Steen (Coach), Ava Terry, Evie Nuttal, Jemma McDougall
Front L-R: Rose McSweeney, Alysha Boyd, Annabelle Edwards, Eve Kalms