Junior Cricket brings great results
18/10/2022
SCHOOL SPORT VICTORIA – SANDHURST DIVISION
JUNIOR CRICKET
Year 8 Girls
The Year 8 Girls had a brilliant day, winning both their games. Playing modified rules (Stage 1), the first game was against Weeroona College Bendigo. With many girls playing their very first game of cricket ever, it was great to witness them develop and grow during this match. They started with a great win, defeating Weeroona 49-8.
The second game was against Bendigo South East College who had also won their first game (against Marist College Bendigo). This was a very close game as BSE fought hard all match. Both teams improved so much from their first game, and it was terrific to see.
There were only 3 runs difference in CMC's favour at the end of the game before runs were deducted for the wickets taken. After this process, it was a 21-run win for CMC. It was a great game where all players played with great sportsmanship and encouraged each other all day.
A massive thank you to Jay and Caleb who assisted throughout the day with scoring and umpiring. The girls have now qualified for the next round of the SSV competition, to be played on Friday 18 November.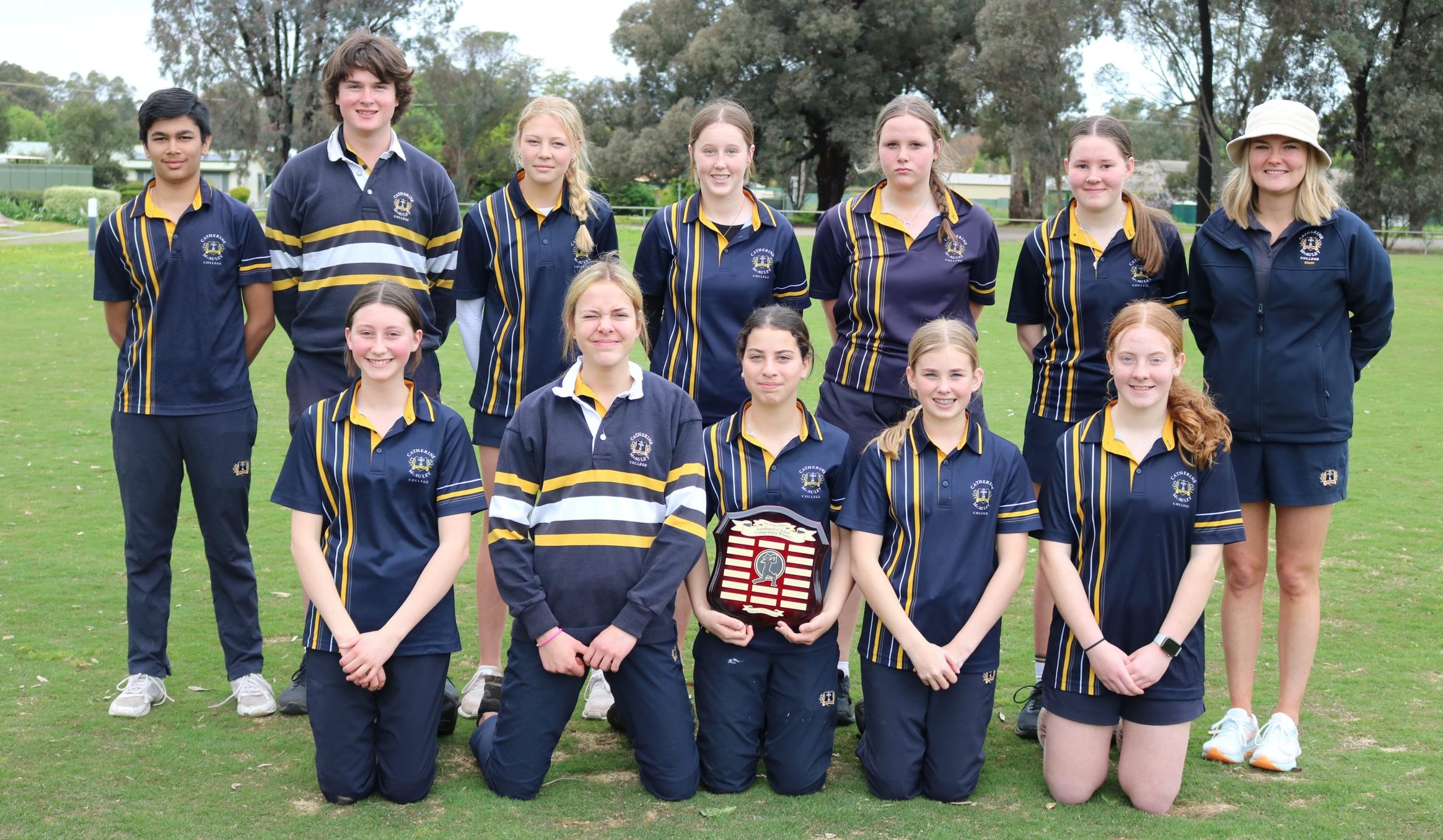 Back L-R: Jay Thakar (helper), Caleb Tobin (helper), Evie Nuttall (Captain), Georgia Bennett, Sophie Tyrrell, Ava Terry, Ms Tia Steen (Coach)
Front L-R: Jemma McDougall, Eve Kalms, Alysha Boyd, Annabelle Edwards, Rose McSweeney
Year 7 Girls
The girls enjoyed great weather for their day of cricket at Marist College Bendigo. The girls played one T20-style game against Marist College. Marist won the toss and elected to bowl first. In this format, every player gets to bat for a certain amount of balls and not go out, but instead lose 4 runs off the overall team's total. All players must also bowl at least one over and there are only seven players on the field at one time to allow plenty of scoring opportunities for the batters. It is a very inclusive and positive format, which suited the players.
As the match began, it was evident that many girls had never worn cricket protective gear before, so it took a bit of getting used to. The girls found it challenging to score as the bowling from Marist was not always playable. Despite that, CMC only lost two wickets, with the highest scorers being Maeve Caine, Zoe Reynolds and Madi Morrison, as the team accrued a total of 64 runs.
Once Marist went in to bat, CMC's fielding and bowling were fantastic and they were able to take a total of 12 wickets, allowing Marist to only score an overall total of 14 runs. The effort from everyone in the field showed dedication and commitment, including fielding hard, catching and even several run-outs.
Special mention to Layla, Dempsey and Maeve for bowling the opposition out and to Madi and Madeline for taking two wickets each. Catches in the field were taken by Layla, Madeline, Maeve and Madi. Runouts by Layla, Rubi and Dempsey.
A big thank you to Sebastian Rossi and Hugh Behrens for scoring, umpiring and being so helpful on the day. Thank you to our coach Mrs Rachel Winfield and to Mrs Chelsea Coles who supported the team. Thanks also to Marist College for setting up, hosting and being fantastic opposition.
The team is through to the next round and we look forward to the next challenge on Friday 18 November.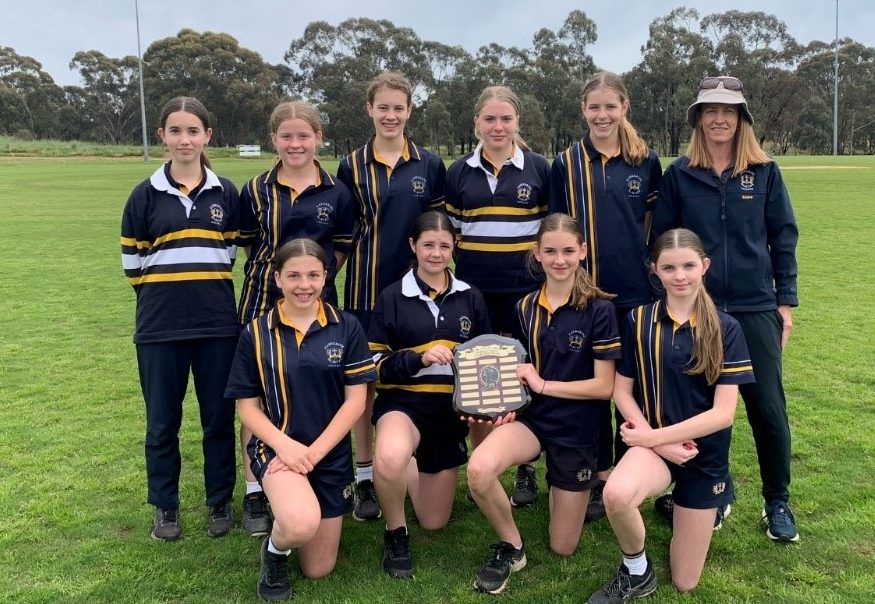 Back L-R: Grace Clark, Layla O'Brien, Holly Hembrow, Madi Morrison, Dempsey McDonnell, Mrs Rachel Winfield (Coach)
Front Row L-R: Madeline White, Maeve Caine, Rubi Phillips, Zoe Reynolds
Year 7 Boys
On 18 October, the Year 7 Boys Cricket Team competed in the Sandhurst Division Finals against Bendigo South East College and Marist College at Ewing Park. Games consisted of 12 overs per innings.
The first game saw Marist win the toss and elect to bat. The CMC boys started well, with the wickets shared evenly amongst the bowlers. Marist were able to hang in, but were restricted to a score of 56. In reply, CMC made a slow and steady start with the bat, before losing multiple wickets and fell just 1 run short of Marist's total. Aydan Hand was the best of the batters with a score of 20.
CMC batted first in the second game with Griffin O'Shea promoted to the top of the order and equal top-scored with 16. The innings closed out beautifully, led by a quick-fire 16 from Chad Mannes. CMC finished with a total of 68.
Our bowling innings was again evenly shared by the bowlers taking early wickets. BSE fought hard and required 9 off the last over, to be bowled by Riley Travaglia. They managed just 5 runs, resulting in a 4-run victory to CMC.
Each team ended the day with one win, but unfortunately, CMC did not progress due to percentage. The boys left disappointed but were already keen for redemption next year.
Thank you to Mr Xavier Dunham for coaching on the day and to our two Year 9 helpers, Darby Whatley and Angus O'Brien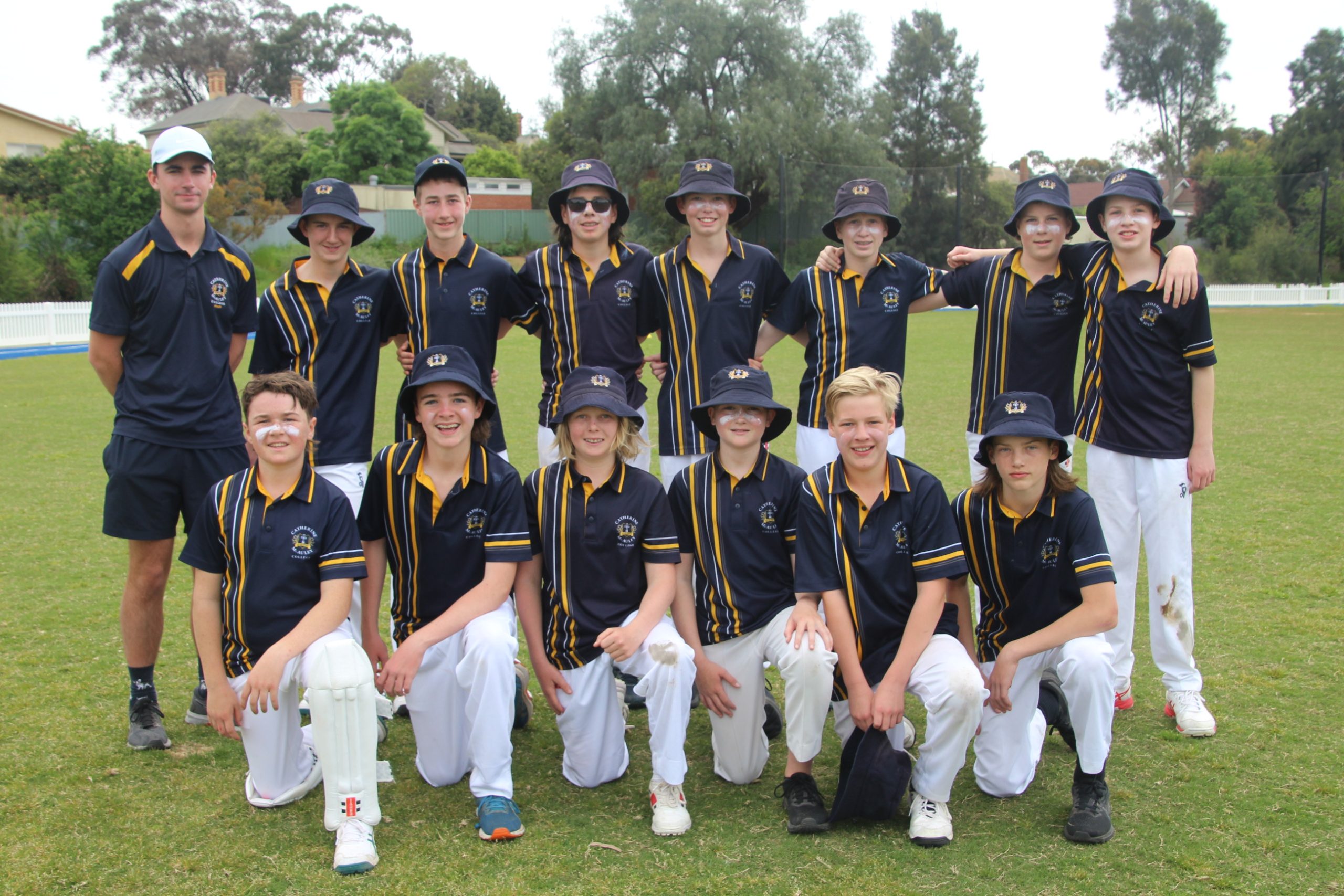 Back L-R: Mr Xavier Dunham (Coach), Elliot Ryan, Callan Orr, Griffin O'Shea, Aydan Hand, Riley Travaglia, Angus McNamara, Henry O'Callaghan
Front L-R: Jacobi Kramer, Max Nicholas, Zane MacDonald, Tyce Griffin, Chad Mannes, Oscar Kleinert