Junior Basketball
21/08/2019
SCHOOL SPORT VICTORIA – SANDHURST DIVISION
Year 7 and 8 boys and girls competed in the Sandhurst Basketball Tournament with mixed success. The Year 7 Boys made it through to the Grand Final to finish runners up. While none of the other teams made it through to the next level, they all displayed a very high level of skill, effort, teamwork and sportsmanship and should be very proud of their efforts.
Year 7 Girls
Despite only being together as a team for a short period of time, our Year 7 Girls Basketball team gave a great account of themselves at the recent Sandhurst Basketball Tournament. The girls displayed a very high level of skill, effort, teamwork and sportsmanship and led their opposition deep in the second half of two out of their three games.
The results for the day were as follows:
Game 1
The first game against saw CMC control 90% of the game, before a couple of late turnovers saw Crusoe College steal victory.
Crusoe College 14 def CMC 13
Game 2
In Game 2, our girls stepped up their level of effort at both ends of the court. Despite our team's great play, a couple of taller girls in the opposition gained the upper hand late in the game to allow their team to pull away and win the match.
Victory Christian College 18 def CMC 12
Game 3
As was the case in Game 2, our team improved further offensively and defensively against what would be our toughest opposition and one of the eventual Semi-Finalists. Despite the challenge, the girls defended strongly and found a way to get to the basket. While this would be our third loss, a lot of positives were taken out of the day and this team will have a bright future in the years to come.
Girton Grammar 24 def CMC 15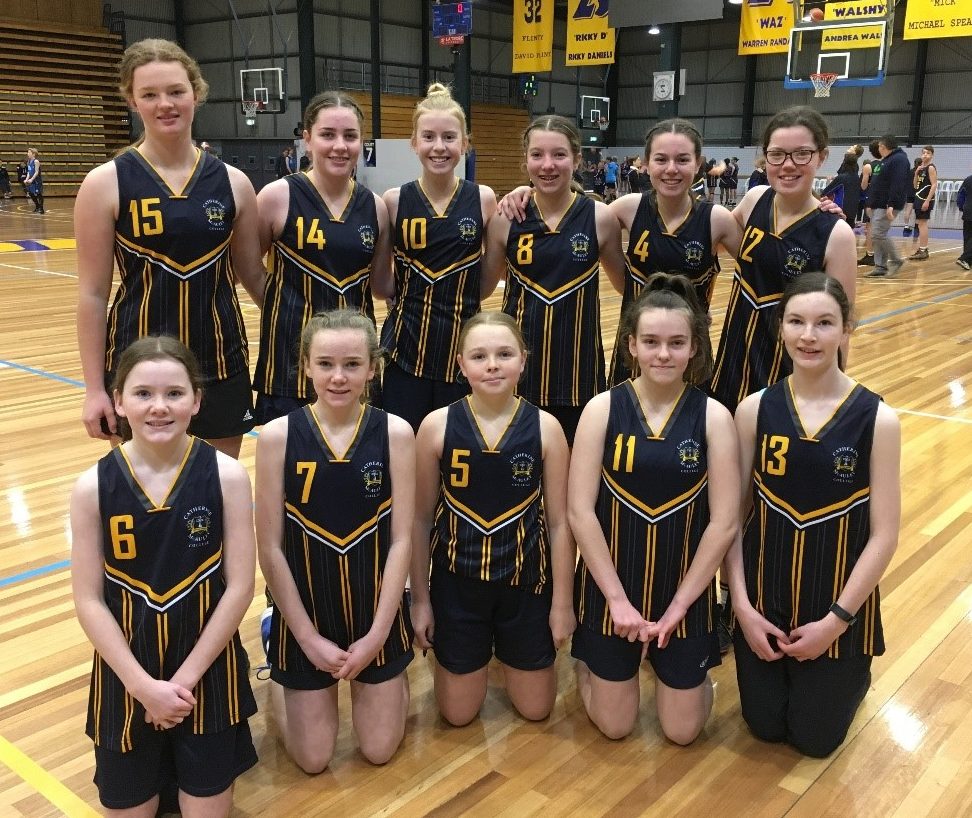 Back Row (L to R): Mikayla Gunther, Georgia Speakman, Zoe Banfield, Mackenzie Allford, Saige Finch, Abbey Freeman.
Front Row (L to R): Laila McCuskey, Nicole Foster, Bonnie Banfield, Majella Roberts, Madison Vincent
Year 7 Boys
The Year 7 Boys had a fantastic day. The boys played 4 games in Pool A. The teams finishing at the top of the Pool would make the Grand Final.
The boys had some tough pool matches against Girton Grammar, Crusoe College, Victory Christian College and Castlemaine Secondary. They displayed great team-work and skill in all of these matches and as a result they won them all and made it though to the Grand Final. In the Final they came up against the very strong team from Marist College. In this match they were simply outplayed on the day by a better opponent and finished as runners up. Despite the loss the boys should be very proud of their efforts and their terrific sportsmanship.
Thanks to Mr Driscoll for coaching the team.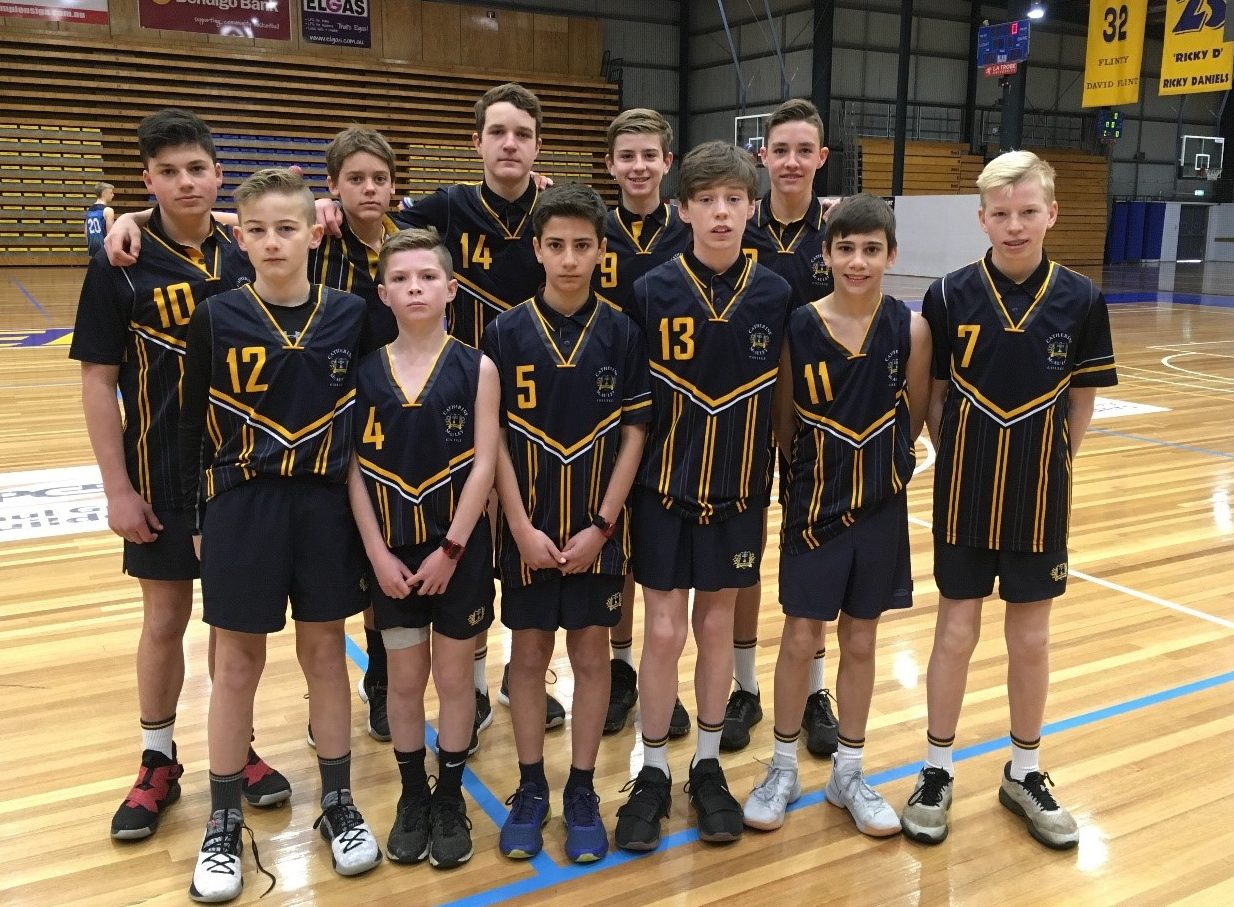 Back Row L-R: Oliver McNicol, William Bassett, Jack Burn, Kalan Hand, Wil Pinniger
Front Row L-R: Anthony Willoughby, Logan Kilcullen, Isaac Tzouroutis, Daniel Noden, Joseph Artavilla, Tobias Travaglia.
Year 8 Girls
It was a great day to be playing basketball given the weather outside was fairly poor. We started off the day with two games in a row.
Game 1 vs Castlemaine Secondary College. The competition was of a good standard and the girls had to dig deep to maintain their place on top of the scoreboard. CMC 23 def CSC 18
Game 2 vs Girton – This was a tougher match. The Girton girls were strong and hard at it. They proved to be too tough and we ended up losing. Score: Girton 18 def CMC 4
Game 3 vs Crusoe College. We again faced a very competitive opponent in Crusoe College. They were quite a surprise package and ended up beating us by one point. Score: Crusoe 17 def CMC 16
Game 4 vs Victory Christian College was our last match of the day. All girls scored in this game and we had a convincing win. Score: CMC 36 def VCC 1
Although we did not make it to the next level, the girls should be proud of the way they conducted themselves throughout the day. Their sportsmanship and willingness to rotate on and off the bench without question made it a very easy job to coach.
Mrs Winfield, teacher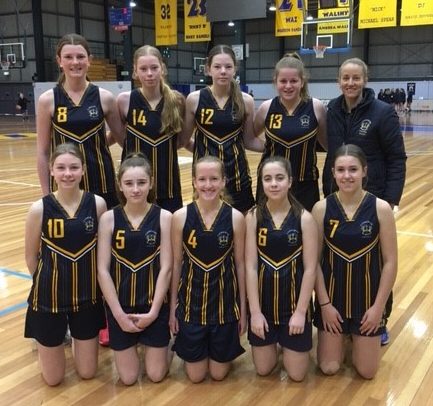 Back Row L-R: Layla O'Shea, Jade Kelly, Isabella Murphy, Alexandra Duke, Mrs Winfield.
Front Row L-R: Olivia Nihill, Tess Rule, Caitlin Evans, Zoe Westbrook, Ella Raco.
Year 8 Boys
The Year 8 Boys had a mixed day winning 2 of their 4 pool games. In game 1 they played Girton Grammar. In this game the boys tried hard all match but, in the end, went down by 7 points to a team that were just too big, and who looked after the ball better in general play.
Game 2 saw the boys take on Crusoe. In this match the boys put in a much better defensive effort and were able to take out the win. Game 3 was terrific as the team shared the ball well and worked really cohesively together which resulted in another win.
In their last pool match the boys played a strong team from Castlemaine. The scores were close all game and with just seconds to spare the boys were up. Castlemaine hit the basket just before the siren and took the win by just 1 point. It was a loss that left the boys shattered, however they still performed extremely well all day, and we congratulate them on their efforts.
Thanks to Mr Dan Arnott for coaching.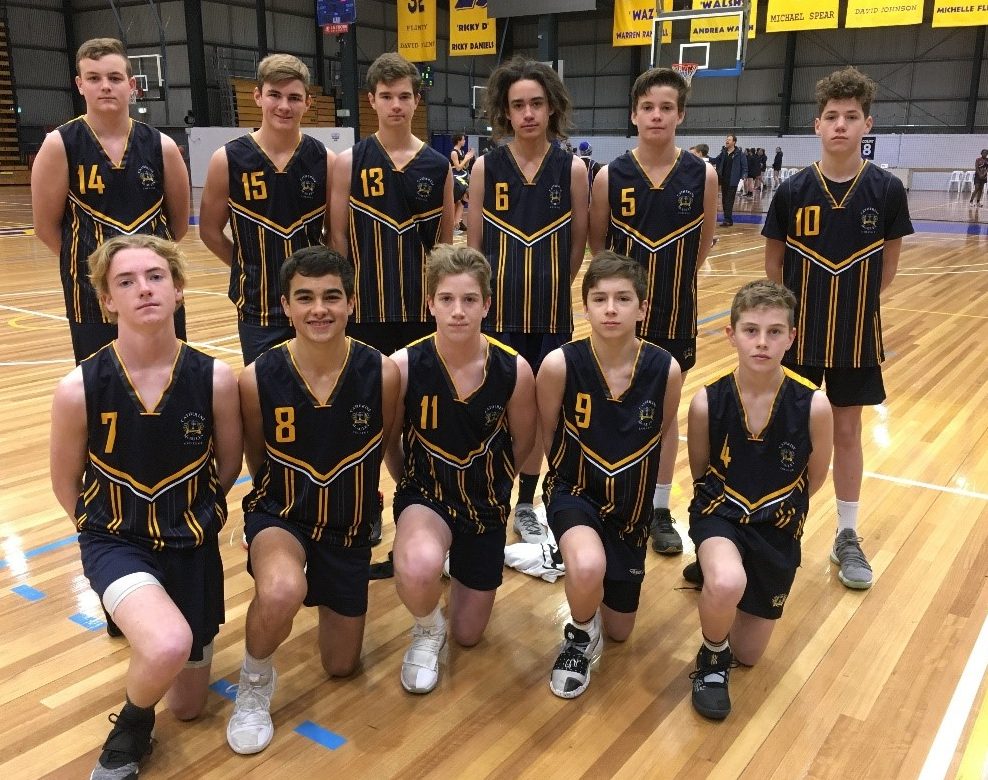 Back Row L-R: Ezekiel O'Kane, Evan Cole, Toby Harrison, Zachari Tarr, Jasper Cheeseman, Finn Foster-Black
Front Row L-R: Ethan Yates, Harrison Kelly, Riley Mulquiny, Noah Layton, Aiden Mundy