Junior Basketball – Sandhurst Division
12/08/2021
SCHOOL SPORT VICTORIA: SANDHURST DIVISION
Year 7 Girls
It was fantastic to have the opportunity of some sport after a lot of uncertainty as to whether the day would go ahead. The girls were very keen and happy to get out and do what they love to do. So much talent and sportsmanship was on display and the team was a pleasure to coach. The girls worked so well together as a team and were undefeated all day. There were two close games against Girton Grammar School – our main competition for the day, however, the girls showed determination and the depth as a team to get over the line.
Thank you to Mrs Rachel Winfield for coaching the team.
Game 1 vs Crusoe College – Catherine McAuley College won 43 to 6
Game 2 vs East Loddon P-12 College – Catherine McAuley College won 40 to 0.
Game 3 vs Girton Grammar School – Catherine McAuley College won 22 to 20.
Game 4 – Semi-Final vs Weeroona College – CMC won 27 to 3.
Game 5 – Grand Final vs Girton Grammar School – CMC won 22 to 17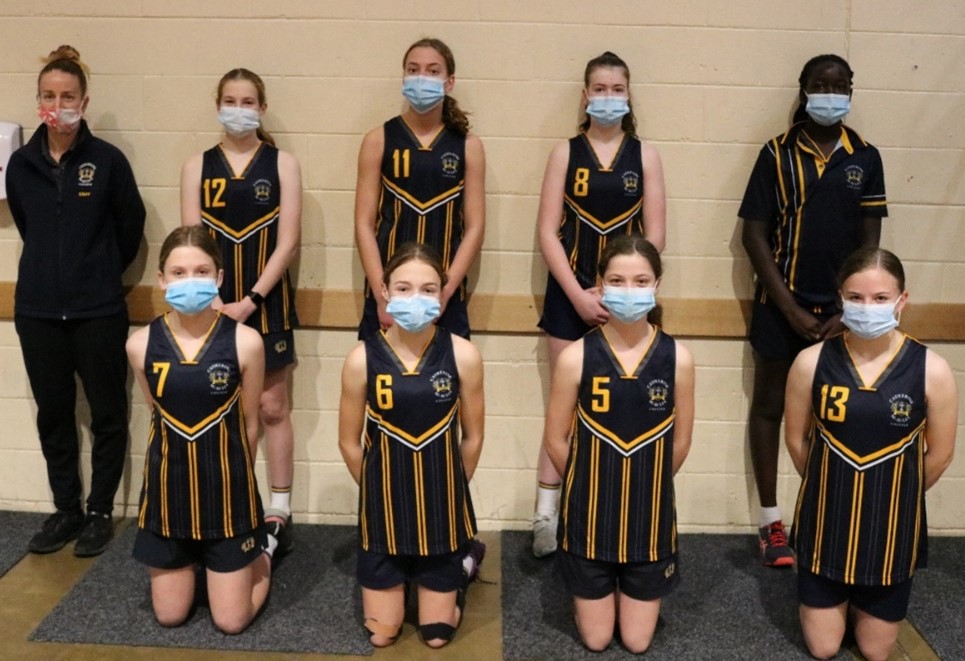 Back L-R: Mrs Rachel Winfield, Abbey Reid, Eve Kalms, Mia Morris, Diana Napoleon
Front L-R: Tess Cockerall, Charlize Pinder, Lacey Nihill, Charli Simmonds
 Year 7 Boys
The team of Year 7 Boys played 3 pool games across the day. They defeated East Loddon P-12 College 57 – 0, Crusoe College 40 – 2 and Girton Grammar School 49 – 1 to qualify for the Grand Final.  The Final was played against Marist College Bendigo. It was another dominant performance from a team that worked cohesively together all day.  The boys were amazing to watch and ran away with the match, winning 44 – 11.  The win saw them presented with the Sandhurst division shield and it also qualified them for the Loddon Mallee Regional Finals that hopefully will be played in Term 4.
Congratulations boys on a terrific performance, and thanks to Mr Dan Arnott for giving up his time to coach the team.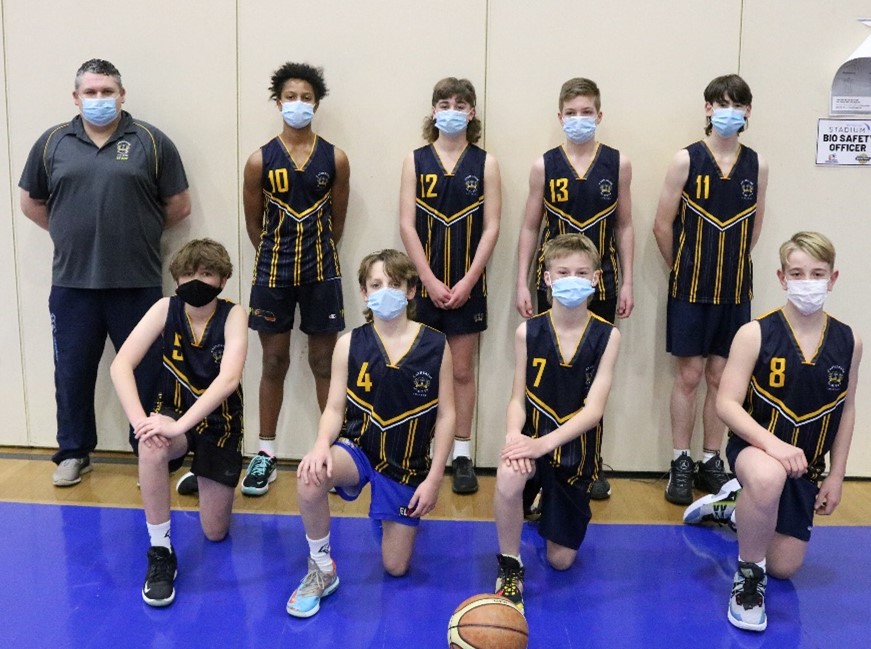 Back L-R: Mrs Dan Arnott (Coach), Dash Daniels, Oliver Stewart, Gil Neilson, Riley Webster
Front L-R: Joshua Mundy, Archie Eaton, Jack Oldham, Jake Schubert
 Year 8 Girls
The Year 8 Girls basketball team won each of their games by a comfortable margin and progressed to the final against Bendigo South East College. After playing three games in a row without a break, the girls had their work cut out for them in the final. They played hard and gave it all they had but lost to Bendigo South East College in the end.
The girls showed great teamwork and sportsmanship throughout the day.
Thank you to Miss Sheridan Argus for coaching on the day.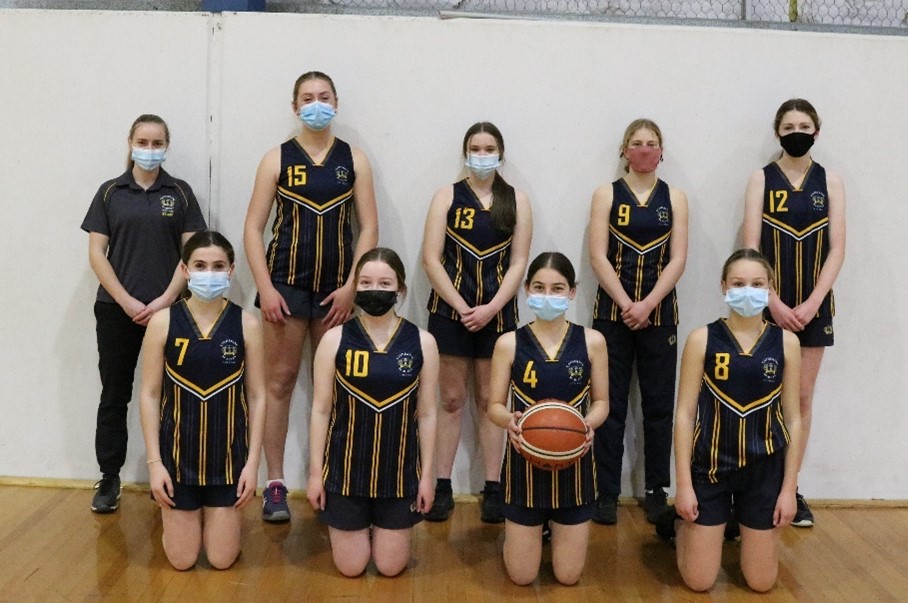 Back L-R: Miss Sheridan Argus (Coach), Ciarah McDermott, Jorja Brown, Olivia Lacy, Harriet Whiteacre
Front L-R: Jaida Raco, Alexia Carmichael, Caitlin Kelly, Neve Pinner
Year 8 Boys
The Year 8 Boys had a terrific day, easily winning all 4 of their pool matches against Victory Christian College, East Loddon P-12 College, Girton Grammar School and Crusoe College. These wins saw them finish top of their pool and qualify for the Grand Final.
The Final against Marist College Bendigo was a skilled, but tough match. Scores were even throughout, however it was Marist's ability to score under pressure when it counted that was the difference in the end, as the boys went down by just 5 points 14 -19. 
The boys played great team basketball all day and were great ambassadors for the College.  Congratulations on being the Sandhurst Division runners-up.
Thanks also to Mr Damian Driscoll for coaching the team.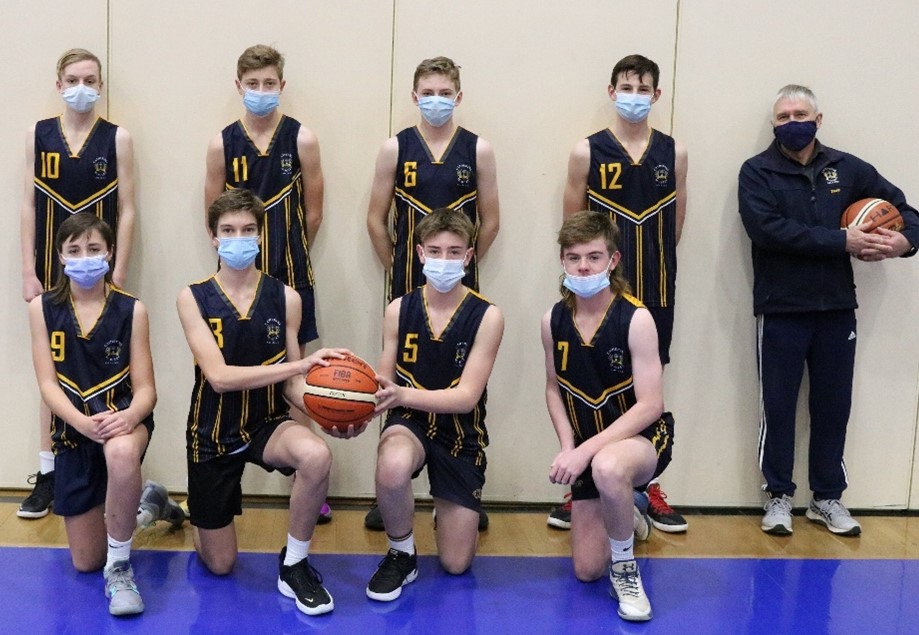 Back L-R: Thomas Davie, Madden Guthrie, Gus Hay, Cooper Cunningham, Mr Damian Driscoll (Coach)
Front L-R: Llogan Mayman, Zane Connick, Rossi Stevens, Xavier Grant