Junior Basketball – all teams enjoy success
09/08/2018
SCHOOL SPORT VICTORIA SANDHURST DIVISION
On Wednesday 1 August, four teams represented Catherine McAuley College at the Sandhurst Junior Basketball day. All teams made it through the rounds into their respective Grand Finals, with the Year 8 boys continuing undefeated to progress through to the next stage of the competition.
Year 7 Girls
A squad of ten Year 7 girls were keen to do well at the local tournament. The girls played five games all up – three of them were against teams in our pool and then two of them were in the finals. The first game we played was against Weeroona, it wasn't a very hard game and we ended up winning 35-2. Our second game was against East Loddon and this game wasn't too hard either, and we ended up winning 34-4. In our third game, we were expecting a bit more of a challenge. We were up against Castlemaine and we won again 25-6.
We then found out that we had finished on top of the ladder in our pool so we went on to play the semi-final against Marist. This was our toughest game yet although we ended up coming out on top, winning 19-7. After that, we had to play Girton in the Grand Final. Girton was a good team and ended up beating us 35-6. Even though we lost the grand final it was a good day. Our squad consisted of Maggie Burke, Olivia Nihill, Maiya Pearce, Pearl Sullivan, Caitlin Evans, Isabella Murphy, Cate O'Bree, Ella Raco, Zoe Westbrook and Jade Kelly. Jade would have been a great player for the team but wasn't able to play because she was injured. Mrs. Rachel Winfield was our coach.
Pearl Sullivan MK2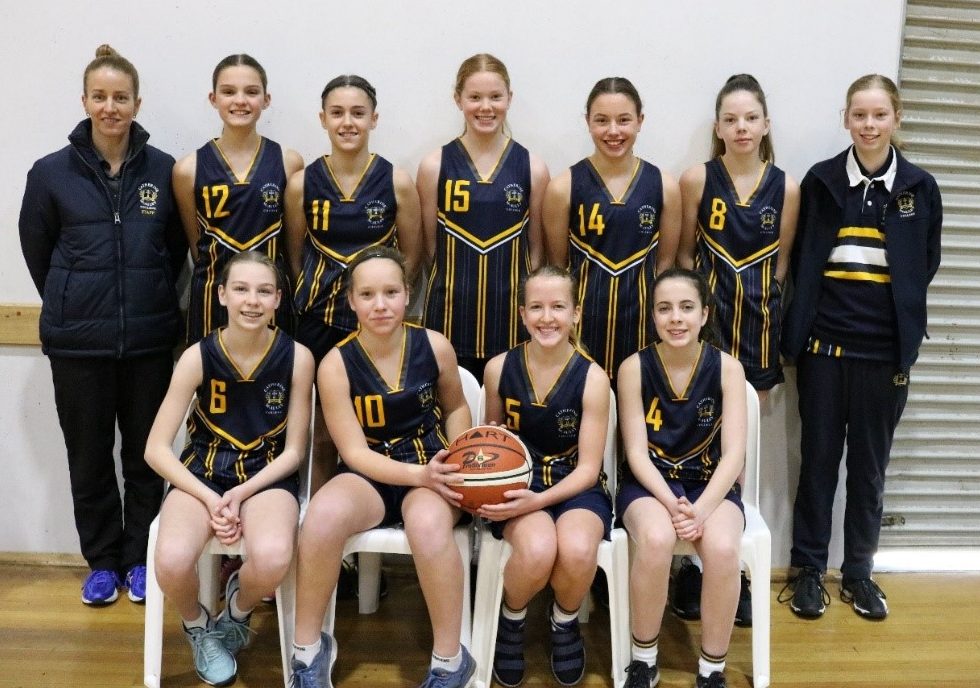 Back Row L-R: Mrs Rachel Winfield, Maiya Pearce VT1, Ella Raco JR2, Maggie Burke MK4, Pearl Sullivan MK2, Isabella Murphy BK2, Jade Kelly CH4.
Front Row L-R: Olivia Nihill CH3, Cate O'Bree VT2, Caitlin Evans JR1, Zoe Westbrook BK4.
Year 7 Boys
The Year 7 boys had two pool matches before the finals. Game 1 was against Castlemaine. The boys played well and won by 12 points. Game 2 was against Eaglehawk. In this game, the teams really gelled well together and had another good win by 15 points. These two wins saw the boys then make it to the cross over finals where they played the might of Bendigo South East (BSE). It was a thrilling match, with both teams playing a great standard, however the boys were unable to get the ball in the ring for the last few minutes of the game, despite the many chances that they created. The end result, sadly, was a 4-point loss, but the boys should be very proud of their efforts, they were fantastic.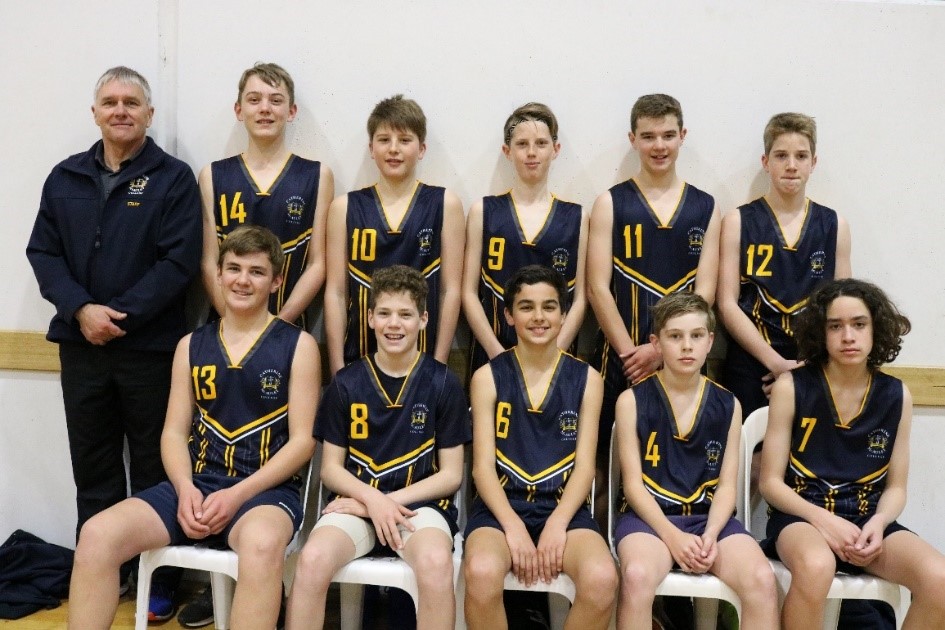 Back Row L-R: Mr Damian Driscoll (Coach), Tait Poyser JR3, Darcy Lawler CH2, Rory McCrann-Peters CH2, Toby Harrison BK3, Riley Mulquiny MY2
Front Row L-R: Evan Cole MK4, Finn Foster-Black MK3, Harrison Kelly MK3, Aiden Mundy JR3, Zachari Tarr CH2
Year 8 Girls
The first game for the Year 8 girls was against Weeroona, it was a bit of a rusty game, but we came through with the win. We then played Castlemaine and beat them. Thirdly we played Eaglehawk and won, which put us through to the Semi Final. We played Girton which was a tough game for the girls and unfortunately, we lost. But overall the girls played awesome and enjoyed the day! A big thank you to everyone involved!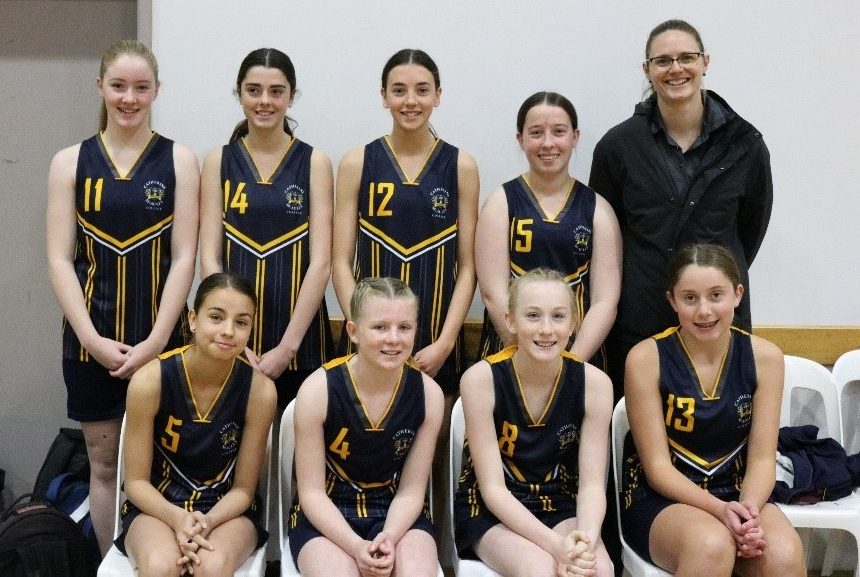 Back Row L-R: Eloise Pinniger MK4, Macey O'Shea BK4, Ava Walker MK2, Ruby McMahon CH3, Miss Eleanor Haring (Coach)
Front Row L-R: Maddi Gargiulo, Caitlin Millar MY4, Amaya Schmidt MY4, Jorja Whatley BK3
Year 8 Boys
After an extended warm up, the Year 8 Boys basketball team started their first game against Eaglehawk and came out all guns blazing. The boys took control of the game early and were eventual winners by 19 points. In round 2 of our group matches, we came up against Weeroona. The boys were strong at both ends of floor during the match and came away with a 36-point victory.
Finishing on top of our pool, we came against Girton in the semi-final. The game was tightly contested with some good play from both teams. CMC were the eventual winners by 10 points, which set up a highly anticipated final against BSE.
After a slow start in the final, with BSE taking the early lead, the boys were able to find their groove in the last four minutes of the first half to level the scores going into the main break. A fantastic second half, with some outstanding defensive plays resulted in CMC taking the lead and eventually running away with the win by 7 points. We now progress through to the next stage of competition in Term 4.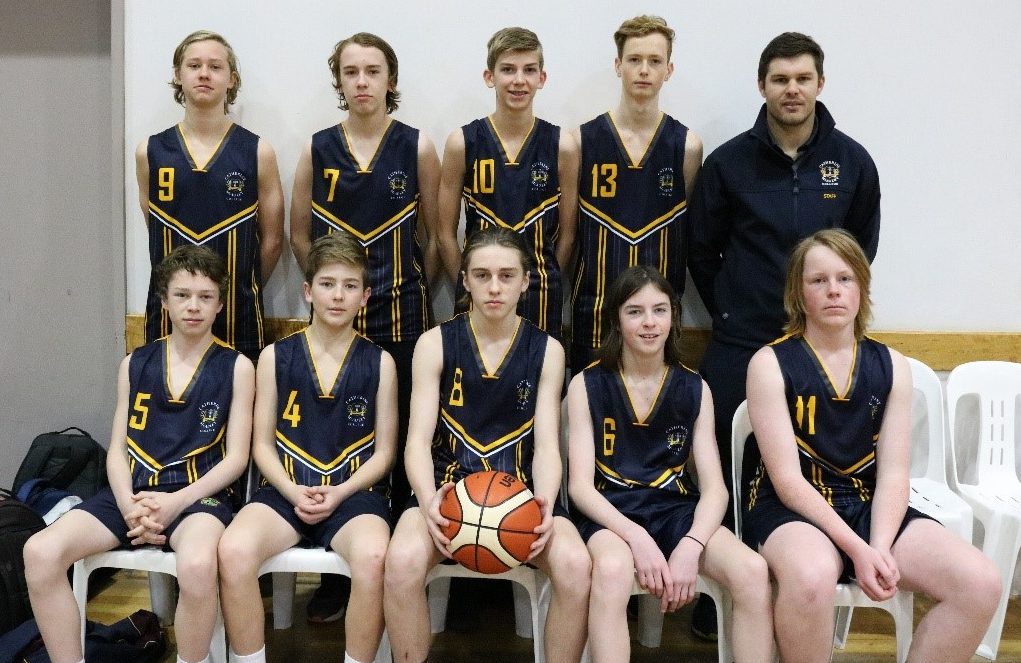 Back Row L-R: Joshua Harris JR03, Oliver Mayman CH04, Jake Nihill CH05, Hugh Morris CH05, Mitch Winter-Irving (Coach)
Front Row L-R: Matt Noden MK01, Riley Bruce MY01, Zavia Roberts VT03, Jett Wade- Roberts CH02, Joshua Gillies CH02
Thank you to all of the parents that came along on the day to support all of our Teams. Your presence is very much appreciated as is the help you provide to each team.