Intermediate Netball campaign begins with confident wins
20/05/2019
A great day of competition on the court was enjoyed by both our Years 9 and Year 10 Netball Teams in the Sandhurst Division Intermediate Netball Tournament on Monday 13 May.
SCHOOL SPORT VICTORIA: SANDHURST DIVISION
Year 10 Team
We had a great day at the Intermediate Division 1 competition. Playing Crusoe College and Eaglehawk Secondary College in the qualifying rounds saw our girls settle into a routine well. With rotations a plenty due to the versatility of the playing group they were able to qualify for the Gold Division Finals with ease and confidence.
Playing off against Marist College Bendigo and Bendigo South East (BSE) College in the finals, the girls were able to manage a higher intensity than their opponents, winning both matches with good margins.  This outstanding performance has enabled them to qualify for the next level of competition, which is to be played in July.
The girls played beautiful netball all day applying defensive pressure across the court. Stand out performances from Tahlee O'Keefe with superb goaling and Carissa Brook with lovely movement down the court all day contributed to the overall results that saw our days total combined score being 120 goals to just 8.
A big shout out to Ellie Donnellon for scoring and Nikita Matthews for umpiring for our school.  Your contribution was very much appreciated.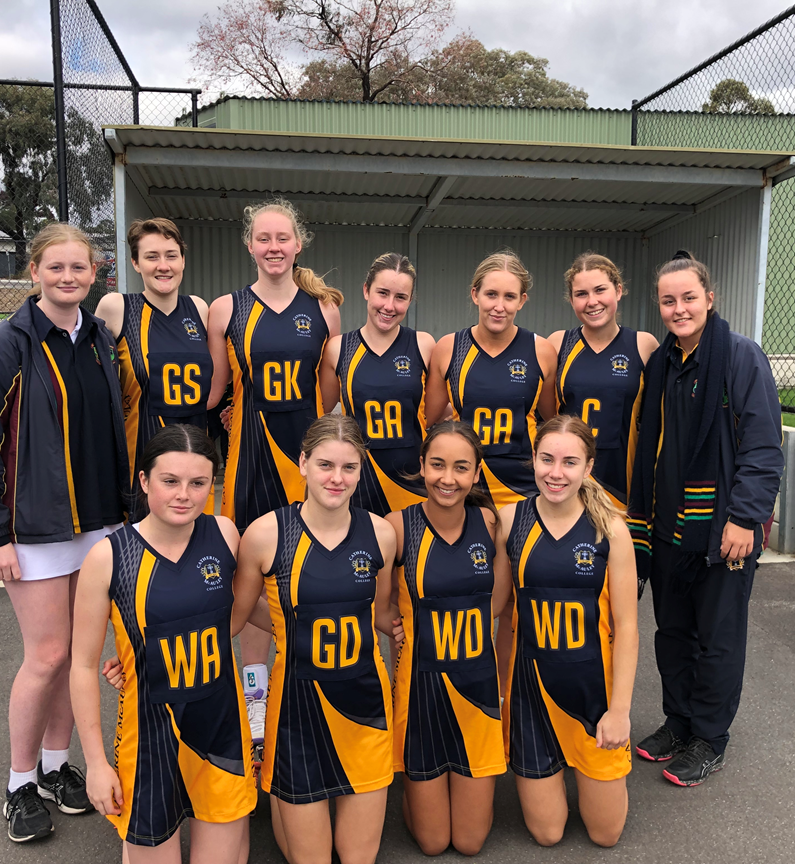 YEAR 10 NETBALL TEAM
Back L-R: Nikita Matthews, Deanna Duane, Piper Dunlop, Abbey Clohesy, Tahlee O'Keefe, Carissa Brook, Ellie Donnellon
Front L-R: Olivia Erwin, Amelia Moon-Manning, Tiahna Leader, Meg McCarthy
Year 9 Team
The Year 9 girls played in the B Division as the Year 10 Team was the A Division Team. In our pool there was Girton Grammar and Castlemaine Secondary College. In our first game we played Girton and won 25-3. We started the day a bit slowly, but with some accurate goaling and tight defence but worked our way to an easy win.
In the second game we played Castlemaine and won 35-2. In this game our centre court found terrific space and the flow from defence to attack was seamless. We then had a lunch break in readiness for the finals. Our first finals game was against Marist College Bendigo, winning 27-2. Our defence once again held tight, intercepting many of the entries into the Marist goal ring. Our centre court passed and moved beautifully into our ever-dependable goalers.  The next final was played against BSE and we came out with a win, 31-6, which put us on top of the B Division for the day. We look forward to the challenge of training towards our next tournament in Term 3 where we will play against Years 9 and 10 teams from around Victoria.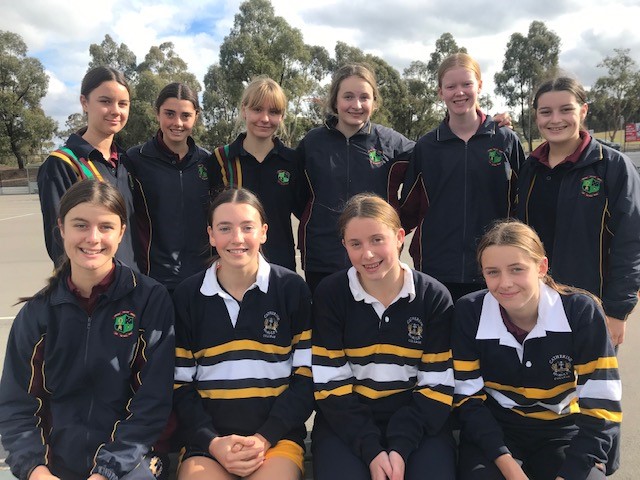 YEAR 9 NETBALL TEAM
Back L-R: Aimee Dean, Macey O'Shea, Charlotte Crouch, Charlotte Sexton, Siarne Cass, Tahlia Isaac
Front L-R: Katie Dean, Ava Hamilton, Jorja Whatley, Lily Trimby