Intermediate Girls strong cricket debut
11/10/2022
SCHOOL SPORT VICTORIA – SANDHURST DIVISION
Intermediate Girls
The Catherine McAuley College Intermediate Girls cricket team made its debut in the Sandhurst Competition on Tuesday 11 October, against Bendigo South East College, at Club Court, Strathfieldsaye.
CMC lost the toss and were sent into bat, however with the outfield damp from the overnight dew, this was not necessarily a bad outcome for the team. Apart from the moisture on the grass, it was a beautiful morning for cricket, and our openers of Meg O'Callaghan and Milla Finch made the most of their opportunity.
Meg was outstanding, as she carried her bat for the entire innings and finished on a brilliant 79 not out off 51 balls. Milla Finch was terrific in seeing off the strong opening bowlers in her first-ever time at bat, whilst Maddie McLarty made a valuable 11 before retiring to give some of her teammates an opportunity. Sophia Monotti, who was also having her first bat, made 5 not out as she and Meg closed out the innings. It was an impressive result with the girls making 2/144 from their 20 overs.
BSE set about their run chase with trepidation, as the bowling from Madeline Best was quick and impressive. So much so that she clean bowled one of their opening batters with just her second ball of the day. From there Ashlyn, Milla, Gen, Maddie, Sophia, Lilly and Meg all bowled a number of overs each and with everyone gaining confidence and experience from their opportunities, the girls were able to restrict BSE to 5/95. Meg O'Callaghan, Milla Finch and Lilly Rule joined Madi Best in the wicket-takers column, bowling some terrific line and length.
It was an impressive 49-run win by the girls, especially since most of them had never played cricket before. They have now qualified for the Loddon Mallee Regional Finals which will be played on Tuesday 25 October.
Thanks to Ms Steen for her assistance on the day, and also to Gus Hay and Oscar Farrelly for scoring and umpiring on the day. Congratulations to the girls on a brilliant performance, and good luck at the LMR Finals day.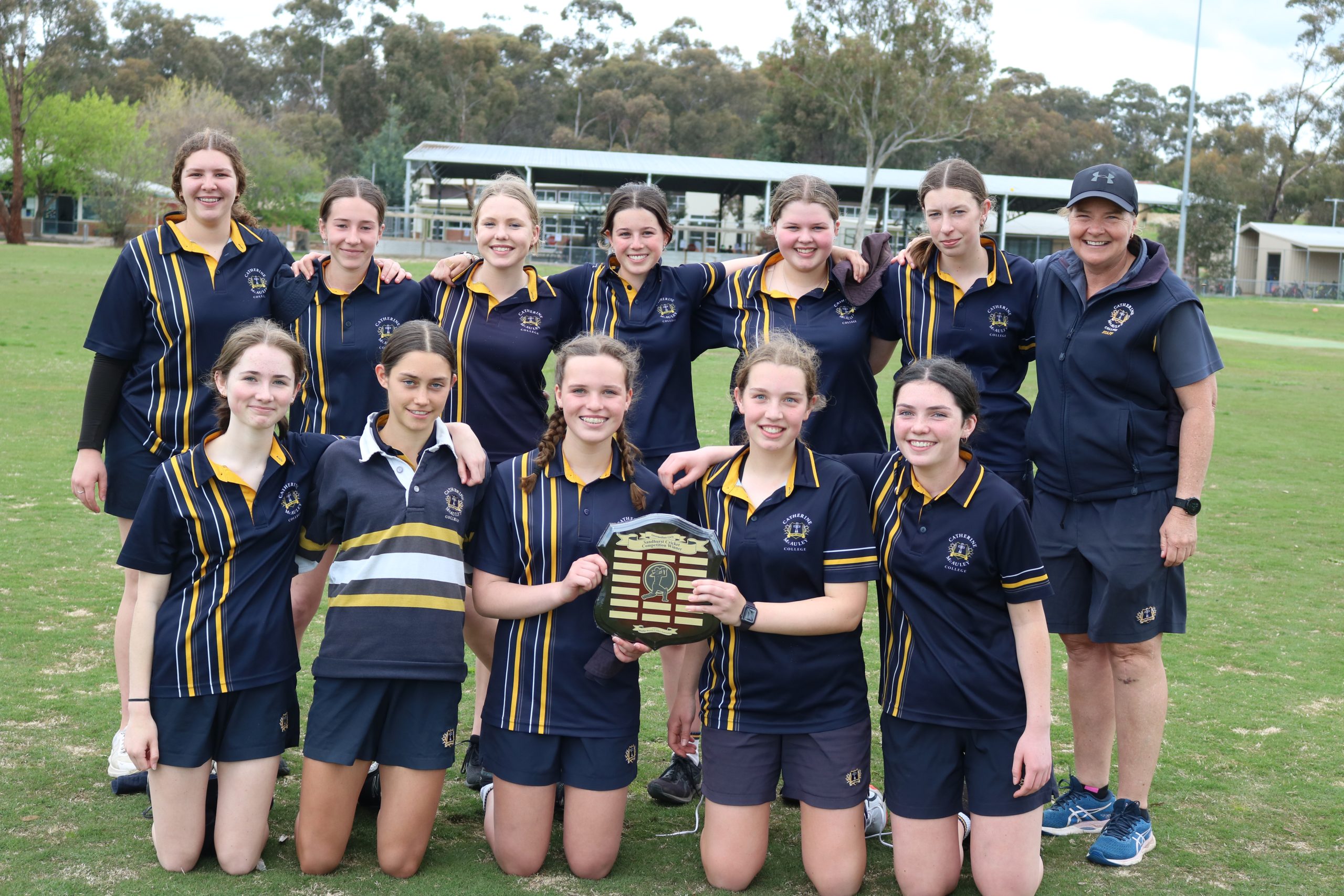 Back L-R: Maddie McLarty, Madeline Best, Sophia Monotti, Milla Finch, Ashlyn Giudice, Ebony Gronow, Ms Maree Pearce
Front L-R: Lilly Rule, Genevieve Nihill, Zahli Waugh, Meg O'Callaghan, Mikayla Cornish