Intermediate Football Finals
07/08/2019
SCHOOL SPORT VICTORIA – SANDHURST DIVISION
The Sandhurst Intermediate Football Competition was held over two days with both the Intermediate Girls and Intermediate Boys teams both winning the Preliminary rounds back in late July. As a result, they both qualified for the Finals day that was held at Marist College Bendigo on Thursday 1 August. Below is a brief detail of their performances.
Intermediate Girls
The girls came together on the Preliminary day keen to get out on the field and play some footy. They were brilliant all day and were definitely a class above their opposition in all 3 games with the results as follows:
Game 1 – CMC 3-2-20 def Marist College Bendigo 1-1-7
Game 2 – CMC 4-4-28 def Crusoe College 0-0-0
Game 3 – CMC 6-7-43 def Eaglehawk Secondary College 0-0-0
These outstanding results saw them qualify for the Final against Bendigo South East College.
The Final was a great match with both sides displaying some excellent skills. It was however BSE that attacked early kicking the first goal. They then added another 2 goals in quick succession, but our girls were not out of the contest. They lifted their intensity and started to win the ball, kicking 2 goals late in the first half to be down by just 7 points at half time. The start of their second half was blistering as Carissa Brook broke clear from her opponent and kicked a goal within the first 2 minutes, making it just 1 point the difference. The game then tightened up with both sides struggling to get the ball clear. Then BSE started to win the ball around the stoppages; they kicked the next 2 goals of the match, which was enough to secure victory – BSE 5-4-34 to CMC 3-0-18.
It was a terrific game by all of our girls, and we congratulate them on their fantastic team play and sportsmanship.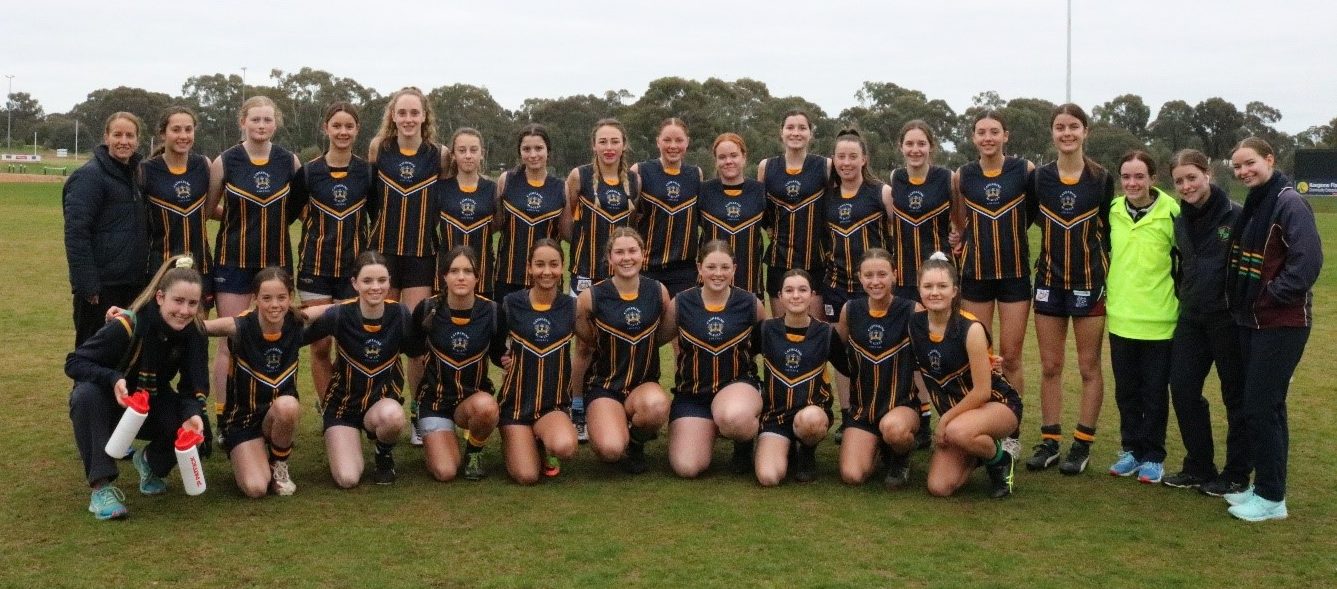 Back Row L-R: Mrs Rachel Winfield (Coach), Arkie Donnelly, Nikita Matthews, Aimee Dean, Layla Day, Zahli Biggs, Hannah Etheridge, Shakaiya Coffey, Emily Collins, Jorja Bish, Varlee Nihill, Ruby McMahon, Piper Smith, Ava Hamilton, Katie Dean, Lara Bish (Runner), Polly Hughes (Team Manager), Alexandra Goggin (Football Director)
Front Row L-R: Abbey Clohesy (Water Girl), Hannah Maher, Chloe Lenaghan, Marnie Wakefield, Tiahna Leader, Carissa Brook, Renn Minne, Emily Pengelly, Bella Ladd, Piper Nally
Intermediate Boys
The intermediate Boys were demolition-like in their Preliminary games against Marist College Bendigo, Crusoe College and Eaglehawk Secondary College, with all players getting time on the field as well as having the flexibility to play in some different positions. The games were a good warm up for the Finals day. Results:
CMC def Marist 8-3-51 to 3-1-19
CMC def Crusoe 8-5-43 to 3-5-23
CMC def Eaglehawk 9-9-63 to 2-1-13
The Boys' Final was also against Bendigo South East College and it was a highly skilled game with both sides having opportunities to move the ball forward early. It was evident however that the class of CMC was going to be the telling factor. It was 5 goals to 0 in the first half as the boys, once settled played all over their opponents and their link-up play was the difference. The brilliance extended into the second half as the boys shared the ball around beautifully. It was a terrific match and the boys' dominance of the Sandhurst competition continued as they ran out 45 point winners. 8-9-57 to 2-0-12.
Congratulations boys on a fantastic result and good luck at the Loddon Mallee Regional Finals on Wednesday 7 August.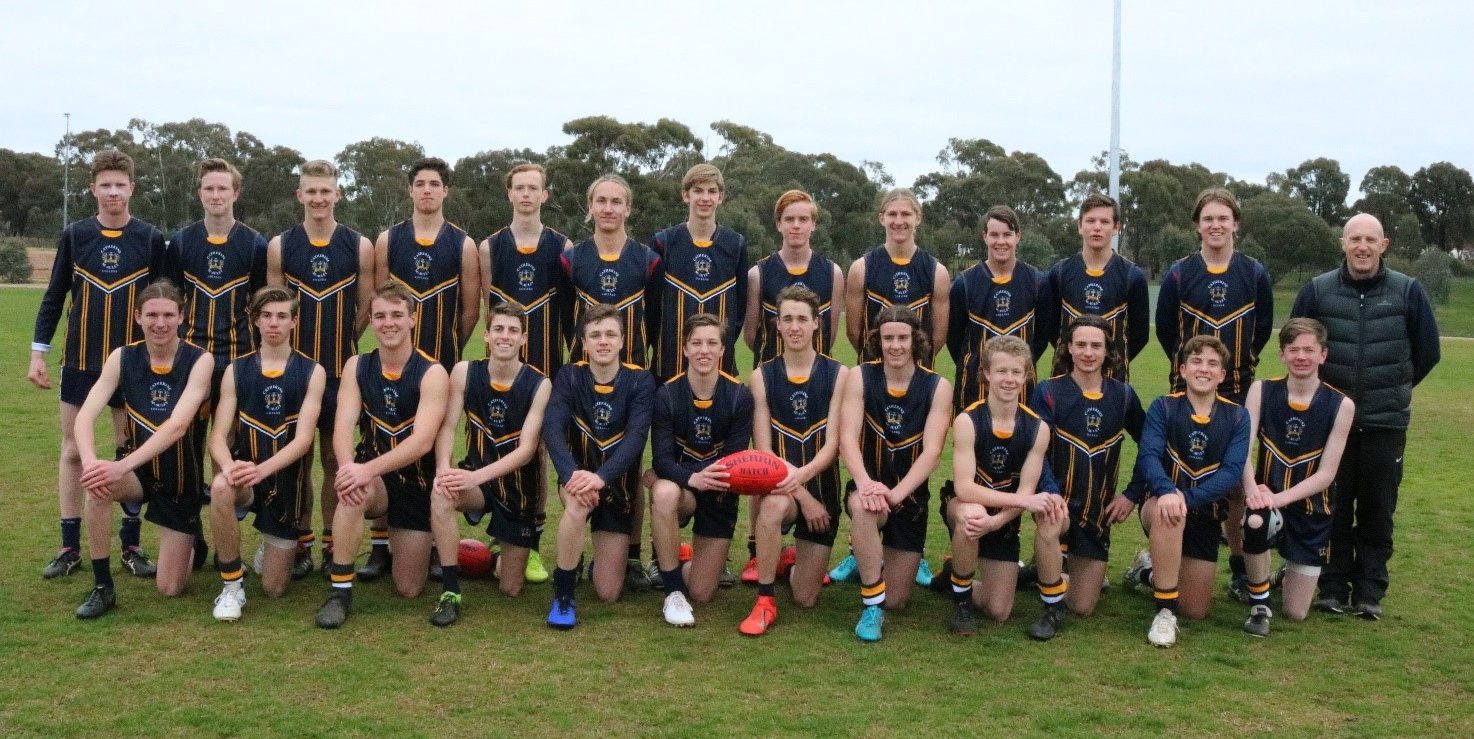 Back Row L-R: Fletcher White, Flynn McGuckian, Jai Featherby, James Worme, Hugh Morris, Xavier Fiske-Kealy, Jacob Nihill, Riley Joss, Ethan Featherby, James Barri, Rhys Bolton, Wil Tuohey Mr Matthew Smith (Coach)
Front Row L-R: Sam Lowes, Henry McCarthy, Harrison Welch, Jack Keating, Jack Stewart, Harvey Gallagher, Lincoln White, Thomas Bennett, Harry McKinley, Jack Craig, Matthew Wilkinson, Lachlan O'Brien