Intermediate Cricket
18/03/2020
SCHOOL SPORT VICTORIA – SANDHURST DIVISION
Intermediate Boys
The Year 9/10 boys played in Pool 1 of the Intermediate cricket at Strathfieldsaye on Wednesday 11 March. The weather was outstanding for cricket, just a gentle breeze moving across the oval – perfect conditions.
In the first game against Eaglehawk Secondary College, CMC started in the field with Jack Wilson bowling well, claiming 2 wickets off 3 overs. Eaglehawk finished on 4/48 at the completion of their innings. Once in to bat Jasper Cheesman and Rowan Fox performed well, retiring respectively scoring 38 and 20 with CMC finishing on 2/117.
Facing Girton Grammar in the next match, CMC started batting with our openers of Jasper Cheesman and Xavier Austin scoring a strong 85 in 14 overs. CMC finished the innings on 91. Girton lost their first 5 wickets in 11 overs with the score of 63. With two overs to go Girton needed 18 runs for the win. Great bowling by Jacob Floyd and Dylan Waters, getting two wickets each kept Girton to a final score of 83.
Well done to all the boys who played with great team spirit and showed sportsmanship throughout. Thank you also to Caleb Robson who competently scored both matches. Rowan Fox is to be commended on his sensible and fair leadership throughout both matches.
Thank you to Mr Winter-Irving for his support and organisation.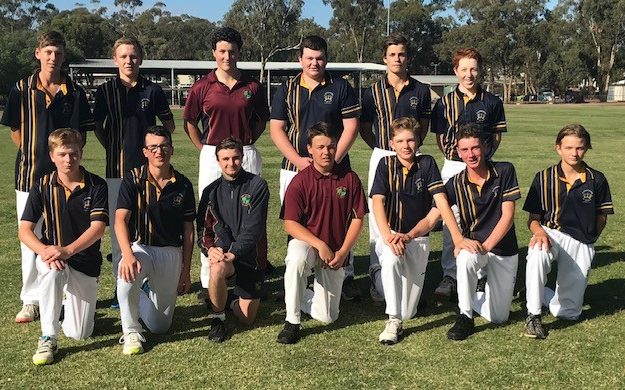 Back Row L-R: Jack Wilson, Dylan Waters, Rowan Fox, Baxter Graham, Jasper Cheeseman, Jack       Smith
Front Row L-R: Callum Thompson, Campbell Boyd, Caleb Robson, Hunter Austin, Louis Banfield, Xavier Austin, Jacob Floyd