Intermediate Boys Football
On Wednesday 8 August, the Intermediate Football team travelled to Swan Hill to participate in the Loddon Mallee Football Carnival. The boys put on an admirable display of football with fantastic defensive efforts and created plenty of goal scoring opportunities. The boys now move on to the State Quarter finals to be held in Ballarat.
SCHOOL SPORT VICTORIA: LODDON MALLEE REGION
Game 1: vs Swan Hill
The first match was played against the local side, Swan Hill. The boys controlled the first half, leading 4.2.26 to 0.0.0 at halftime. The midfield showed their class from the beginning of the game and the ball movement off half back created many goal-scoring opportunities. The team continued to play well in the second half, kicking two more goals to win 6.2.38 to 1.1.7.
Game 2: vs Red Cliffs
CMC faced Red Cliffs in their second match of the carnival. The boys were on form from the first bounce and had no trouble creating an early scoreboard buffer. Our defenders were relentless with their pressure, ensuring Red Cliffs remained scoreless and the forwards made the most of their chances. CMC scored two goals in each half, winning the match 4.2.26 to 0.0.0.
Game 3: vs Rochester
The third match against Rochester was crucial in determining which side would progress to the State Quarter finals. An early goal to CMC filled the team with confidence, however, Rochester responded quickly, kicking a goal of their own. The half continued to be a battle, with neither side taking control. The scores were tied 2.1.13 to 2.1.13 at the half. CMC increased the tempo in the second half and the boys produced their best half of football for the day. The boys kicked two goals in the second half and held Rochester scoreless, winning the game 4.2.26 to 2.1.13.
Game 4: vs MEC
The final game of the day was against Maryborough Education Centre. CMC continued their fine form, hitting the scoreboard early and their defensive pressure was immense, holding MEC scoreless. CMC controlled the final half of the day, kicking 4 more goals to win 7.8.50 to 0.0.0
Intermediate Boys Football Team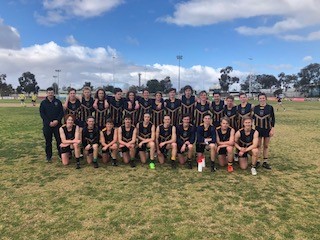 Back L-R: Mitchell Winter-Irving (Coach), Darcy Mulquiny MY11, Kyle Jones CH11, Lincoln White VT1, Campbell Rowland CH10, Thomas Bennett CH4, Brodie Hartland BK10, Samuel Conforti BK11, Tanner Nally CH7, Timothy Hosking CH9, Harrison Welch BK2, Nathan Walker BK11, Tyron Papallo CH7, Isaac Carracher CH9, Harvey Gallagher MY4
Front L-R: Noah Walsh CH8, Liam Shiell JR11, Matthew Wilkinson VT3, Ethan Arnold MK11, Nicholas McKinley BK9, Mason Wakefield CH11, Cooper Smith JR7, Connor O'Farrell MY10, Thomas Hartley JR11 , Joseph Fiske-Kealy BK10