Intermediate Boys Cricket
22/03/2019
SCHOOL SPORT VICTORIA: SANDHURST DIVISION
In the first game of competition we played Girton which was a 15-over match. We batted first and made 3/136 with a great 68 from James Barri and a handy 35 from Wil Tuohey. We then bowled and managed to keep Girton Grammar to just 113, and hence a win resulted.
In the second game we played Weeroona College.  It was like groundhog day as again we batted first.  We started well with a great performance from Jasper Langley who made a solid 40. Ethan Maltby and James Barri then came out at the end of the innings and thumped sixes everywhere, hitting six sixes between them and we managed to finish with a very competitive 121 runs.
Weeroona then batted and with tight bowling and regular wickets falling they were only able to make 72.
Overall the team performed well and it was a great effort from all the boys to win both games.
Thanks to Mrs Winfield and Mr Mattinson for looking after the team.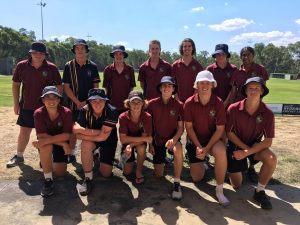 INTERMEDIATE BOYS CRICKET TEAM
Back Row L-R: Baxter Graham, Ethan Maltby, James Barri, Jai Featherby, James Worme, Rowan Fox, Louis Fernando
Front Row L-R: Matthew Wilkinson, Jasper Langley, Harry McKinley, Jack Keating, Wil Tuohey, Lachlan Wass