Intermediate Boys Cricket
02/03/2021
SCHOOL SPORT VICTORIA – SANDHURST DIVISION
The Intermediate boys' cricket team played in the Sandhurst Competition on Monday 1 March at Club Court, Strathfieldsaye.
CMC won the toss and elected to bat in their first match against Girton Grammar. Wil Pinniger and Jasper Cheesman got the team off to a flyer, putting on the first 50 runs in less than 5 overs. Wil Pinniger was the first wicket to fall for a well-made 45 and Jasper Cheesman quickly followed for 23.
CMC continued to chase quick runs and wickets fell at regular intervals. After their allocated 12 overs CMC finished on 6/111.
Girton started their innings slowly, with the CMC bowlers applying the pressure. CMC used 8 bowlers effectively throughout Girton's innings to restrict them to 4/44 off their 12 overs. The pick of the bowlers was Kyen Burrill-Grinton who collected 2/3 with his leg spinners.
An excellent 67-run win for CMC in their first match of the day.
For their second match, which was against Eaglehawk Secondary College, CMC won the toss and elected to bat. Henry Edwards and Judd Gilchrist got the team off to an excellent start, with Henry retiring for a well-made 41. Judd was the first wicket to fall after scoring a composed 26. Callum Thompson and Archer Day-Wicks kept the scoring ticking along nicely and finished the innings well. CMC finished on 1/111 after 12 overs.
Eaglehawk started their innings with a flurry of boundaries but were eventually put on the back foot after losing the key wicket of Tyler Green for a rapid 26.
CMC were able to slow the run rate significantly throughout the middle of the innings. Eaglehawk finished on 5/50 off their allocated 12 overs to give CMC a 66-run victory. Kyen Burrill-Grinton was again the standout with the ball, claiming another 2 wickets.
CMC now moves onto the finals day of the Sandhurst Division, where they will face Victory College and Bendigo South East College for a spot in the Loddon Mallee Regional Finals.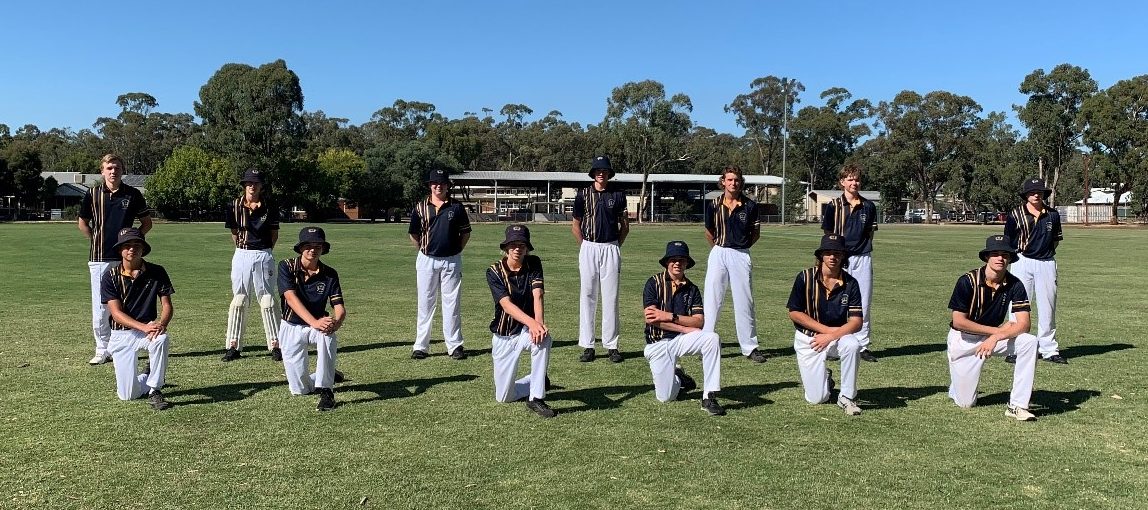 Intermediate Boys' Cricket Team
Back L-R: Dylan Waters, Judd Gilchrist, Jack McCullough, Wil Pinniger, Archer Day-Wicks, Louis Banfield, Callum Thompson
Front L-R: Kyen Burrill-Grinton , Jacob Floyd, Toby Travaglia, Henry Edwards, Ollie Hannaford, Jasper Cheeseman