Important VCE and GAT Information
09/09/2020
GAT Timetable & Important Information
What is the GAT (General Achievement Test)
The GAT is a 3-hour test of general knowledge and skills in written communication, mathematics, science and technology, humanities, the arts and social sciences.
All Victorian Certificate of Education (VCE) and Victorian Certificate of Applied Learning (VCAL) students enrolled in one or more VCE or scored VCE VET Units 3–4 study this year are expected to sit the GAT.
It is an essential part of the VCE assessment process. Although it does not count directly towards the VCE, GAT results may play a very important part in determining the final assessments for the VCE.
This year, students will complete the GAT on Wednesday 7 October.
Students completing the GAT at CMC have been emailed their Timetable and the VCE Navigator which details the VCAA examination rules and permitted materials. Students are required to thoroughly read this document before the GAT. (Download a copy of the document below)
GAT Assembly
Students will be advised in the coming days of the time and day of each Year Level's compulsory GAT assembly.
GAT Lecture
On Wednesday 16 September at 1.10pm there will be an optional lecture presented by Mrs Kate Watts to offer "tips and advice" on how to best prepare and complete the GAT. Mrs Watts has been a VCAA GAT assessor for the past 3 years, therefore her advice will be invaluable. A link to view this lecture will be sent to all Year 11 and 12 students.
Past Examinations link
This year's GAT will be extremely important in providing data to the VCAA. Click on this link to access past GAT examinations and answers, we strongly encourage everyone to attempt at least one of these.
Allocated room and table number
Please note: next week all students completing the GAT will be sent a link to find their specific table number and allocated room. A reminder that Catherine McAuley College students will all wear full school uniform to the GAT, This may be summer on winter uniform. Further advice and detail regarding the GAT will be provided in the coming week.
VCE Rules and Timetables
The downloadable document also includes the rules for conduct of VCE external assessments. The timetable is also available on the VCAA website: www.vcaa.vic.edu.au/administration/Key-dates/Pages/VCE-exam-timetable.aspx
Ms Fiona Bell and Mrs Suzie Kemp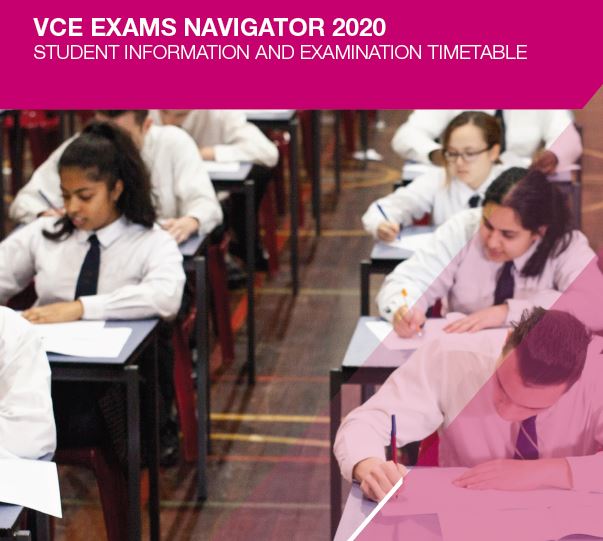 VCE Exams Navigator 2020