Important messages and activities for November
01/11/2019
 All Saints and All Souls Day
1 and 2 November are significant days to recognise and pray for All Saints and All Souls.
We remember our loved ones and pray for them.
We turn to you, Comforter and Sustainer of Hope. We remember the presence of those we knew. We entrust them to your abiding love, praying for peace and ours, too.
We gather strength from kinship with those whose hearts also ache with the absence of their loved ones. Grant us freedom form our grief. With your grace we will surrender as best we can to the mystery of death and what lies beyond it. In you we place our trust. Amen. (Joyce Rupp. Prayer Seeds)
Graduation Mass
Graduation Mass will be celebrated on 21 November at the Sacred Heart Cathedral at 6pm by Fr Junray Rayna. Students will begin to process in at 5.45pm. This is a significant celebration for the students and their families as they come together as a faith community to celebrate and give thanks for their time at Catherine McAuley College.
You are most welcome to attend, being mindful, that seating will be limited.
Bendigo Foodshare
Bendigo Foodshare are running a community food drive for the month November. Through our Term 4 focus of local community, we offer the opportunity for members of our community to support this program. Foodshare have provided information (see below) which highlights the twelve most wanted food items. This will provide enormous support to families in our local community as they provide over 12,500 meals per week.
Collection points will be in the Library and General Office at both Coolock and St Mary's. Other collection points are noted in the posters.
Mrs Trish Schofield, Deputy Principal – Faith and Mission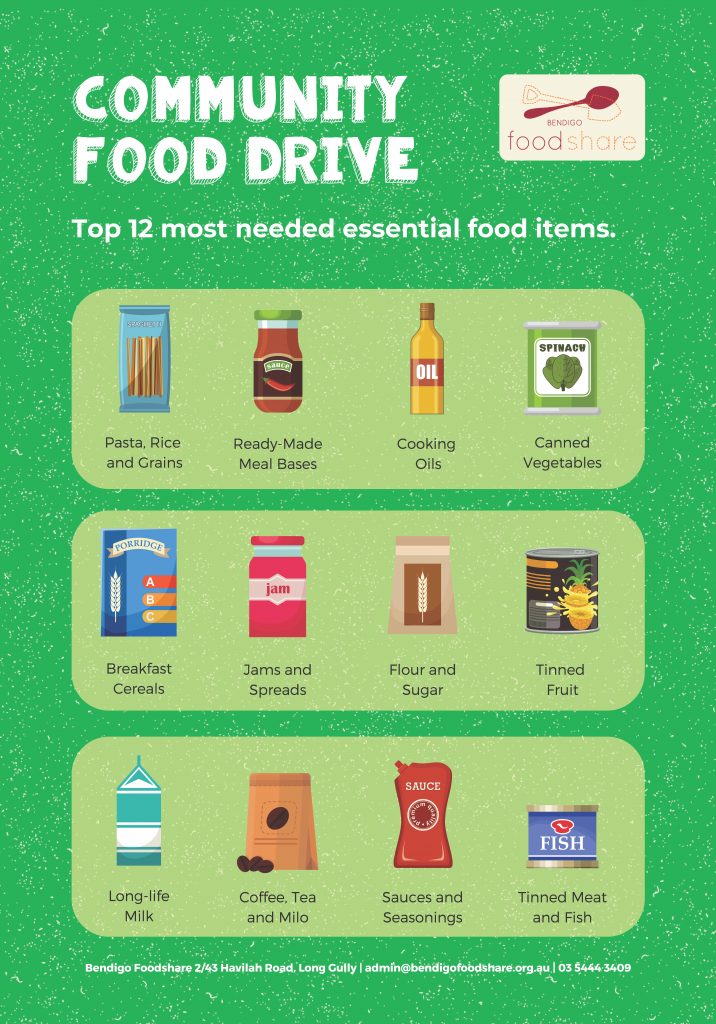 Download the Foodshare Most Wanted Food Items poster
Download the Bendigo Foodshare Food Drive poster