iGEN connection broadens lives
15/09/2020
iGEN students have been meeting (virtually) with the residents at Bethlehem each week. The students rotated through and were able to learn more about the residents, their interests and life experiences.
The residents were thrilled to learn more about the students and they put in a few requests for various activities, videos and images from the students. They are keen to see clips, including virtual tours of local landmarks and images of the outdoors and new developments in the city.
Our classes have begun work on these and will continue weekly virtual meetings and prepare various activities and resources for the residents in the months ahead.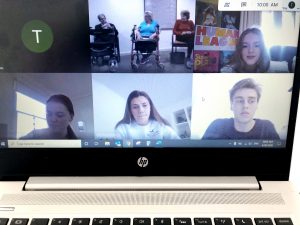 About iGEN
iGen Learning (InterGenerational Education Nexus)
In partnership with Mercy Health, Australian Catholic University (ACU) and Mercy Education, Catherine McAuley College and Mercy Health Bethlehem Home for the Aged are offering a unique opportunity for our Year 10 students and the Bethlehem residents to embark on an innovative, new program in 2020.
Through experiential learning, iGEN students will participate in a program designed to develop skills, contribute to others' lives and our community. iGEN students will explore a myriad of employment and study pathways that Mercy Health and ACU can offer, while also improving the experience of the Bethlehem residents and staff. Research in similar programs nationally and internationally has demonstrated that intergenerational partnerships benefit all participants.
Download iGEN brochure