House Spirit is back at CMC Swimming Carnival
23/02/2023
2023 CMC Swimming Carnival
Colour, fun, participation and house spirit. The annual Catherine McAuley College Swimming Carnival brings the whole school together and builds community.
On Thursday 23 February, Catherine McAuley College finally returned to the pool after three years of interruptions to the annual Swimming Carnival.
The students enjoyed a great carnival, spending time together on one of the few occasions where all students from Year 7 to 12 gather for the day. They were able to spend time with their house, building culture and strengthening house spirit.
A wide variety of activities were held, both in and out of the pools, offering swimming and novelty events. Students were able to earn house points in the race to help take their house to victory.
Apart from the usual 50m races in the pool, other events included Egg & Spoon Splash & Dash Relay, Goggly Soggy Sock Relay, Bombs Away, Year 12 Leap of Faith, House Chants, Fashions on the Pool Deck, Tug-O-War and Jumping Sack Relay
The pool deck was a sea of house colours with many creative, and sometimes outlandish, outfits. House points are awarded for the 'Most Creative Costume'.
RESULTS
Overall
1st: Champagnat
2nd: Jaara
3rd: McAuley
4th: Vincent
5th: Backhaus
6th: MacKillop
Year Level Champions
Congratulations to the following swimmers on their individual achievements on the day.
Year 7 Boys: Samuel Johnson (Jaara)
Year 7 Girls: Morgan Westbrook (Jaara)
Year 8 Boys: Samuel Carrick (Champagnat)
Year 8 Girls: Zarah Reynolds (Champagnat)
Year 9 Boys: Miller Nihill (Vincent)
Year 9 Girls: April Downing (McAuley)
Year 10 Boys: Kobi MacDonald (McAuley)
Year 10 Girls:  Annabelle Smith (Vincent)
Year 11 Boys: Drew Costigan (Backhaus)
Year 11 Girls: Anneliese Robins (Jaara)
Year 12 Boys: Nikolas Makris (Champagnat)
Year 12 Girls: Maggie Burke (MacKillop)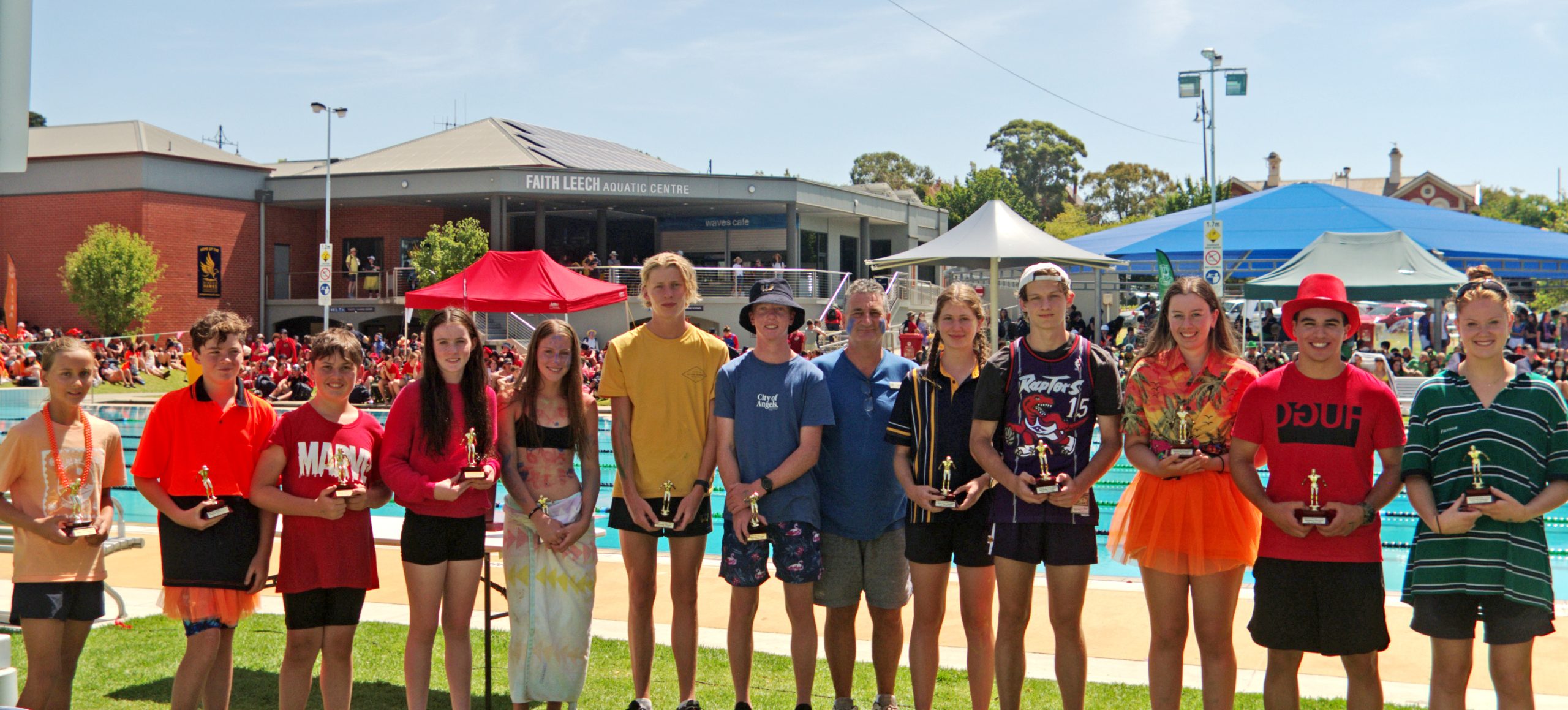 Fashions on the Pool Deck
It was an extremely difficult choice as there were so many amazing costumes paraded around the pool. Well done to everyone on your efforts to wear house colours and create special costumes.
BOYS
1st: Declan Barker (MacKillop)
2nd: Backhaus Dinosaurs
3rd: Zac Grieve (Backhaus)
GIRLS
1st: Bananas (Vincent)
2nd: Scuba Girls (McAuley)
3rd: Mario's (Champagnat)