House Netball
19/09/2019
Houses go into battle for house supremacy
Over the last month, all our houses across both campuses have been involved in the House Netball Competition. They have gone head to head for netball supremacy, bragging rights and some very important house points. Overall, the competition was quite even, the games were very skillful and great sportsmanship was shown throughout.
The final results of the competition were as follows:
Coolock Results
1st Vincent , 2nd Mackillop & 3rd Jaara
St Mary's Results
1st Backhaus, 2nd Mackillop & 3rd Jaara
Final House Standings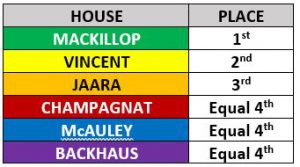 A big thank you to all staff and students that assisted with the organization of the competition and to all of the students who competed for their respective Houses.
Mr Stephen Evans, Activities Leader