From the Principal – 18 August 2022
18/08/2022
I am pleased to say that thanks to the hard work and resilience of our staff, we have still managed to maintain all our learning programs and extra activities this term, despite the ongoing illnesses which have led to an average of over 300 students absent each day.
On the last day of Term 3, which is fast approaching, we will have a welcome return to tradition when we properly celebrate our first Mercy Day in three years. This day, which is usually held on the final day of Term 3, is when we celebrate the legacy of our Foundress Catherine McAuley and the Sisters of Mercy. Our students at Coolock will have their first experience of the tradition and soon understand why it is so important in the life of our College. The organisation and planning for the day are well under way and the promotion of Mercy Day is being launched in this News Update and will be circulated over the next week. It always involves a liturgy, followed by stalls and lots of activities. It is a community day that everyone enjoys.
At present, the College is busily consolidating existing teaching positions or interviewing and appointing new staff in preparation for 2023. We thank parents and carers for your support in completing the subject selection requirements. This information is critical in the process, so that we can have a good understanding of the specialist teacher demand for next year. Most people are aware of the teacher shortage and the problems that is creating. Fortunately, we are on track at the moment and are attracting excellent applicants, as we will need a number of new staff.
The other exciting news is that we are now in a position where the College needs to introduce a waiting list at various levels across the College. Thanks to the dedication, planning and hard work of our staff, these enrolments have built up again since the increased offering of Catholic education in Bendigo. We also thank our families for their support of the College.
On Thursday, the media attended the iGEN program at Mercy Health Bethlehem Home for the Aged to witness the program and its development. It is a joy to observe the spontaneous banter and engagement between students and residents. We have three groups of students in the program this semester. One of the groups has connected with a Mercy Age Care facility in Ballarat and will visit on site or maintain regular Zoom meets. The Australian Catholic University research has established the joint benefits of the iGEN program for all stakeholders. When the media obstacles created by COVID are finally removed, it would be great to invite others to witness this program. The sense of encounter between students and residents is wonderful to see.
Currently, various media agencies are investigating the growing concern with vaping here in Bendigo. Mercy Health experts report that vaping has an even greater health impact on the respiratory system than long COVID. We need to support one another in educating our community and countering this trend.
Finally, the Mercy Junortoun Sporting Precinct is still on schedule and developing accordingly. Given the rain, mud and shortage of materials, this is quite a feat. Credit to Nicholsons and RMG for their perseverance in maintaining momentum. It is hard to imagine Coolock next year when we will have this fantastic facility operating.
Have a great weekend.  
Mr Brian Turner, Principal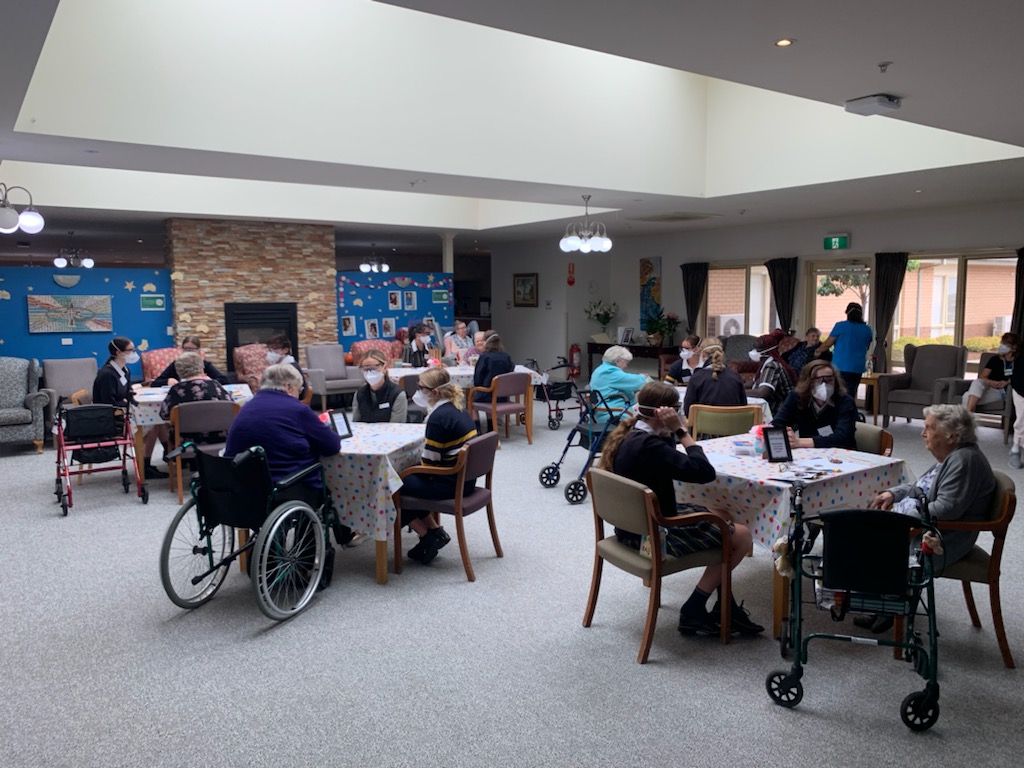 Year 10 iGEN students visit to Mercy Place Shepparton in April 2022.