Football – Strong Effort from Girls
School Sport Victoria – Sandhurst Division
Junior Girls
On Tuesday 16 July, we competed in the Sandhurst Division Year 7/8 Girls Football Competition at Marist College in Maiden Gully. In our pool we defeated Crusoe College 14-9-93 to 1-0-6 and Marist College 8-3-51 to 0-0-0, ending up on the top of our pool. We played both of these games with terrific sportsmanship and positivity. This meant we had made the Grand Final, which was a great experience for all of us! In the Grand Final, we played Bendigo South East (BSE) and despite taking the lead in the last quarter, we unfortunately were beaten 2-7-19 to 2-0-12 in what was a very defensive and physical match. It was an upsetting loss, but we were still proud of our efforts.
Led by Arkie Donnelly as team captain, the girls represented the College with amazing humility and displays of sportsmanship throughout the day. Their leadership, teamwork and willingness to help each other on and off the field was a credit to them. You were an honour to coach girls! A special thanks to Chloe and Nikita for helping with the 'coaching board' and to Harvey Gallagher MY4, Fletcher White MK4 and Lincoln White VT1 for your great efforts in umpiring, carrying water and sending messages on the field.
By Lara, Marnie, Macey, Maya, Piper and Mrs Frawley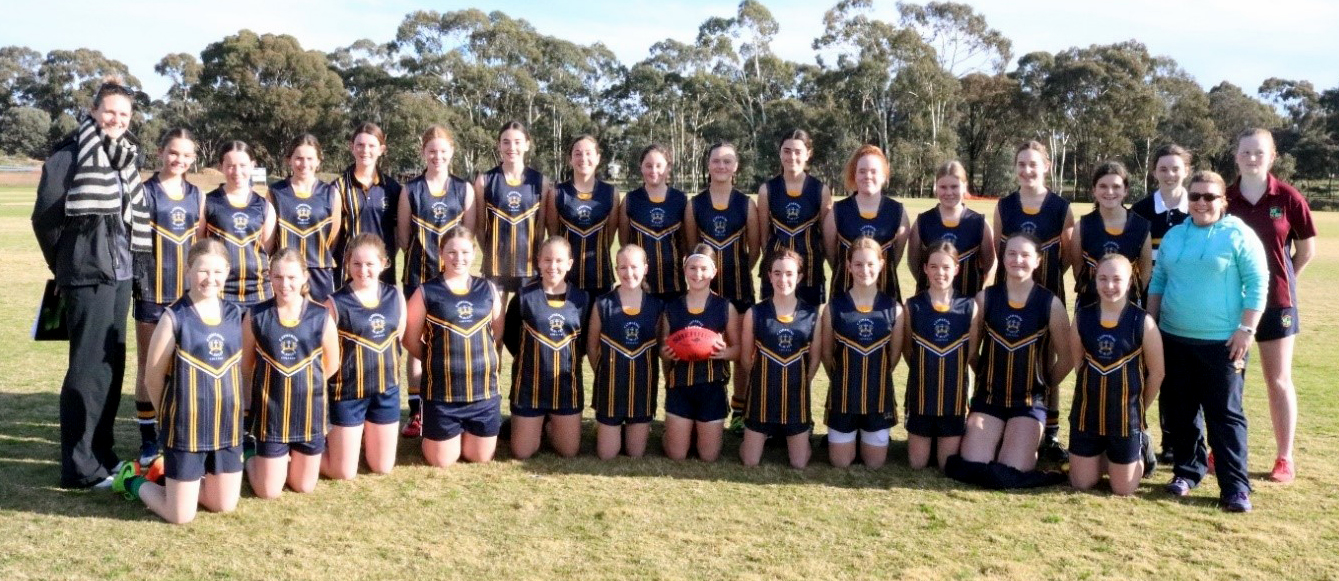 Back Row L-R: Ms Eleanor Haring (Coach) , Maiya Pearce VT1, Ruby McMahon CH3, Bryde O'Rourke JR4, Layla O'Shea BK1, Maggie Burke MK4, Ava Hamilton MK2, Arkie Donnelly MK1, Madeline Bennett CH2, Marnie Wakefield CH5, Macey O'Shea BK4, Jorja Bish JR2, Maya Howe CH1, Piper Smith JR2, Amy Wrigglesworth MY3, Chloe Lenaghan (Assistant VT1), Mrs Sharna Frawley (Coach), Nikita Matthews (Assistant MY1).
Front Row L-R: Teaghan Stebbins CH2, Laila Day CH3, Alex Duke CH2, Renn Minne MK3, Taylah Petrusma VT1, Caitlin Evans JR1, Lila Keck MK4, Lara Bish JR1, Rhian Hobbs MY3, Hannah Maher CH3, Charlotte Sexton JR2, Milli Newlan CH3.
Absent from photo: Aimee Dean VT1
Intermediate Girls
On Wednesday 27 June, the Intermediate Girls played in the Sandhurst Division AFL Football Competition at Marist College. In the first game the girls played Crusoe and won 13-6-84 to Crusoe 0-0-0. Goal Scorers: Grace Barton 2, Ireland O'Rourke 4, Maeve Tupper 5, Madeline Marks, Sarah Ruff
In the second game the girls played Marist College and defeated them 4-1-25 to Marist 2-3-15. Goal Scorers: Grace Barton, Emily Collins, Madeline Marks, Ireland O'Rourke
The girls then played in the Grand Final against BSE. It was a tough match and the girls played really well, but couldn't match BSE on the day. The final scores were CMC 0-2-2 to BSE 3-2-20.
Congratulations to the girls on a great day. Thanks to Reardon McIvor, Riley McNamara, Tom Bennett and Jack Stewart who umpired and assisted the team on the day.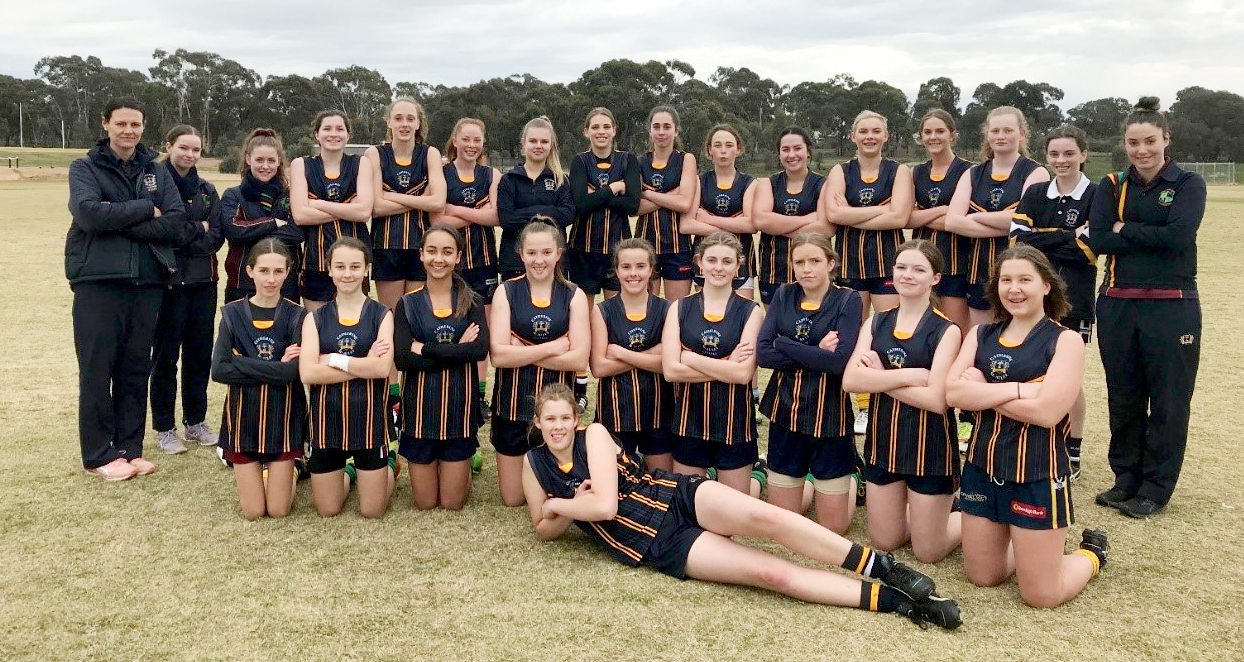 Back Row L-R: Hannah Gretgrix (Coach), Ally Goggin MY2, Polly Hughes MY2, Varlee Nihill VT1, Layla Day VT3, Emily Collins MK4, Sarah Ruff VT4, Madeline Marks JR11, Sahara Rodda BK11, Shakaiya Coffey VT4, Ireland O'Rourke JR7, Lily Dickson MY7, Ella Cochrane MY7, Nikita Matthews MY1, Chloe Lenaghan VT1 , Holly Jeffrey CH8
Front Row L-R: Isabel Nihill CH2, Zahli Biggs BK2, Tiahna Leader MY3, Lily McMahon CH10, Maeve Tupper JR8, Anais Mott MK7, Georgia Martini MY8, Hollie Maher VT9, Remi Valentine MY7
Lying: Chloe Byrne CH7
Absent from Photo: Grace Barton CH9