Football – Loddon Mallee Region & State Quarter Finals
21/08/2019
SCHOOL SPORT VICTORIA – LODDON MALLEE REGION
On Wednesday 7 August the College was represented by 4 Teams at the Loddon Mallee Regional Finals in Swan Hill. There were some outstanding results and they are detailed below.
Intermediate Boys
The Intermediate Boys had qualified for the day after an easy win against archrivals BSE in the Sandhurst final, earning them the right to play off against teams from St Joseph's College Echuca, Swan Hill Secondary College, St Joseph's College Mildura and Maryborough Education Centre.
Throughout the day the boys played some excellent football winning three of the four games very easily. The game against St Joseph's Echuca was more challenging and they ended up losing by a very narrow margin.
As always, the boys displayed excellent sportsmanship and were terrific ambassadors for our College.
Fletcher White was the goal sneak of the day kicking five goals in 4 games while Lincoln White was the standout player for CMC featuring among the best players in three of the four games.
Many thanks to Mrs Maree Pearce and Mr Stephen Evans for their support and organization of the day.
Mr Matthew Smith, teacher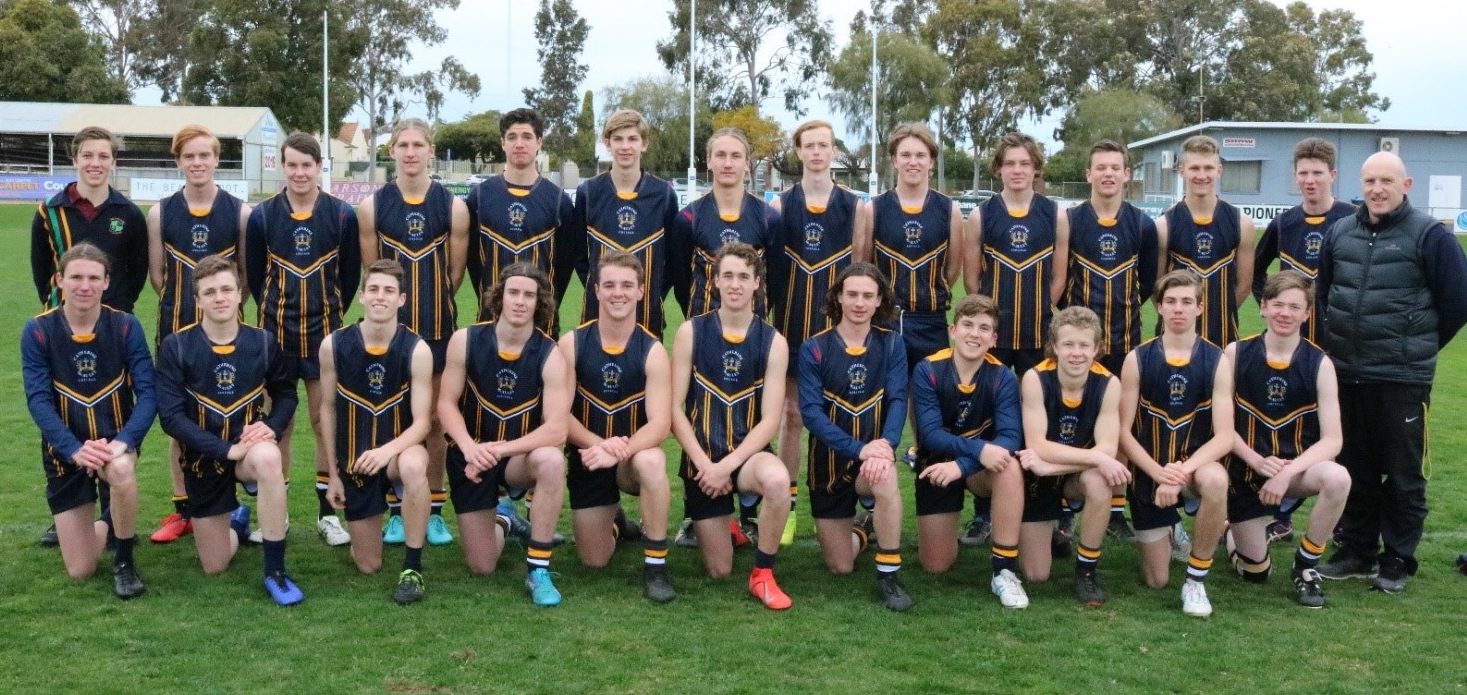 Back Row L-R: Harvey Gallagher, Riley Joss, James Barri, Ethan Featherby, James Worme, Jacob Nihill, Xavier Fiske-Kealy, Hugh Morris, Wil Tuohey, Eli Pearce, Rhys Bolton, Jai Featherby, Fletcher White, Mr Matthew Smith (Coach)
Front Row L-R: Samuel Lowes, Jack Stewart, Jack Keating, Thomas Bennett, Harrison Welch, Lincoln White, Jack Craig, Matthew Wilkinson, Harry McKinley, Henry McCarthy, Lachlan O'Brien
Year 8 Boys
The Year 8 Boys played against teams from: Echuca, Maryborough, Swan Hill and Mildura.
The first two games were a battle, but our boys came out on top winning both games. The third game was against St Joseph's College Echuca, and it was goal for goal all the way though. Unfortunately, time ran out with Echuca winning by 5 points. The boys finished as runners-up on the day, which was a great effort.
Thanks to Miss Hercus for coaching.
Noah Warfe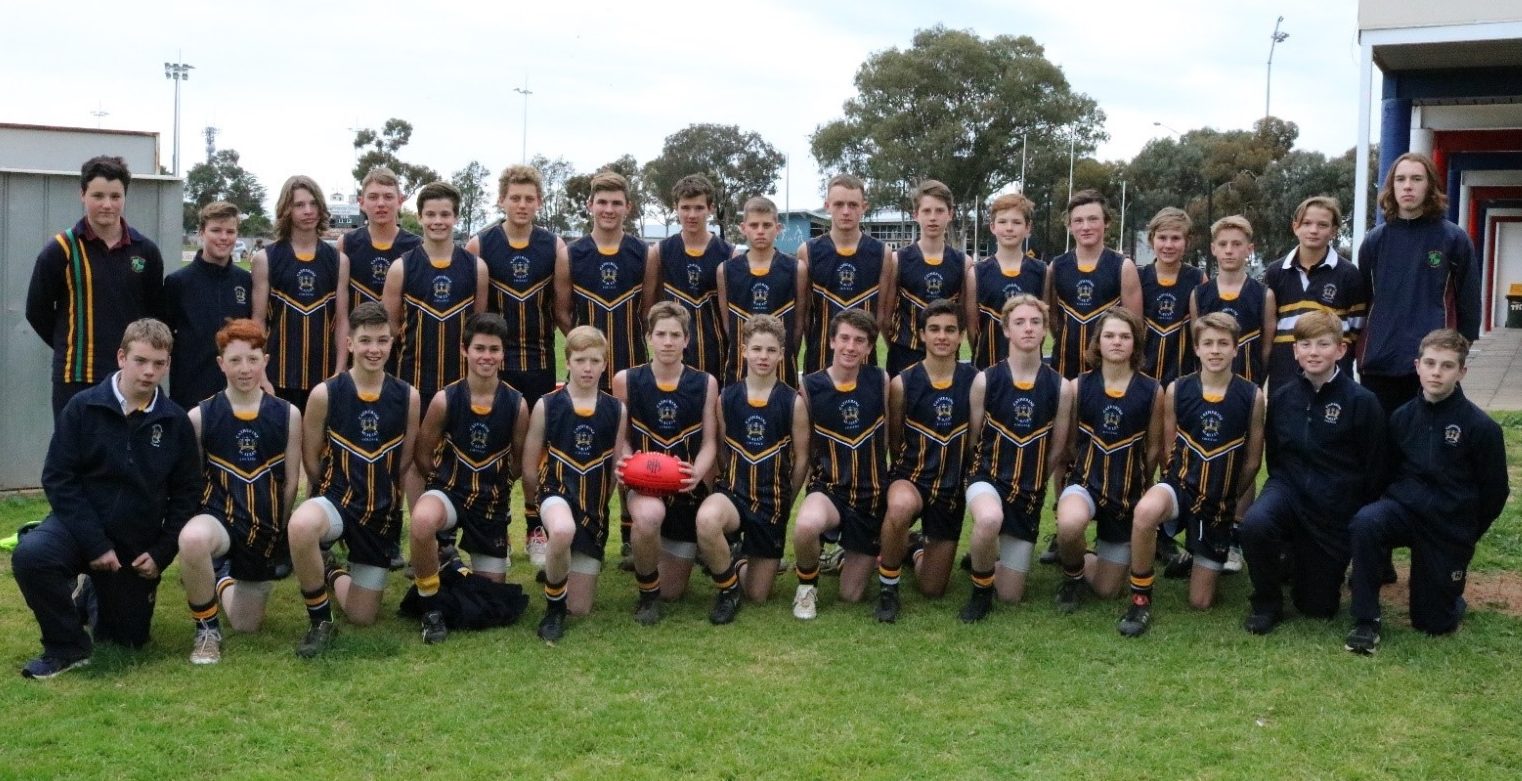 Back Row L-R: Rowan Fox (coach), Josh Evans, Evan Santas, Tait Poyser, Jasper Cheeseman, Max Harris, Evan Cole, Toby Harrison, Will Marks, Jimmy Tuohey, Rory McCrann- Peters, Louis Banfield, Jack Lacey, Lachie Kelly, Darcy Edminston, Jacob Floyd (boundary umpire), Ollie Mayman (coach).
Front Row L-R: Lachie Jones, Jack Smith, Charlie Edwards, Bernard Nihill, Noah Warfe, Riley Mulquiny, Tommi Turner, Xavier Austin, Harrison Kelly, Ethan Yates, Zac Grieve, Will Stewart, Jett Zealley, Aiden Mundy.
Junior Girls
The weather was great for a day of football and the girls played two matches for the day.
Game 1 vs St Joseph's College Echuca – After a slow start we got our rhythm and worked well to eventually get the ball into our forward line. We kicked only one goal in the first half, but after some inspirational and wise words from Arkie, the girls went on to keep the ball mostly in our forward line and kicked 2 more goals.
CMC 3.3. 21 def SJC Echuca 0.1 .1. Goal kickers were Lila Keck, Taylah Petrusma and Bryde O' Rourke.
Game 2 vs St Joseph's College Mildura – We once again started off slow; only kicking one goal in the first half. Once we spread out in the forward line, stayed in front of our players in the back line and boosted the level of talk, we ended up kicking 3 more goals in the second half. Once again, we restricted the opposition to only one point.
CMC 4.3. 27 def SJC Mildura 0.0. 1. Goals kickers were Lila Keck 2, Audrey Garguilo and Caitlin Evans.
The girls should be very proud of their efforts and the way they represented our College. They qualified for the Quarter finals on Tuesday 13 August in Ballarat. Thanks to all the runners and water kids. Also, a massive thanks to Arkie Donnelly on her excellent coaching and organising of the girls on the day as well as Mrs Jan Lake for her scoring and team management.
SSV State Quarter Final – Tuesday 13 August
The Junior Girls played Strathmore College first, then winner going on to play a semi-final against the winner of the other quarter final.
Conditions were wet and slippery, and the girls struggled a little to take the ball cleanly at first. Strathmore started off very strong, kicking 3 goals in the first quarter and we were yet to score. This really set them up for the game and forced us to play catch up. We were only able to kick two goals and two behinds for the remainder of the game whilst Strathmore went on to kick a few more. They had some very skilled players and were excellent at shepherding and moving the ball down the ground. Our girls showed good fight and determination, but Strathmore was a more efficient unit that appeared to have been playing as a team for a long time.
Strathmore 5.3.33 def CMC 2.2.14
Congratulations to the CMC girls. It was a massive effort to make it this far; two steps further than last year. You all should be proud of your efforts and of the way that you have played and shown sportsmanship throughout the competitions. A big thank you to Arkie Donnelly who took the coaching reigns providing positive encouragement, strategies and organisation on the day. Thanks also to Jorja Bish who was an excellent runner, also providing our girls with tips and encouragement. Thanks to Mr Steve Evans who helped support on the day as well.
Mrs Rachel Winfield, teacher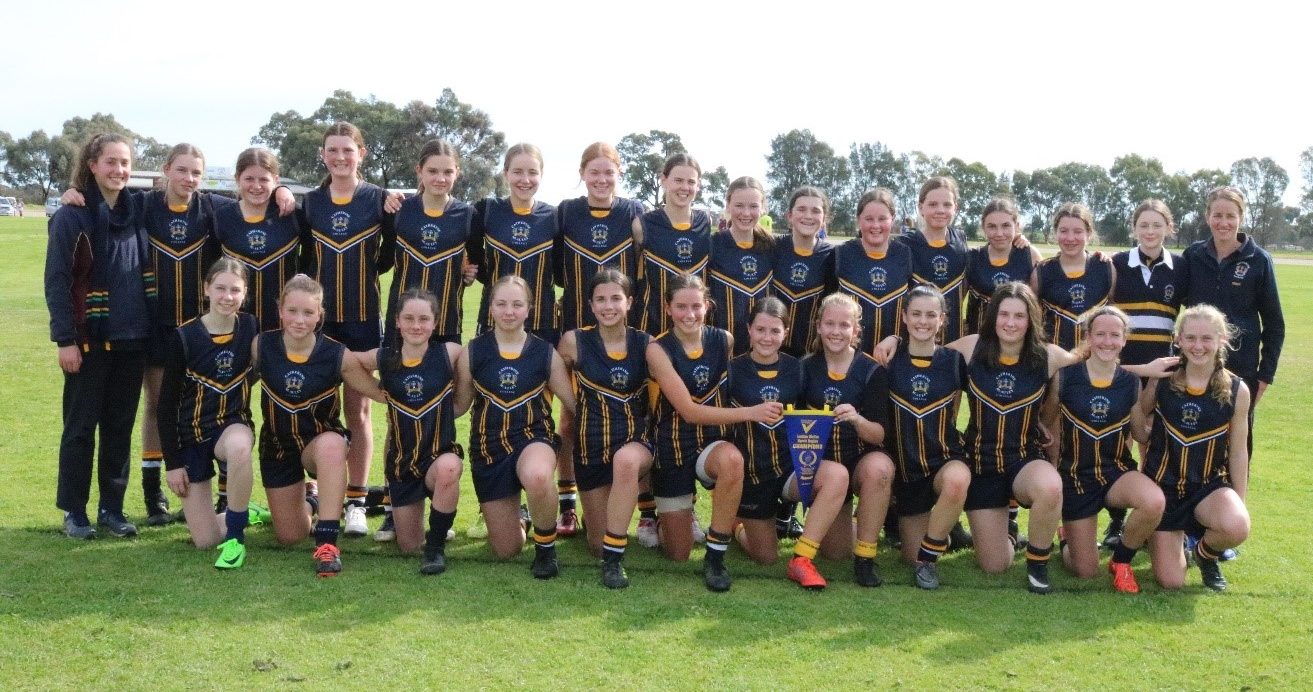 Back Row L – R: Arkie Donnelly, Laila Day, Alexandra Duke, Layla O'Shea, Maiya Pearce, Adele Barber, Maggie Burke, Phoebe Maher, Grace Kealy, Amy Wrigglesworth, Maddy Bennett, Sasha Pearce, Emarnee Davies, Mackenzie Allford, Ella Wills, Mrs Winfield (Coach).
Front Row L-R: Olivia Nihill, Cate O'Bree, Lily Franklin, Milli Newlan, Audrey Garguilo, Bryde O'Rourke, Lila Keck, Taylah Petrusma, Jorja Sargeant, Matisse Sheahan, Caitlin Evans, Jorja Morrison.
Year 7 Boys
The Year 7 Boys' opponent was a very strong teams from St Joseph's College Echuca. St Joseph's started the game well and had some dominant big players in the first quarter. Our taller players got on top as the game went on and our opposition were unable to keep up with our run and 'quick play-on' style of play. CMC lead the entire match and by 11 points late in the last quarter, but our inaccurate kicking kept St Josephs in the game. A behind and goal to St Josephs cut CMC's lead to 4 points – the final margin.
CMC 4-5-29 def SJC Echuca 4-1-25
SSV State Quarter Final – Wednesday 14 August
The team headed to Eastern Oval in Ballarat for the State Quarter Final. The team appeared quite relaxed, but confident they could mix it with any team they were confronted with. Their opponents, Maribyrnong College, demonstrated from the outset that they were highly skilled and hard at the contest, but as the game wore on CMC started to gain the ascendancy.
Excellent second and third quarters put CMC in front by a couple of points with a quarter to play. The last quarter was a real 'arm wrestle' with neither team giving an inch and scores were very hard to come by. Our boys were throwing themselves at the ball and putting their bodies on the line for one another. Unfortunately, with scores level and a couple of minutes left on the clock, Maribyrnong kicked a match-winning goal. Despite, one last ditch effort, our boys were unable to score another goal and sadly missed out on a spot in the State Semi Final, held later in the day.
While there was great disappointment leaving the ground, the boys managed to keep their heads up. Overall, the teachers and parents in attendance, along with the staff and students back at school, couldn't be more proud of the team's wonderful performance.
Maribyrnong College 4-4-28 def CMC 3-4-22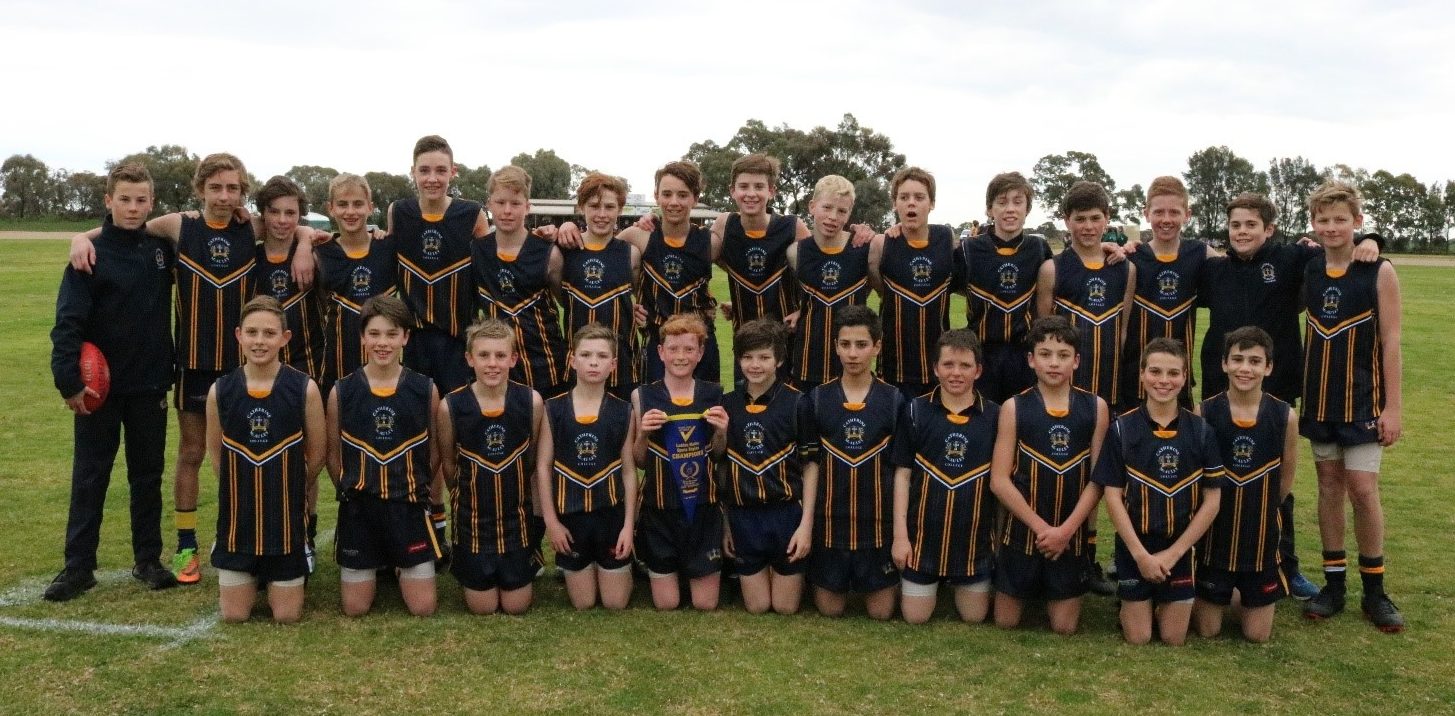 Back Row L to R: Tom Ward, Connor Burkitt, O'Malley Parker, Deakin Andrews, Wil Pinniger, Xavier Thomas, Ryan King, Oliver Hannaford, Kalan Hand, Tobie Travaglia, Billy Bassett, Daniel Noden, Dusty O'Shannessy, Flynn Saunder, Daniel Artavilla, Drew Costigan.
Front Row L to R: Kaden Mitchell, Declan Stevenson, Ollie Edmiston, Logan Kilcullen, Jake Austin, Jackson McRae, Isaac Tzouroutis, Tait Rojewski, Kyen Burrill-Grinton, Baden France, Joseph Artavilla.