Football finals – Junior wins
12/06/2019
SCHOOL SPORT VICTORIA
SANDHURST DIVISION
On Wednesday 5 June our Year 7 Boys and Junior Girls teams competed in the Finals day of the Sandhurst Football Competition. With both teams winning their respective pool competitions back in May, they had both qualified for the Finals Days, which were played at Marist College. Both teams displayed great sportsmanship and teamwork and their results reflected this.
Year 7 Boys
The Year 7 Boys came up against Marist College. Both teams had strong line-ups and the match was guaranteed to be a close contest. With the wind a factor, the team that defended well and attacked hard would finish on top. The boys kicked into the wind at the start, so containing Marist was essential. Marist may have kicked the first 2 goals, but a brilliant passage of play to the CMC boys saw them kick a valuable goal into the wind and went into the quarter-time break down by just 6 points.
The boys then dominated play in the second term to kick 3 goals 6 to just 1 point to secure a 3-goal advantage at the half-time break. The boys were then scoreless in the third quarter whilst Marist kicked 2 goals 4 and by three quarter time siren, it was just 1 point the difference. In the final quarter and with the aid of the breeze the CMC boys kicked 2 goals and kept Marist at bay to secure a well-fought win.
The final scores were CMC 6-7-43 to Marist 4-6-30. It was a terrific win by all involved.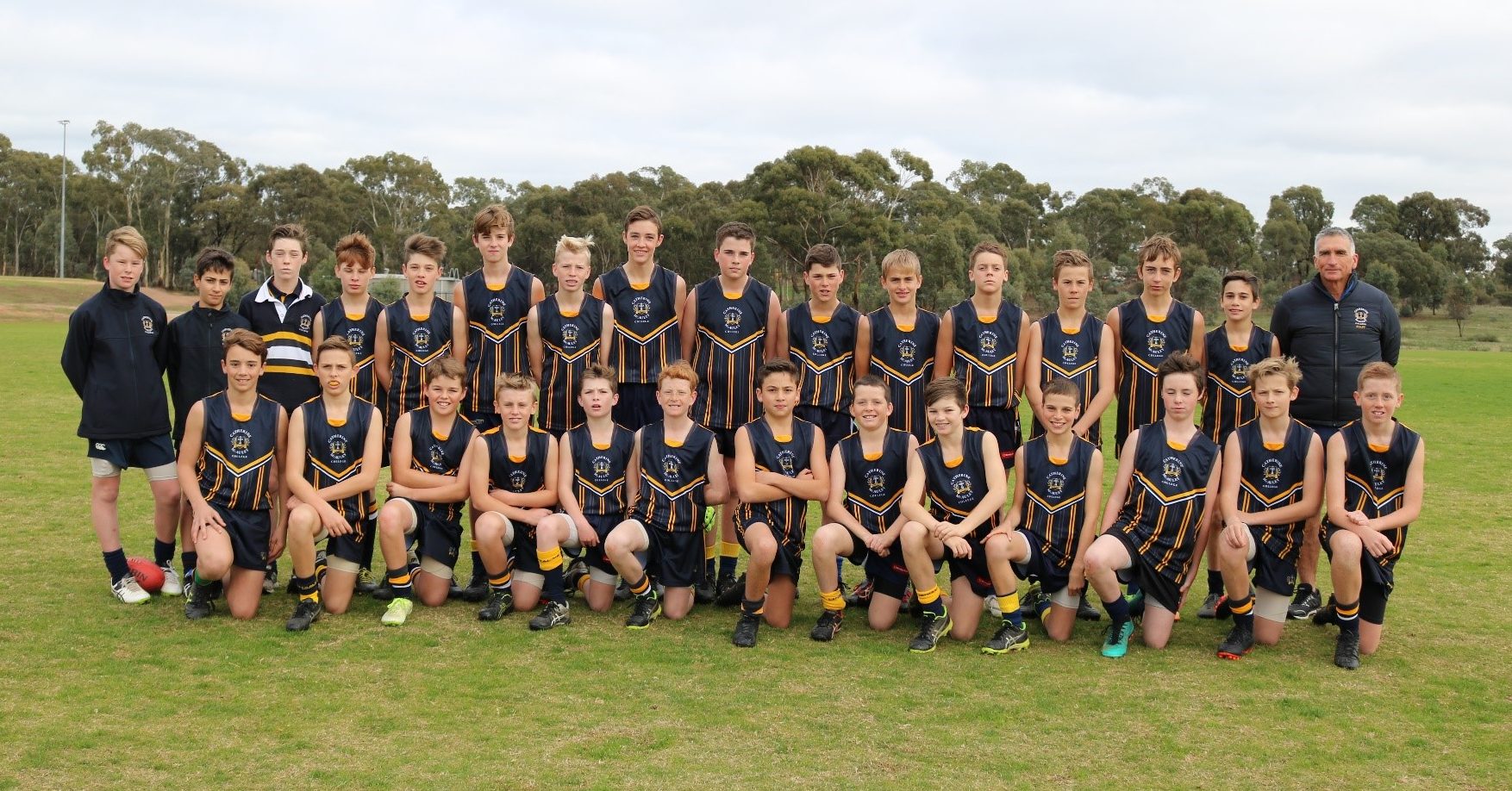 Back Row L-R: Xavier Thomas, Isaac Tzouroutis, Daniel Noden, Ryan King, Declan Stevenson, Kalan Hand, Tobie Travaglia, Wil Pinniger, Jack McMahon, Dusty O'Shannessy, Deakin Andrews, Billy Bassett, Tom Ward, Connor Burkitt, Joseph Artavilla, Len Watson
Front Row L-R: Oliver Hannaford, Kaden Mitchell, Henry Edwards, Ollie Edmiston, Logan Kilcullen, Jake Austin, Kyen Burrill-Grinton, Tait Rojewski, Jackson McRae, Baden France, O'Malley Parker, Drew Costigan, Flynn Saunder
Junior Girls
The Junior Girls hit the ground running and their enthusiasm was electric as they came up against Bendigo South East College (BSE). They bounced out of the blocks kicking with the wind and managed to kick 2 goals 5 in the opening term, and at the same time kept BSE scoreless. The second term was much more even as CMC kicked 1 goal 4 into the breeze, whilst BSE kicked 2 goals 1. By the half-time break, CMC had a 14-point lead.
The third term saw the girls dominate again to kick another 3 goals to BSE's 1, and the lead had now blown out to 28 points. In the last quarter the girls really showed their class dominating play into the wind. The girls added another 2 goals 3 whilst BSE could only manage 1 goal 2. It was an emphatic win by a very talented group of girls. Congratulations to all involved. The final scores were CMC 8-14-62 to BSE 4-3-27.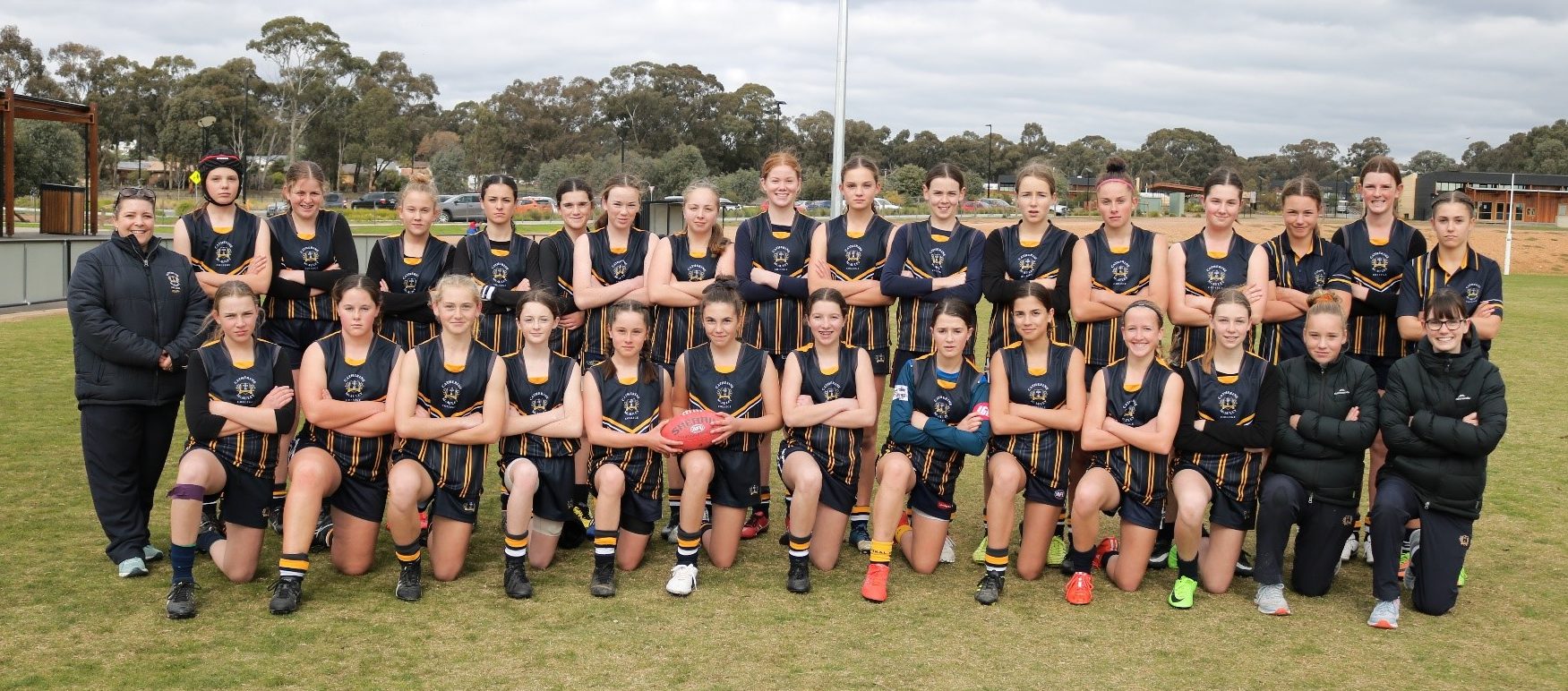 Back Row L-R: Mrs Sharna Frawley (coach), Sascha Pearce, Alex Duke, Taylah Petrusma, Jorja Sargeant, Amy Wrigglesworth, Grace Kealy, Milli Newlan, Maggie Coghlan, Maiya Pearce, Phoebe Maher, Adele Barber, Bryde O'Rourke, Matisse Sheahan, Pearl Sullivan, Layla O'Shea, Ella Raco
Front Row L-R: Laila Day, Madeline Bennett, Jorja Morrison, Ella Wills, Lily Franklin, Emarnee Davies, Mackenzie Allford, Lila Keck, Audrey Gargiulo, Caitlin Evans, Olivia Nihill, Cate O'Bree, Maggie Keating
Both teams now go on the represent the division at the Loddon Mallee Regional day in Swan Hill on Wednesday 7 August. Good luck to all.