Farewells from our 2018 Captains
School Captains – Thalia Thirunavukarasu and Harrison Skinner
Thalia Thirunavukarasu: We can't look back on our time at this College without saying an enormous thank you to everyone along the way who helped get us here.
Behind each of us students there are at least a dozen people providing support in at least a dozen different ways. From experience, I know we've been lucky enough to have the support of the whole college community.
First, a big thank you to our student leadership team, Faith Captains, House Captains, Year 12 SRC members and student leaders from both campuses. The incredible dedication you had all year was inspiring and we could not ask for a better group of people to work with.
To our teachers, thank you for all your support and encouragement through the years – thank you for challenging us even when we didn't want to be challenged, and thank you for marking the many, SACs and practice SACs – we're sure it was just as thrilling for you to mark them as it was for us to do them! You have committed hours of your own time. You have been there during pre-SAC meltdowns and pre-exam breakdowns. So maybe I am biased, but I have never known such an impressive calibre of staff, and it is greatly appreciated.
To our parents, thank you for supporting us in more ways than it's possible to count: dragging us out of bed each morning or simply being there when school gets too much; it can often go unnoticed but never unappreciated.
And finally, the amount of work that goes on within this College is beyond what many people may realise. So, to the many hardworking faces who don't get nearly as much recognition as you deserve, thank you.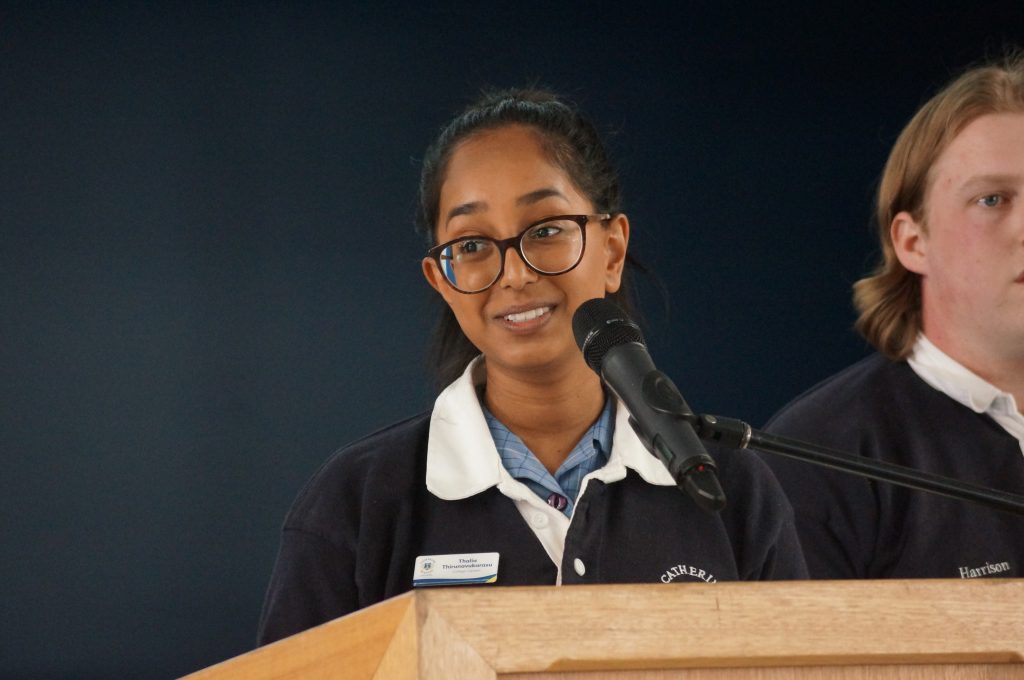 Harrison Skinner: There are a million different things we could say to the incredible population of our school community – a million different messages we could impart to you all.
However, one thing we can't skim over is the importance of education and to never take it for granted. We are so unbelievably lucky to attend this school, surrounded by so much support and care. Too many people across this world just cannot say the same, they just don't have the incredible opportunities we all do.
With that in mind – try everything, don't finish your time here wishing you had tried out for that team, that leadership position, got to know a certain person or gone on that immersion because let me tell you – it won't be long before all that opportunity is gone.
So, take every day in front of you, knowing what an incredible blessing it is to do good in our world. At this time, conventional thinking is ours to change and shape into something new, all through simple decisions and our own ambition to achieve incredible things.
For those starting their journey here at Catherine McAuley College and to those who are almost done – embrace every day and every moment ahead of you, looking for new ways to challenge tradition and forge change in our society.
Don't be afraid to push beyond what is normal, be willing to do what you thought you couldn't do – because you can!
Take this insane opportunity that you've been given and do something amazing.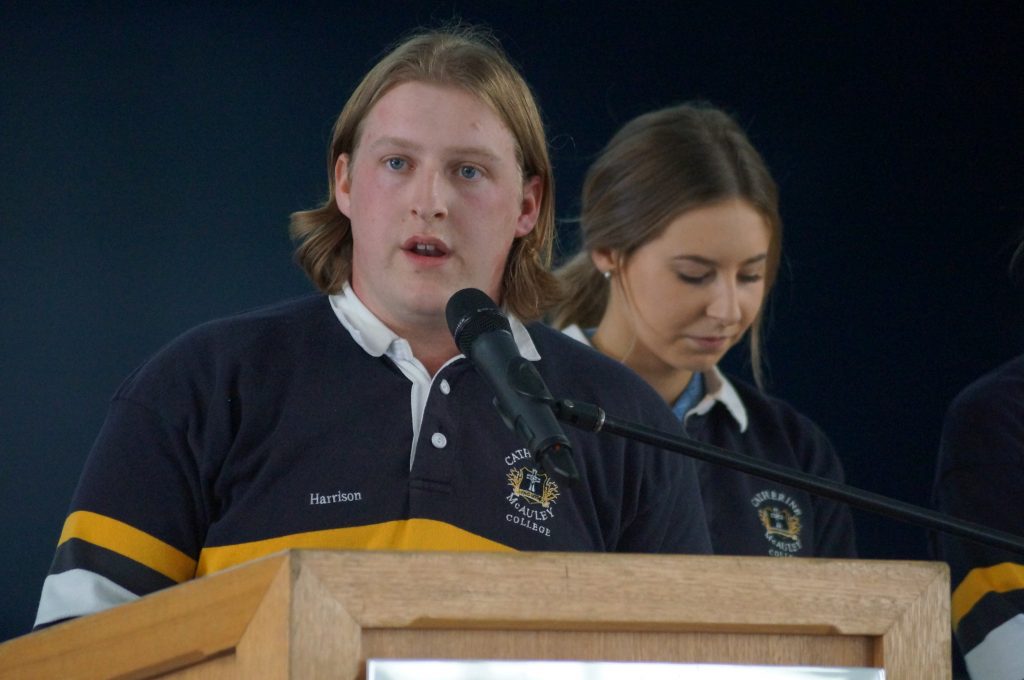 Faith Captains – Abbey Milligan and Olivia Turner
Abbey Milligan: It's been six years, five prime ministers, tonnes of coffee, seven iPhones, hundreds of SACs, thousands of Zooper Doopers, millions of practice exams, a lot of procrastination and 2,093 days. But now, finally, we're finished. Being a part of CMC's graduating class of 2018 has been full of ups and downs, sometimes feeling like more downs than ups. But overall it has been such an honour and there's no one else we would have rather done it with.
It's scary to think that soon we won't be seeing each other every day, actually having to make an effort to catch up with friends. We have grown up together and seen each other in our different phases – some we probably don't want to remember! But we were always there, to celebrate each other's victories and successes, but more importantly, when things were rough and life got hard, to lift each other up. Whether it was being tagged in something funny and always relatable about stress, anxiety or leaving something until the last minute, having someone to complain to about school or having a much-needed shoulder to cry on (which let's be honest there was a lot of this year).
We started this hectic journey as scared and insecure Year 7s watching the graduating class of 2013 strut out and into the world with what seemed like such immense confidence. It's pretty strange to be now rounding up our own time – finally saying those words we never thought we'd say: we're finished.
It has been such a massive lead up to this moment; with, according to our teachers from primary school and La Valla, 'everything preparing you for Year 12'. And now it's over. We're about to leave behind what we have been stressing over for the past thirteen years and go off into what we've always said we couldn't wait for. But looking back at it now, leaving this behind will be really hard because of all of you.
Year 12 is a game, one that we spend so much of our time worrying and obsessing about winning. Well, we played the game and came out alive. This made us stronger, even if it doesn't feel that way right now. But just a little while longer and we're on our own, eager and ready – well maybe not ready – for whatever this bizarre thing we call life might have in store for us.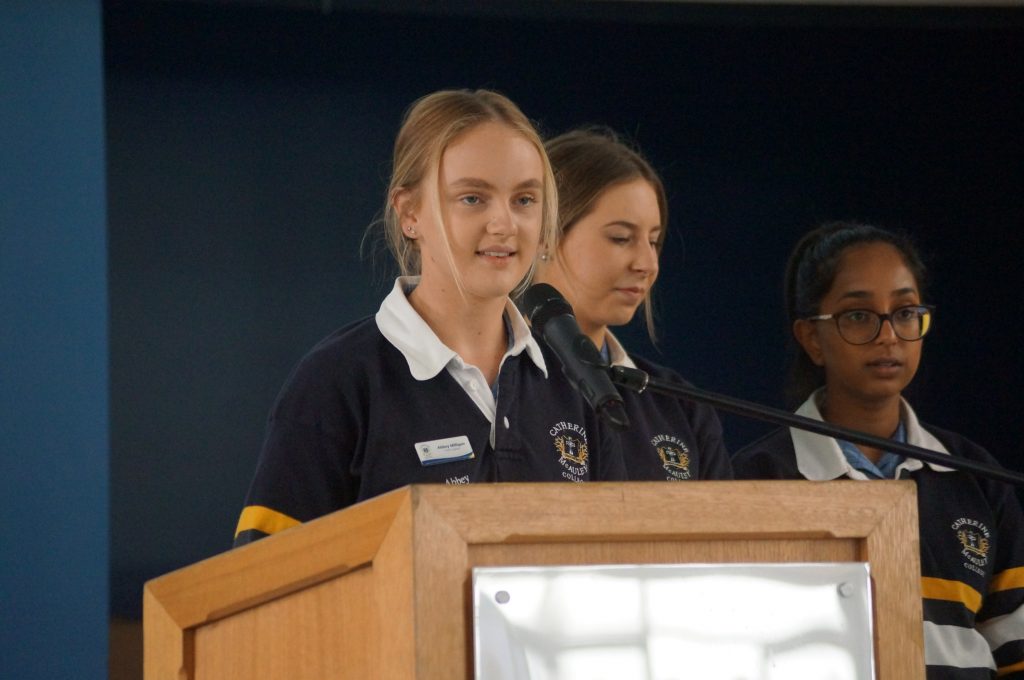 Olivia Turner: Finally, to the graduating class of 2018. Thank you. It has been such a pleasure to grow up alongside you all and I know that I would not be the person I am today without you.
You should be so proud of how you've all changed, and I say this genuinely, it gives me shivers to think what many of you are going to go on to achieve in your lives.
This last day could be viewed as the end of a journey and in many ways it is, but at the same time it is also the very beginning, for the first time in thirteen years many of us are not 100% confident in what we'll be doing next year and while this is confronting, this is where the passions and interests that we developed throughout our time here can be applied
Now we set out to take on the world – for some this may be going straight to uni, TAFE, apprenticeships, work or taking a gap year; it's really up to you, and yes, these next four to five weeks will be challenging. I'm scared, and I know a lot of you are scared as well, but it also should be viewed as an opportunity to grow> This is your moment to take charge of your futures, you decide where you will go, you decide who you will become.
We wish you all the best for your exams and whatever it is you choose to in your life – we have every faith that all your hard work, dedication and persistence will help you to achieve big things and make an incredible mark on this world.