Faith & Mission news and events
AMSSA Student Conference
Our representative to the Australasian Mercy Secondary School Association (AMSSA) Student Conference in Perth during the holidays was year 10 student Charlotte Brook. You can read Charlotte's reflection about the conference in this newsletter: https://www.cmc.vic.edu.au/mercy-student-conference-in-perth/
A Valete Blessing for Graduates
We wish all our Year 12 students well in their preparation for their final exams and their future beyond school:
May the stars always remind you that you have friends, that, however apart, you are together.
May you remember that on the blackest nights the stars are at their brightest.
May you recall always with gratitude that you are blessed with the best of friend – your family
May you treasure always the friends you have made at school
And remember that friendship is a gift to be treasured, not squandered.
May you be good to them and may you be there for them; may they bring you all the blessings, challenges, truth and light that you need for your journey.
May you learn to be a good friend to your self.
May you be able to journey to that place in your soul where there is great love, warmth, feeling and forgiveness.
May this continue to change you.
May you never forget that,
Whenever you journey in life,
Whether you advert to it or not,
You are most richly blessed with the friendship of God.
May the road rise to meet you,
May the wind be always at your back,
May the sun shine warm upon your face,
The rain fall gently in your fields,
And, until we meet again,
May God hold you in the hollow of his hands,
Father, Son, and Holy Spirit.
Amen.
Alternative Schoolies
Three Year 12 students are attending the Alternative Schoolies immersion to Cebu at end of the year, Harrison Jenner, Isaiah Angove and Maddy Hoey. They have been busy raising funds to take with them to support the local community.
Dublin Pilgrimage
Congratulations to Year 10 students Will Edwards (BK10) and Zachary McCarty (BK8) on their selection to represent Catherine McAuley College at the Young Mercy Leaders conference at Mercy International Centre, Baggot Street Dublin in July next year.
They will spend a few days touring Dublin, attend the conference over four days and then visit Northern Ireland.
They will attend with other students from Mercy Schools across Australia.
World Mission Sunday
Sunday 21 October is World Mission Sunday. We are reminded by Pope Francis in his message for this day of our own call, that each one of us 'is a mission; that is the reason for our life on this earth.'
We pray especially for missionaries, particularly our Mercy Sisters and partners-in-Mercy, far from home, working with communities in different parts of the world to bring fullness of life to people through different projects. (https://www.mercyworld.org/newsroom/mia-prayer-intention-missionaries/)
Stronger Rally
The next Stronger Youth Rally will be held on Friday 30 November at Campaspe Downs, Kyneton. For more information visit  Sandhurst Youth Ministry
Term 4 focus
The Term 4 focus is on our local community. Students and staff are working together to support the work of Sister Kathy and local organisations such as Bendigo Foodshare. Activities and special days will occur throughout this term to offer support.
Bendigo Foodshare is a not-for-profit organization that is governed by a local board and staffed by volunteers. They provide meals for thirty-four programs that cook and serve food at no cost. Any contribution we make will greatly support Bendigo Foodshare in support of local families.
$1 = 16 healthy meals
$5 = 80 healthy meals (that's the cost of a coffee)
$25 = food for a family of 4 for a month
$40 = school meals for 30 children for a month
Mrs Trish Schofield, Deputy Principal – Faith and Mission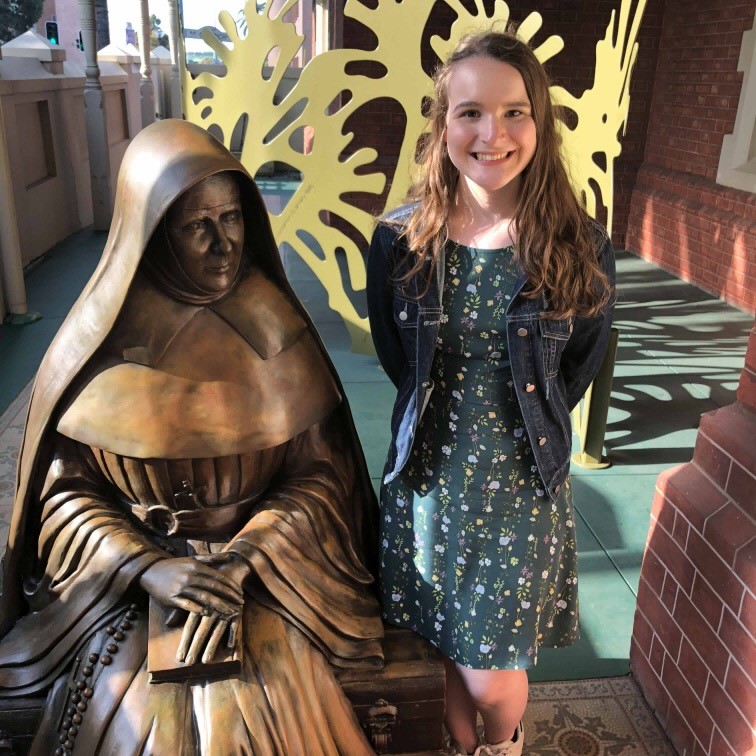 Charlotte Brook at the AMSSA conference at Mercedes College Perth with the Ursual Frayne statue.