Faith and Mission News
13/06/2019
Faith and Mission News from Mrs Trish Schofield
Bendigo FoodShare
The Student Representative Council (SRC) has been hard at work raising awareness for Bendigo FoodShare amongst the student cohort. This has involved speaking at assemblies, putting up posters and creating understanding about the work that FoodShare do and how many people in our community they support.
The SRC has also encouraged members of our community to participate in the 'Million Meals in May' campaign, which aims to provide resources for one million meals during the month of May to those who are struggling in our community. The collection points in the libraries, staff rooms and offices at both campuses overflowed with donations from both students and staff. We would like to thank and congratulate our families for donating and supporting Bendigo FoodShare.
Rug Up Day
On Thursday 6 June, students at Coolock and St Mary's were decked out in their warmest winter clothing in solidarity with those who are supported by the work of St Vincent de Paul. All heaters were turned off at both campuses so that students had the chance to experience a day in the life of a person who does not have access to such resources. The gold coin donations that were collected will be going to Vinnies so that our College community can continue to support the amazing work that our Term 2 fundraising focus do. Thank you to students who participated in the day and 'Rugged Up'!
Sports Colours Day
To continue to raise awareness and support Vinnies, students can wear their favourite footy or sports team colours to school on the last day of term (Friday 28 June) and make a gold coin donation.
Refugee Week
As we lead into Refugee Week, beginning on 16 June, information from the Vinnies website highlights ways in which they offer support:
"The St Vincent de Paul Society has a long history of helping migrants and refugees. We do this both by providing services to asylum seekers and refugees in Australia, and by advocating to government on their behalf. Our services include providing financial and information support to migrants and refugees, for example through home visitation, food and financial help, visits to detention centres, and homework centres. There are also dedicated Vinnies migrant and refugee centres and committees in some states, which coordinate these activities and also offer information services." More information: https://www.vinnies.org.au/page/Our_Impact/Asylum_Seekers_Migrants_Refugees/
Refugee week will be recognised and celebrated in our community from 16 to 23 June. World Refugee Day on 20 June is a time to reflect on the struggles and strength of refugees and an opportunity to focus our support for millions of people who have been displaced by war, disasters, and humanitarian crisis. UNHCR needs our help to provide refugees with protection, shelter, food, and urgently needed assistance.
We look forward to further information from the students about their experience of Refugee Week in the next newsletter.
Almighty and merciful God, whose Son became a refugee and had no place to call his own; look with mercy on those who today are fleeing from danger, homeless and hungry.
Bless those who work to bring them relief; inspire generosity and compassion in all our hearts; and guide the nations of the world towards that day when all will rejoice in your Kingdom of justice and of peace; through Jesus Christ our Lord.
Amen.
Mercy Young Leaders Pilgrimage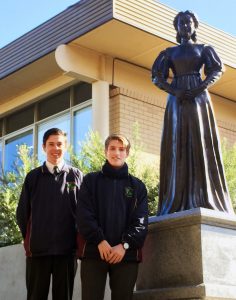 We wish Will Edwards, Zach McCarty and Mr Colin Hogan safe travels as they prepare to travel to the Mercy International Association in Dublin, Ireland as a part of the Mercy Young Leaders Pilgrimage in July. They will join students from other Mercy Schools across the world to undertake their journey in the light of the story of Catherine McAuley. Students who participate in this pilgrimage emerge with a deeper appreciation of our Mercy tradition.
Pilgrims will explore the Mercy International Centre, they will hear the story of Catherine McAuley and the House of Mercy and learn about her spirituality and grow in understanding of the rich heritage of the Sisters of Mercy. They will also have the opportunity to visit significant sites in Dublin and Northern Ireland.
We look forward to reading and hearing about their experience when they return.
Download the Sports Colours Day poster