Faith and Mission News – 21 July 2022
18/07/2022
A warm welcome back to all our students for Term 3. During the term, there are some significant events on the calendar to bring to your attention.
ABLAZE
On Tuesday 2 August, Year 9 students will attend 'ABLAZE' at Ulumbarra Theatre. Catholic Education Sandhurst Ltd, in conjunction with FRG Ministries (Fr Rob Galea), will host this fantastic event. Our students, along with Marist College Bendigo and St Joseph's College Echuca will share faith, worship, enjoy high-energy music and listen to guest speakers. This is the first time in a number of years that we have been able to attend and I'm sure students will be energised by the event.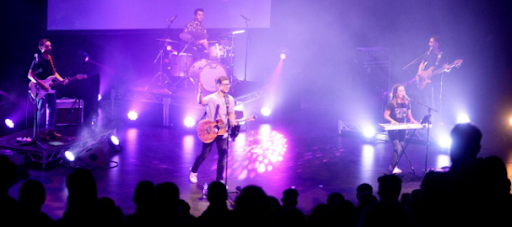 Year 11 Class Masses begin this week
During this term, all Year 11 Big Issues (RE) classes will attend Mass with their Big Issues teacher and either Fr Brian Boyle or Fr DJ in our beautiful chapel at St Mary's. We are very grateful that our two priests are so willing to provide students with the opportunity to celebrate the Eucharist together. Students take a lead role in the celebrations and it will be a positive and reflective experience.
Rug Up Day – Monday 1 August
Due to our early closure at the end of last term, we moved the College Rug Up Day to Monday 1 August. On this day, students are asked to wear warm clothes and donate to our Term 2 fundraising body, Vinnies. The gold coin donation from each student will provide Vinnies with funds to support those people in our local community faced with increasing cost-of-living pressures and homelessness. Catherine McAuley College has a fantastic reputation for its generosity and I'm sure our Rug Up Day will be no exception.
Seeds of Justice Camp – Angelsea Thursday 1 September and Friday 2 September
The theme for this year's camp is 'People of Mercy hear the cry of the poor'. The camp is aimed at students who have a definite interest in social justice issues and who may wish to take on leadership roles in our school community in the future. We have limited spaces available and interested students should contact Mr Michael Goss at the College (mgoss@cmc.vic.edu.au).
Mercy Day – Friday 16 September
Mercy Day is a significant day in the College calendar. It is a day when we celebrate our story as a College, connect with our Mercy community both locally and globally, and raise much-needed funds for Mercy Works. The day has been traditionally a carnival day for the entire College, beginning with Liturgy and then a range of activities focussing on awareness, fundraising and fun. More information will appear in subsequent newsletters.
Mr Michael Goss, Director of Faith and Mission