Faith and Mission News – 15 September 2022
12/09/2022
End of Term Prayer
As the end of another school term draws to a close, let us take a moment to reflect on the gift that it was.
We thank you Lord for the challenges of this term – they have taught me patience, resilience and optimism.
We thank you Lord for the opportunities this term – they have taught me gratitude. 
We thank you Lord for Catherine McAuley College – a place that teaches me the value of education and more about you as I grow in my faith.
We thank you for our family and friends who have been there to support us throughout the term.
We ask you to look after us as we begin our holidays; keep us safe as we spend time with our families and friends and that we return refreshed and energised for the new term. 
Seeds of Justice Camp, 1 – 2 September
The Seeds of Justice camp was run in person for the first time in a few years at Camp Araluen in Anglesea. The purposes of the camp were to connect with students from other Mercy schools, discuss and reflect on social justice issues and create a plan to develop social justice initiatives at school. Well done to Layne, Connor, Jack, Ben, Tom and Audrey for representing CMC so well. Read Thomas Reid's report.
Mercy Works visitor from Sydney
On Monday 12 September, we welcomed Jo Casamento from Mercy Works who presented to students throughout the day and then to a gathering of Staff in the Marian Theatre. Jo, who is based in Sydney, is visiting a number of Mercy schools and we were delighted that she was able to make room in her schedule to meet with us at the beginning of Mercy Week. 
Mercy Works is a not-for-profit organisation supporting long term development projects in Australia and the South-East Asia Pacific region, including Papua New Guinea, the Philippines and Timor Leste. They work with some of the most challenged and vulnerable people and communities to improve self-reliance, health outcomes as well as expanding educational and economic opportunities. Jo shared with us, some of the incredible work being undertaken within five First Nations projects and Mercy Connect which supports refugee and asylum seeker students in schools and adult literacy programs. 
To find out more about Mercy Works, our fundraising organisation for Term 3, visit Mercy Works. 
A Master-class!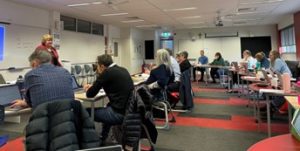 Over the course of the term, more than twenty teachers from across the Diocese have met at Catherine McAuley College to continue their Master of Education and Theology studies. We are indeed fortunate that the College has 10 staff who have embarked on the degree and will no doubt, make a significant contribution to the faith life of the College into the future. 
The current unit has introduced us to what theology is and our recent study days have focussed  on Christology (the study of Jesus) and the human person. The days have been intense, interactive and informative with many opportunities to discuss with colleagues, fundamental faith and life questions. Photo: Dr Frances Baker rsm, facilitating the day on 'human flourishing'
NCEC 2022 Melbourne Convention Centre, 4 – 7 September

The National Catholic Education Conference 2022, was recently held for the first time in six years. Over 1500 delegates from across the country attended the Melbourne event. Myself and Principal Brian Turner were able to participate in a number of plenary and workshop sessions across the three days. There was a real sense of solidarity throughout the conference and it was a good reminder of the enormous contribution that Catholic education has and will continue to make to our society.
The 2022 theme The future is listening focussed on understanding current and emerging challenges faced by Catholic education. Increasing pluralisation and secularisation of our culture and how to address these in our Catholic school context, were the focus of a number of sessions.Workshops were delivered on such broad themes as the environment, Religious Education, evangelisation, governance of schools and many more. Interspersed with the workshops, we were treated to amazing student musical performances. 
The conference drew a number of national and international guest speakers and panels ably facilitated by Geraldine Doogue OA. A highlight of the second day of the conference was Mass at St Patrick's Cathedral. The Principal Celebrant of the Mass was Archbishop of Melbourne, Peter Comensoli, who was joined by several other Bishops from around Australia. Following Mass, delegates walked back to the Convention Centre through Melbourne's CBD. Photo: NCEC Mass at St Patrick's Cathedral, Melbourne.
Mercy Day Fun & Mercy Works Fundraising: Friday 16 September
Anticipation for Mercy Day 2022 is at fever pitch. An outline of the day's program is below. Please support our fundraising through the purchase of wrist bands to pre-pay for food and activities. Students are asked to bring a gold coin donation for Mercy Works.  
Outline of the day: 
All year levels will gather and celebrate at Coolock on the last day of term. (Years 10 – 12 will travel by bus to Coolock.)
WEAR: house-coloured clothes & costumes
BRING: a gold coin donation for Mercy Works
WRISTBANDS: Wristband sales will be available from in front of the Coolock General Office window during the carnival. These can be used to pay for food & activities (cash or eftpos). $5 or $10 bands available (multiple can be purchased). Wristband that have already been bought over the past couple of weeks will be distributed by Student Advocates at the start of the day.
WHAT'S ON?
Whole College Liturgy & Assembly, Spirit of Catherine Awards, fun fundraising activities and yummy food stalls.
Activities
Wheelie bin footy – Coin flip – Lily pad throw – Guess the lollies – Wheel of Fun – Ping Pong comp – Can crush throw – Chariots race – Rock in the Quad – Laser Tag – Meltdown – Bungee Run – The Gauntlet Run – Board games/quiet activities in Library
Food and Drink
Soft drink – Snow cones – Donuts – Subway – Pizza – Hot chips – BBQ (Canteen closed)
Inflatable Fun on Mercy Day includes:
LASER TAG: Inflatable maze with 12 phasors and game stats on scoreboard. Test your laser tag skills in a challenging environment!

MELTDOWN: 8-player action game challenging stamina, agility and reflexes with two spinning boom arms. Will you be the last one standing?

BUNGEE RUN: A foot race like no other! Strap yourself to the cord and race to place the baton as far as you can before the bungee kicks in to pull you back!

THE GAUNTLET RUN: The ultimate dodgeball challenge! Try and run to the end of The Gauntlet and dunk the ball…but don't get hit!

THE BIG BALLER: Accept the challenge? Can you make it from one side to the other, without wiping out?!
Chariots of Junortoun
The traditional Chariots sees students running for the glory of their house! Races run at each year level with two participants from each house. Who will have the honour of winning the 2022 Chariots of Junortoun?
Altar Servers Ministry
Sacred Heart Cathedral, St Monica's Kangaroo Flat, St Joseph's Quarry Hill
Our Cluster Parishes are looking for new altar servers. Recruitment is open for those who have received their Confirmation and First Eucharist and are willing to serve in the Church. Expressions of interest are most welcome. Please contact Fr DJ via email (dj.suguitan@sandhurst.catholic.org.au) or phone the Parish Office at 5443 4400.
Mr Michael Goss, Director of Faith and Mission