Faith and Mission News – 1 September 2022
29/08/2022
Caritas: Make Hunger History campaign
At the end of July, Caritas launched its Make Hunger History campaign in response to the catastrophic food crisis in Africa. Some 18 million people face starvation on the Horn of Africa, exacerbated by the disruption to food distribution chains and extraordinary fuel prices, both of which are due to the pandemic and more recently the war in Ukraine. We are asked to respond to this crisis. One way our response can have real impact is through donating to Caritas. Please consider supporting the campaign to make hunger history. Donations can be made at caritas.org.au/food-crisis/ 
Australian Bishops' Social Justice Statement

This year's Social Justice Statement, Respect: Confronting Violence and Abuse, invites us to engage with a complex and confronting social reality. It explores the roots of violence and abuse, honours the voices of victims, offers a social and theological exploration of the reality of violence, especially against women and children, and invites us to develop relationships in all parts of our lives 'marked by equality and reciprocity rather than domination and violence, respect and freedom rather than coercion and control.' We welcome this urgent call from our Church to deepen our faith through full and frank discussion and dialogue, advocacy and action. 
Access the Statement https://bit.ly/SJS22-23 . More information: www.socialjustice.catholic.org.au  
2022 Season of Creation begins 1 September: Listen to the Voice of the Creation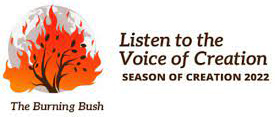 Father, we praise you with all your creatures.

They came forth from your all-powerful hand;

they are yours, filled with your presence and your tender love.

Praise be to you!

Son of God, Jesus,

through you all things were made.

You were formed in the womb of Mary our Mother,

you became part of this earth,

and you gazed upon this world with human eyes.

Today you are alive in every creature

in your risen glory.

Praise be to you!

Holy Spirit, by your light

you guide this world towards the Father's love

and accompany creation as it groans in travail.

You also dwell in our hearts

and you inspire us to do what is good.

Praise be to you!

Triune Lord, wondrous community of infinite love,

teach us to contemplate you

in the beauty of the universe,

for all things speak of you.

Awaken our praise and thankfulness

for every being that you have made.

Give us the grace to feel profoundly joined

to everything that is.

God of love, show us our place in this world

as channels of your love

for all the creatures of this earth,

for not one of them is forgotten in your sight.

Enlighten those who possess power and money

that they may avoid the sin of indifference,

that they may love the common good, advance the weak,

and care for this world in which we live.

The poor and the earth are crying out.

O Lord, seize us with your power and light,

help us to protect all life,

to prepare for a better future,

for the coming of your Kingdom

of justice, peace, love and beauty.

Praise be to you!

Amen.

(Concluding Prayer to Pope Francis' encyclical Laudato Si')
Seeds of Justice Camp Thursday 1 September – Friday 2 September

Today, Thursday 1 September, six Year 11 students have ventured to Anglesea to meet with other students from Mercy schools in the region. The Seeds of Justice camp aims to form students and staff in the Mercy charism; to raise awareness of contemporary issues in social justice and to facilitate new links between students and staff of Mercy schools, both city and regional. This year, students will hear from guest speaker Anthony Leddin who is a plant-food specialist and founder of Plant Breeders Without Borders. While on camp, students will learn about the justice work of other schools and will bring new information and enthusiasm back to Catherine McAuley College. We're very grateful to Ms Mallory Thompson and Mr Xavier Dunham who have accompanied the students. 
Altar Servers Ministry – Sacred Heart Cathedral, St Monica's Kangaroo Flat, St Joseph's Quarry Hill
Our Cluster Parishes are looking for new altar servers. Recruitment is open for those who have received their Confirmation and First Eucharist and are willing to serve in the Church. Expressions of interest are most welcome. Please contact Fr DJ via email (dj.suguitan@sandhurst.catholic.org.au) or phone the Parish Office at 5443 4400.