Exchange to France
05/03/2020
Last last summer holidays, November, December and January, six students went to France for student exchange, with two different programs WEP (World Education Program) and NACEL. Each student partnered with a host family in locations throughout France. They lived as French teenagers, going to high school and participating in family activities.
On Tuesday 18 February, Year 12 French students: Charlotte, Tania, Charley, Lucy, Freya and Josh met with Year 10 and 11 French students to talk about their recent exchanges. The senior students gave accounts of their families, school life and the challenges they were met with while on exchange. The Year 10 and 11s were able to ask questions and get advice about any concerns or queries they had about the exchange experience.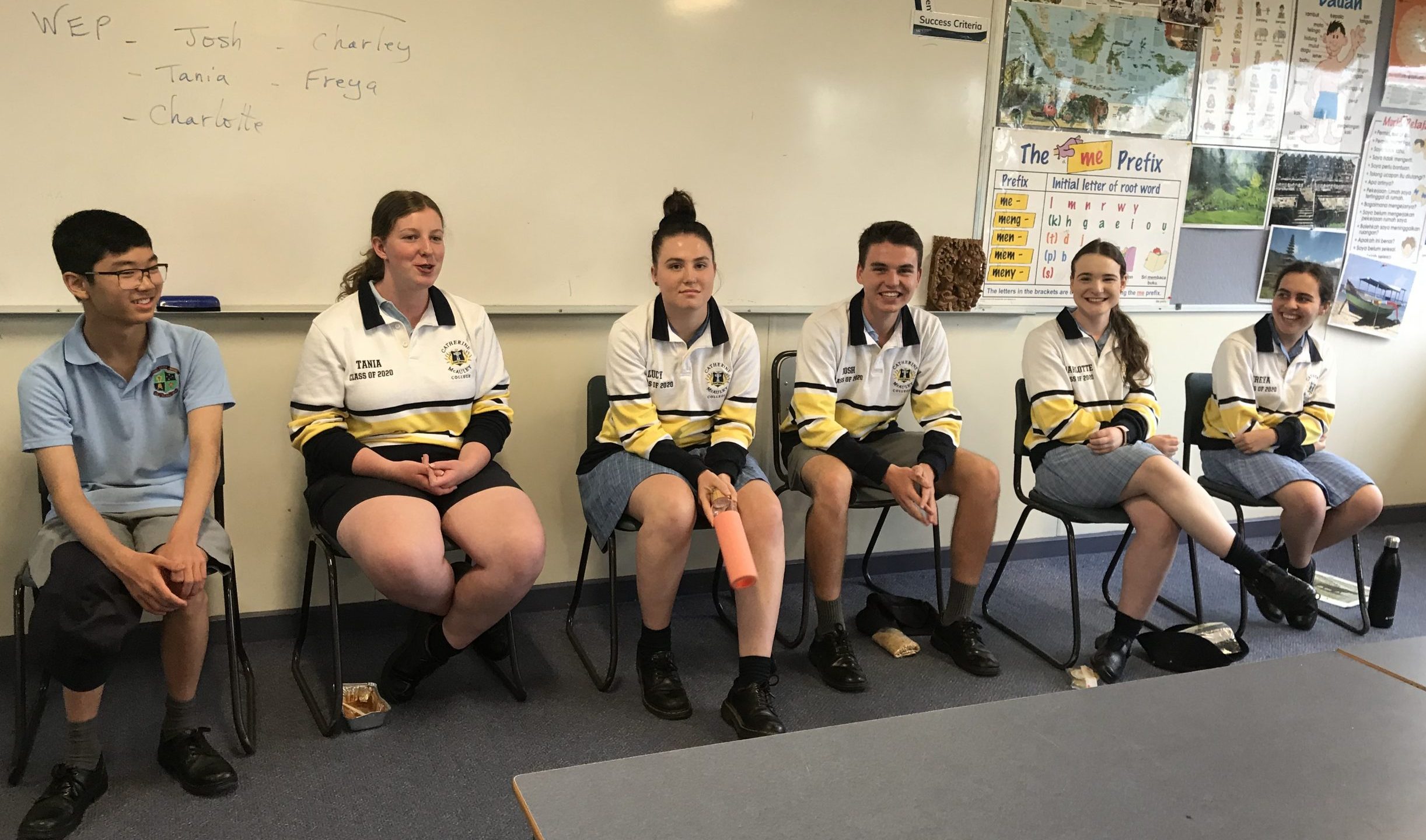 Charlotte Brooke and Tania Hutchinson recall their experiences:
The reason for our exchange was to improve our French language skills, which is beneficial to studying French in Year 12. By immersing ourselves fully in the language, we were able to improve our French language skills in all aspects: speaking, reading, listening and writing. We were also able to experience an entirely different culture. We tried many traditional French dishes including the classics of frog legs and snails, pain au chocolat (chocolate croissant) and lots of cheese. We also experienced traditional festivities including Christmas, New Year and other Catholic celebrations.
Exchange for all of us was a life changing experience, making friendships across the world, stepping outside of comfort zones, eating amazing food and exploring many famous and historic sites. We hope to inspire the younger French students to do their own exchanges.
"Hearing from the Year 12s about their experiences in France on exchange was very beneficial. It was great to get a student's perspective because they shared things that the two organisations – WEP and NACEL might leave out or forget. They told us about school in France, information you can only get from a student.
The Year 12s also talked about how understanding what people were saying around them was a gradual process that took a few weeks. Hearing from them made us feel both excited and very nervous to go to France."
Celeste Van Sister and Mia Cauka, Year 11
"I thoroughly enjoyed the French exchange info session that I went to. I learned a lot of valuable information about what the Year 12s experience in France was like, and how I need to prepare for the trip. It also gave me an opportunity to ask questions about their experience. It was well worth going to, as I now feel that I can confidently go on exchange to France at the end of the year."
Rhiannon Binks, Year 11
"The Year 12s speaking to us about their exchange experiences was a great way to learn about it, because they experienced it firsthand. I would love to go to France on exchange, it would be the best and most rewarding experience. Merci to the Year 12s for speaking to us, it's safe to say we all learnt heaps!"
Jonah Holland – Year 10