Excellent skills and sportsmanship at the Year 8 Cricket day
SCHOOL SPORT VICTORIA: SANDHURST DIVISION
On Wednesday 14 March, the Year 8 Boys headed to Club Court, Strathfieldsaye to compete in the Sandhurst Division Year 8 Boys Cricket day. We had a great day, winning both of our games. There were many displays of sportsmanship and some great batting and fielding.
Our first game of the day was against Eaglehawk Secondary College. Eaglehawk batted first, making 6/38 from their 15 overs. In the field, our wicket takers were Baxter Graham, Caleb Robson, Eli Pearce and Tom Farrelly, and everyone bowled a consistent line and length which made it difficult for the Eaglehawk batsmen. The boys then chased their total down within 9 overs. Sam Lowes top-scored with 34 whilst Rowan Fox made 18.
In the second game, we played Castlemaine Secondary College. Catherine McAuley College elected to bowl and restricted Castlemaine to 4/46 from 15 overs. A strong opening partnership between Rowan Fox (30 n.o) and Hunter Austin (12) as well as a quick knock from Sam Lowes (20) helped guide CMC to 3/87, and victory. The boys played well in both games and we wish them luck in the final to be played later this term against Marist College Bendigo.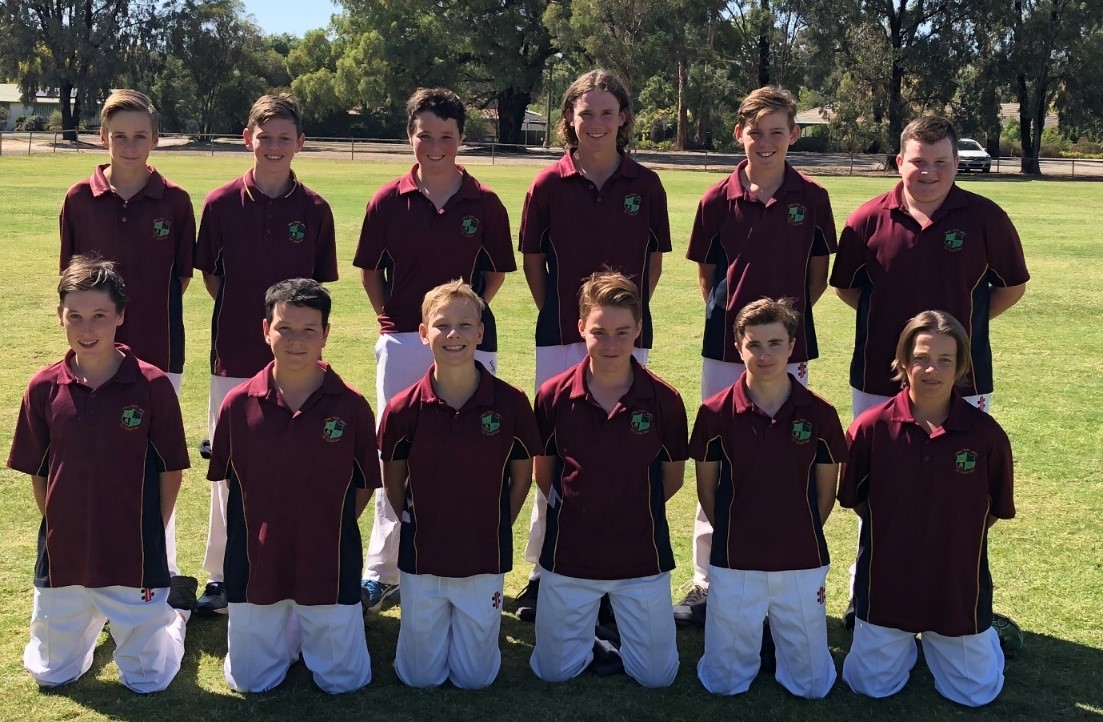 Year 8 Boys Cricket Team (L-R):
Back: Benjamin Wallace MK3, Timothy Long MK3, Rowan Fox MY1, Samuel Lowes BK1, Eli Pearce VT4, Baxter Graham VT1
Front: Wilson Butler MY2, Lachlan Appleby JR1, Matthew Hale VT3, Thomas Farrelly MK1, Caleb Robson VT4, Hunter Austin JR2
Year 8 Boys Cricket Sandhurst Finals Day
The final of the Year 8 Sandhurst Division was held on Friday 23 March, between Catherine McAuley College and Marist College Bendigo. Marist elected to bat first and made a solid start, with an opening partnership of 93. Several more partnerships ensured them a big total as they reached 4/158 off their 20 overs. Caleb Robson continued his good form from the round matches taking 2/21 from four overs, whilst Eli Pearce (1/14) and Baxter Graham (1/31) were also able to take a wicket.
In reply, CMC lost wickets at a steady rate and some tight bowling and fielding from Marist College Bendigo made it difficult for our batsmen to score runs. Rowan Fox top-scored with 47 whilst Sam Lowes made a quick 18, however economical bowling from Marist proved to be the difference as they held us to 6/92, 66 runs short of a victory. The boys played well and we commend them for their fine performance and effort. Congratulations to Marist, who now advance to the Loddon Mallee Region stage.