Cricketers Claim State Title
11/11/2022
SCHOOL SPORT VICTORIA – STATE CRICKET FINALS
Intermediate Boys
On Friday 11 November, the Intermediate Boys cricket team took to the road to compete in the State Semi-Final and Final at Macleay Park, Balwyn. The semi-final was played against Maribyrnong College, who won the toss and elected to bat.
The Maribyrnong openers put Catherine McAuley College under pressure immediately, racing to 42 runs in just 5 overs without losing a wicket. The CMC bowlers fought hard to claim wickets at key intervals to halt Maribyrnong's momentum. Maribyrnong ended the innings 5/130. Tobie Travaglia was the only bowler with multiple wickets, finishing with 2/28 from his 4 overs.
CMC started the innings well, making 17 runs off the first two overs. The boys went on to control the batting innings beautifully and looked set to cruise to victory. A flurry of wickets saw the game even up, with CMC needing 18 runs off the last three overs to win. Kyen Burrill-Grinton took the pressure off in the second last over, hitting the boundary twice in three balls before being run out just one run short of victory. A single from the next ball to Archer Day-Wicks saw CMC confirm a spot in the State Grand Final to be played later in the day. Tobie Travaglia and Hugh Behrens were the best with the bat, scoring 28 runs each. 
State Grand Final
The State Grand Final was played against Catholic College Sale. CMC batted first and openers Henry Edwards and Wil Pinniger set the tone early, producing some fireworks and racing to 0/55 off the first six overs. Wil's departure on 27 slowed the run rate down slightly, but Henry worked well with Tobie Travaglia (15) and Judd Gilchrist (14) to guide CMC to a total of 138. Henry finished best of the batters with an unbeaten 60.
The bowling innings saw Catholic College Sale immediately under pressure with the openers, Tobie Travaglia and Hugh Behrens, taking three wickets between them in the first three overs. The spinners, Henry Edwards and Kyen Burrill-Grinton, kept turning the screws in the middle overs, restricting Sale's scoring opportunities. CMC again looked set to cruise to victory until some late hitting from Sale saw them back in the race, needing 29 runs off three overs for the win.
The game was in the balance until Wil Pinniger produced a direct hit runout at mid-wicket to dismiss their star batter. This proved to be the turning point in the match, with CMC winning by 12 runs and claiming the state title.
Congratulations boys on a fantastic effort. Thank you to Mr Winter-Irving and Mr Dunham for coaching and mentoring the team to victory.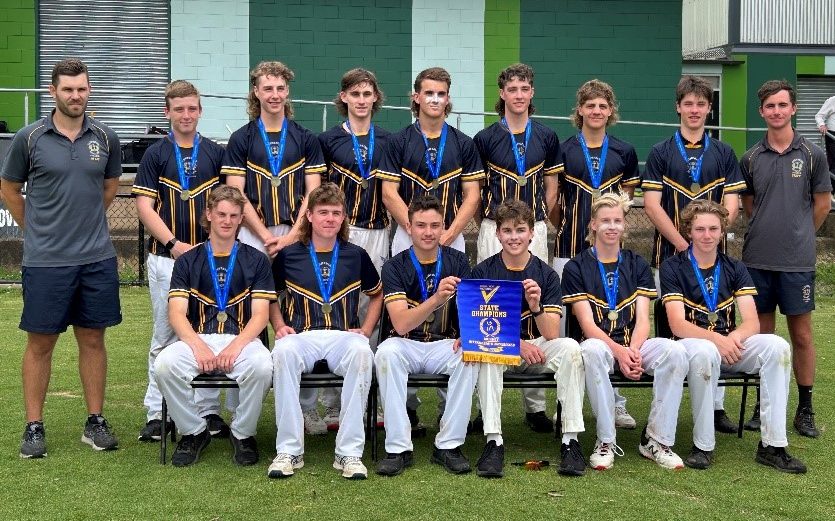 Back L-R: Angus O'Brien, Hamish McNamara, Taj Taylor, Archer Day-Wicks, Wil Pinniger, Hugh Behrens, Declan Stevenson
Front L-R: Judd Gilchrist, Xavier Grant, Kyen Burrill-Grinton, Henry Edwards, Tobie Travaglia, Gus Hay