Coolock Arts
08/05/2018
Coolock Arts Night – A celebration of artistic expression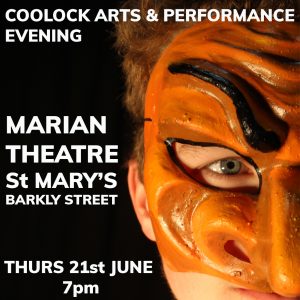 Students in Performing and Visual Arts at Coolock are preparing to present pieces they have been working on over the semester in an amazing showcase of talent – the Coolock Arts Night. These final pieces demonstrate the skills and techniques that they have been developing in their core and chosen electives classes throughout the semester.
Year 8 and 9 elective Drama students have been working on developing a class performance based on a stimulus to demonstrate the skills they have been developing throughout the semester – confidence, speaking in front of a group and showing their creative ideas in a performance.
This year in Year 7 Music, our students have had a semester of instrumental tuition and class band rehearsals, which are linked to their classroom music course. These students will come together to form combined concert bands to perform musical items. Our Year 8 Music students have been learning guitar in their classroom program and the Year 9 Music students have been developing their percussion skills. These class ensembles will also perform; showcasing the range of new skills being explored by our elective music classes.
Displayed in the foyer will be a collection of pieces created by our Year 7, 8 and 9 Arts students. These include two- and three-dimensional works from art, media, ceramics and visual communication classes. Please enjoy viewing these prior to the performance events and at intermission, while enjoying baked goods supplied by the Samoa Immersion fundraising group at a small cost, as well as free tea and coffee.
Come along to the Marian Theatre on Thursday 21 June at 7pm for an evening of great performances and amazing art pieces created by our talented performing and visual arts students.
Coolock Arts Night
Thursday 21 June at 7pm
Marian Theatre, St Mary's Campus
Music
Both Concert Bands are rehearsing each week in preparation for the Winter Concert at the end of Term II and for the Victorian Schools Music Festival on Thursday 30 August. This is a statewide festival of music, which brings together students from metro and regional areas of Victoria to perform in some of the state's best venues. Catherine McAuley College students will be performing on stage at Ulumbarra Theatre and receive feedback from internationally recognised band specialists. This event will be open to families to watch the performances and will also be live-streamed on the day.
Students interested in taking piano lessons at CMC are encouraged to speak to Miss Yeates for enrolment details. We have a few spaces available at both Coolock and St Mary's.
Winter Concert
Thursday 28 June
Marian Theatre, St Mary's Campus
Victorian Schools Music Festival
Thursday 30 August
Ulumbarra Theatre, Gaol Road Bendigo
Seussical – The Musical
Year 9 students are in rehearsal for Seussical. Click here for the details.
Click here for a copy of the Arts Performance and Exhibitions Poster