Congratulations to the Class of 2021 on their outstanding results
16/12/2021
Catherine McAuley College (CMC) celebrates the excellent VCE results of our graduates in 2021. The students have been rewarded for their hard work and persistence during an extraordinary year. There were some outstanding collective and individual performances in both the Victorian Certificate of Education (VCE) and Victorian Certificate of Applied Learning (VCAL) studies.
The Catherine McAuley College Dux for 2021 is Toby Costigan with an ATAR of 98.95. The Dux Proximus is Deanna Duane with an ATAR of 97.70, followed by Maya Flood, with an ATAR of 96.9.
While the three highest achieving students each represented different subject interests and career aspirations, they all have one thing in common, which is the support of and reliance upon their Class of 2021 peers.
College Dux Toby Costigan was both surprised and grateful to have received such a high score. He said that throughout the year he found it useful to learn by helping others and studying together with his friends was good for his motivation.
Toby is planning to study mechanical engineering with the Australian Defence Force which will lead directly to an Officer role in the Australian Navy.
Dux Proximus Deanna Duane intends to study quantum engineering at UNSW after a gap year in 2022. She will spend a year working as a facilitator at disability support service Lifely (formerly known as Interchange).
For Deanna, extra-curricular activities are a big part of enjoying downtime from study, so she really missed some of the events that couldn't take place this year. She was thrilled the annual music camp was able to go ahead at the very end of the school year. Deanna advised other students to find ways to relax and to not underestimate themselves when approaching their final year of school.
Maya Flood was proud to represent the arts as a high achieving student. She plans to head to the University of Melbourne in 2022 to undertake a Bachelor of Music with the intention of eventually gaining a PhD in music. She hopes her study will include time spent travelling and studying overseas, particularly Germany, as she is keen to develop her love of languages.
Maya attributed her success on choosing subjects that she enjoyed and being around supportive friends.
Principal, Mr Brian Turner said, "Congratulations to Toby, Deanna and Maya. They have shown great dedication with their strong work ethic and thoroughness in their approach to all subjects. I thank them for their contributions to College life as student leaders this year and wish them the very best for the future endeavours."
The College is very proud of two students who received perfect study scores of 50 – Amelie Ryan in VCE Food Studies and Kier Feeney in VCE Geography.
Mr Turner said that given the challenges of COVID, these are some of our best results in recent years and demonstrate the dedication and commitment of this cohort throughout the year.
He also congratulated our Year 12 Class of 2021 as they have faced many challenges and great uncertainty in their final two years, including months in remote learning.
"I commend their courage and the perseverance they have shown, supporting one another right through to the end. I am sure their efforts this year and their capacity to thrive in the face of adversity will serve them well. I wish them every success in the future."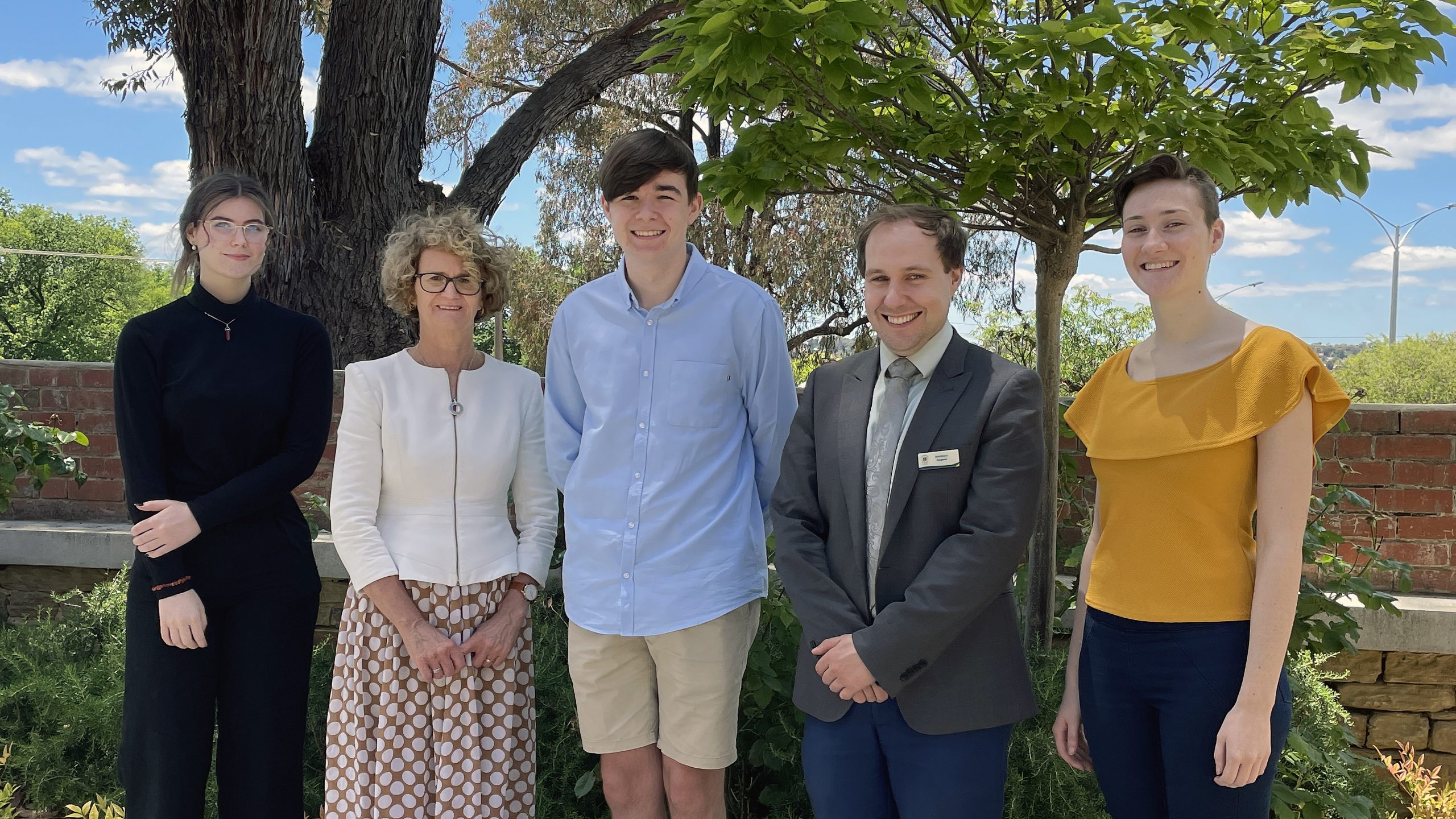 Congratulations to 2021 VCE students Maya Flood (left), Toby Costigan (centre) and Deanna Duane (right), pictured with Mrs Trish Schofield (Deputy Principal) and Mr Matthew Angove (Director of Learning and Teaching).