Competitive junior cricket
28/10/2019
SCHOOL SPORT VICTORIA: SANDHURST DIVISION CRICKET
Junior Girls 
The Sandhurst Junior Girls Cricket Competition was played at Club Court Strathfieldsaye on Tuesday 22 October. First off, we played Marist College Bendigo (Marist). Opening the batting was Phoebe Maher and Lila Keck who scored the most runs to get the game going, Phoebe making 4 and Lila making 32. In the field Caitlin Evans took two wickets and was instrumental in our attack. The end score was CMC 89 runs to Marist 45.
Our second game was against Bendigo South East College (BSE). Everyone gave their all but unfortunately, we lost with BSE passing our score of 72 with three overs to spare.
It was a great day weather-wise for cricket and a good opportunity for those who hadn't experienced much cricket to give it a go.
Thanks to Rowan Fox and Baxter Graham for their scoring and umpiring on the day and to Mrs Kingsley and Mrs Winfield for coaching.
Alice Tobin, Lila Keck & Phoebe Maher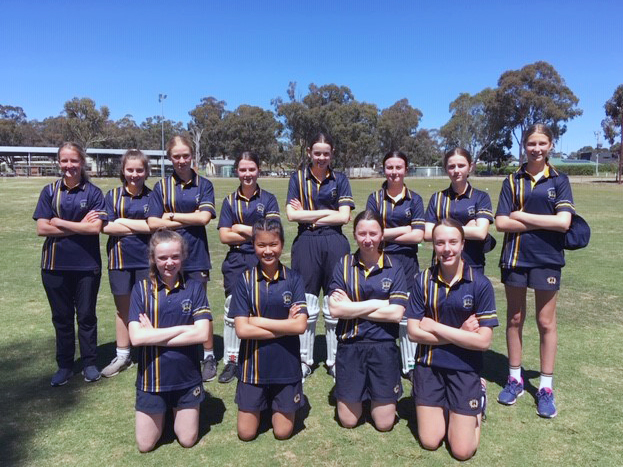 SANDHURST JUNIOR GIRLS CRICKET TEAM
Back L-R: Caitlin Evans, Sophie Allan, Zoe Flynn, Lila Keck, Phoebe Maher, Alice Tobin, Tess Rule, Ava Nihill.
Front L-R: Nicole Foster, Jessica Evangelica, Mackenzie Webster, Ella Balic
Year 7 Boys
On 15 October the Year 7 Boys Cricket Team competed in the Sandhurst Division Cricket Day to play off for a spot in the Loddon Mallee Region (LMR) Final.
The Catherine McAuley College (CMC) boys' first match was a qualifying match against Marist. The boys played exceptionally well with the bat and ball, scoring 150 runs to Marist's 59. High scorers with the bat were Will Pinniger with 51 runs and Henry Edwards with 41 runs.  With the ball, the wicket takers were Logan Van Der Hagen with 1 for 12 and Daniel Noden 1 for 4.
Then CMC boys progressed to the second round, the Sandhurst Final, where they would take on BSE. The winner of this match would progress to the next stage. The CMC boys batted first with Will Pinniger again scoring well with 26 and Toby Travaglia leading all run scorers with 37 not out. Our total score in the end was an excellent 120.
When their opposition stepped to the crease, the CMC bowling was too good and the fielding was first-class, limiting BSE to only 60 runs.
The boys, although progressing to the LMR Final, received automatic qualification for the State Quarter Final to be played on Thursday 21 November. At this stage, to be held at Club Court, Strathfieldsaye (a great "Home Ground" advantage!)
We congratulate the Year 7 Boys on their fantastic wins and wish them all the best in the State Quarter Finals!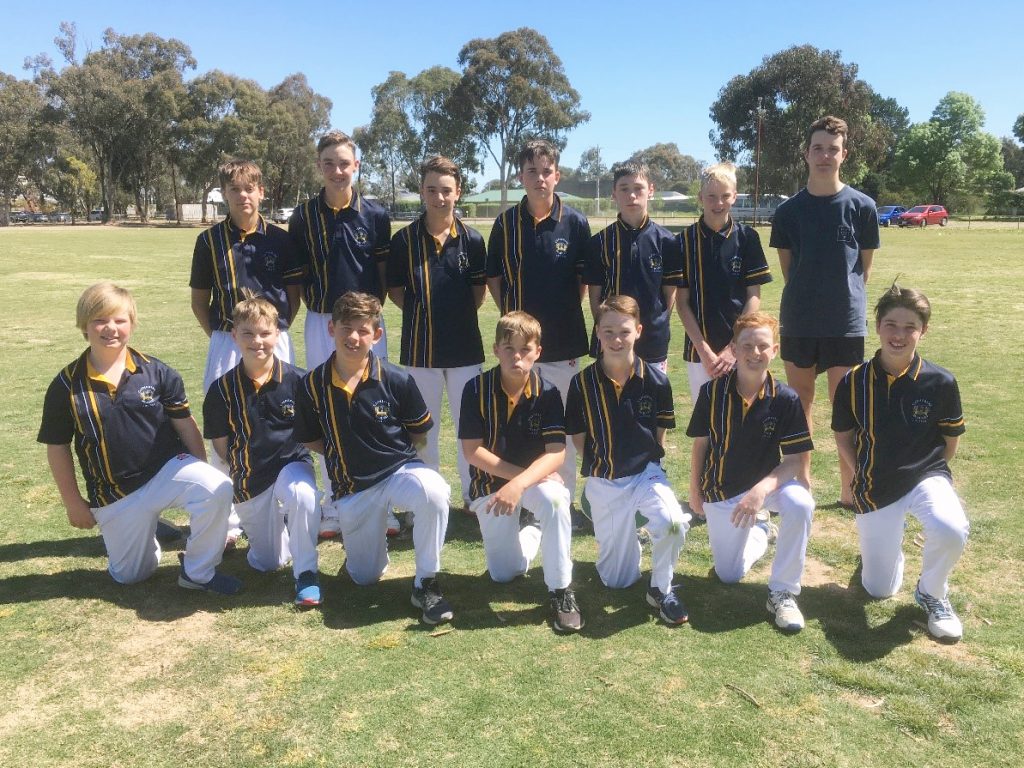 SANDHURST YEAR 7 BOYS CRICKET TEAM
Back L-R:  William Bassett, Wil Pinniger, Oliver Hannaford, Jack McMahon, Daniel Noden, Tobie Travaglia & Jack Byrne.
Front L-R: Logan Van Der Hagen, Jasper Irwin, Ben Sherwood, Henry Edwards, Ethan McMahon, Jake Austin and Declan Stevenson