CMC Athletics Carnival 2022
02/05/2022
Backhaus win caps perfect day
Catherine McAuley College held its annual Athletics Carnival at the Bendigo Athletics track in Spring Gully on Monday 2 May. The conditions were fabulous and the atmosphere was electric as the students in Years 7, 8 and 9 looked forward to some fun competition.
Events were open for all to try and the focus was on participation, to encourage students to have a go at something and enjoy spending time with their friends away from the classroom. This could be a new experience of participating in a jump or throw or simply challenging themselves to do their best in a running race and support their house.
Congratulations to everyone who participated – your attendance and enthusiasm were brilliant.
It was a busy day and a challenge to finish in the limited time in the day. The Year Level Champions were announced at the track, while the overall results were revealed back at school the following Monday at the Year Level Assemblies. All the winners displayed great sportsmanship and were actively involved in most of the events on the day – well done and congratulations everyone.
With students desperate to know the results, it was a thrill to hear that Backhaus had done enough to win its first House Competition in a very long time.
Thank you to all the Staff that ran events on the day and assisted with everything that is required to make a day as big as this happen in such a smooth manner!
Year Level Champions
Year 7 Girls: Shannon Storey – MacKillop
Year 7 Boys: Griffin O'Shea – Backhaus
Year 8 Girls: Charli McInerney – Champagnat
Year 8 Boys: Dash Daniels – MacKillop
Year 9 Girls: Genevieve Nihill – Champagnat
Year 9 Boys: Joey Mizzi – Vincent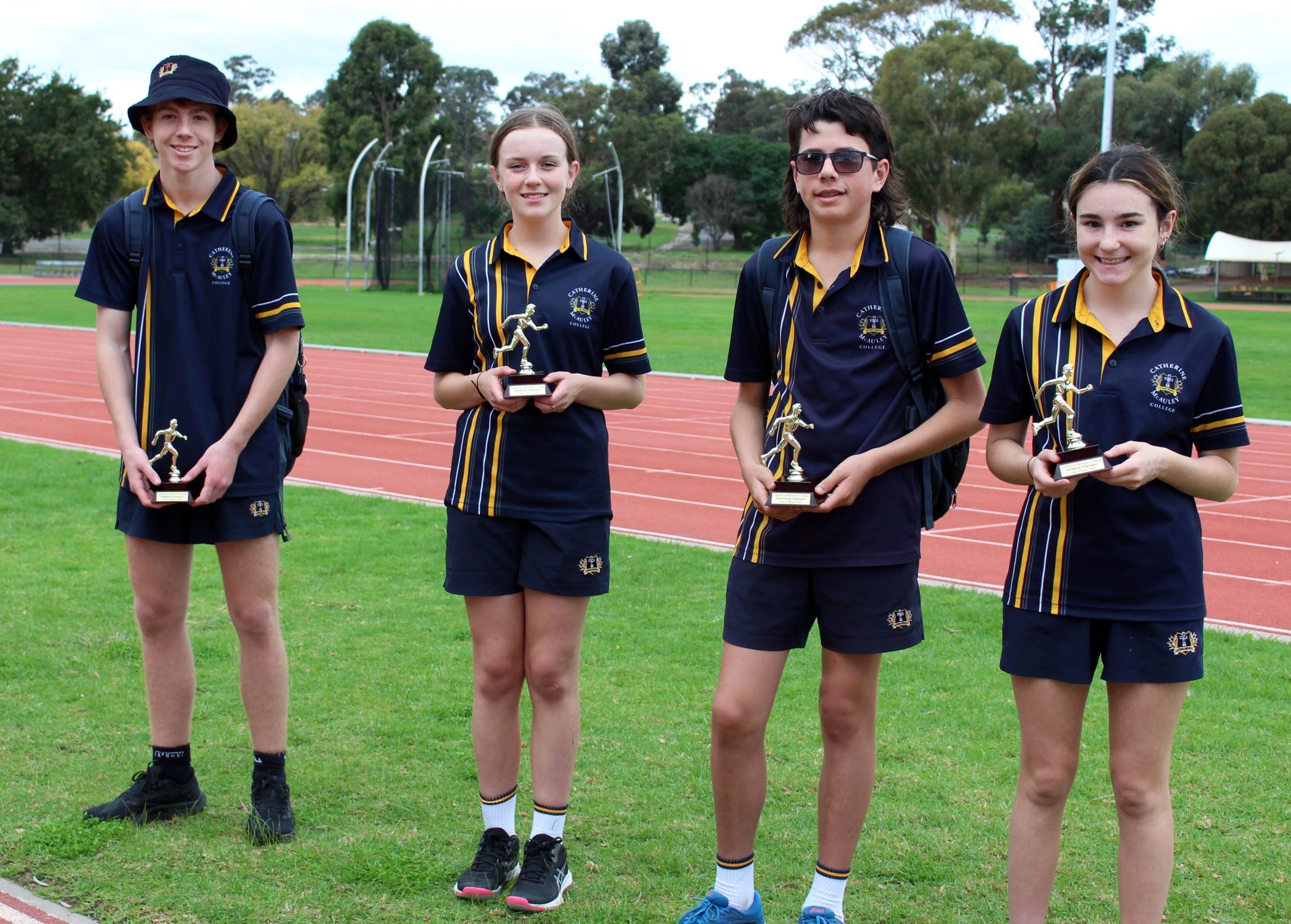 Team Results
| | | |
| --- | --- | --- |
| Year 7 | Year 8 | Year 9 |
| 1. Backhaus | 1. Backhaus | 1. MacKillop |
| 2. Jaara | 2. MacKillop | 2. Backhaus |
| 3. MacKillop | 3. Vincent | 3. Champagnat |
| 4. McAuley | 4. Champagnat | 4. Jaara |
| 5. Vincent | 5. Jaara | 5. Vincent |
| 6. Champagnat | 6. McAuley | 6. McAuley |
OVERALL RESULTS
BACKHAUS
MacKillop
Jaara
Vincent
Champagnat
McAuley