Celebrating Mercy Day a little differently in 2020
24/09/2020
Today, 24 September, is Mercy Day and we remind ourselves that, despite the distancing we have experienced this year, we are very much connected as members of Catherine McAuley College and the global Mercy community.
The end of Term 3 is always a huge day of celebration to recognise Mercy Day. Despite the challenges of 2020, we were determined to celebrate this very significant event, for our College and the wider Mercy world.
Mercy Day Liturgy
Students were encouraged to dress in house colours and costumes and gathered online, in mentor groups, at the beginning of the day to participate in the Mercy Day Liturgy. Student leaders had made the effort to record the entire liturgy so that all our students and staff could take part online.
Highlights of the Mass were student and staff reflections on What does Mercy mean to me? and also Why am I grateful to be part of the CMC community? We also enjoyed a slideshow of CMC community photos from the past year.
What does Mercy mean to me?
Why am I grateful to be part of the CMC community?
CMC Community Photo Reflection
Call to Action
Afterwards, students and staff participated in a Call to Action, to be part of an act of solidarity, community, service or charity in connection with the wider Mercy community.
Mrs Cody's 7C2 group were amazing in their response to the 'Call to Action'. They wrote letters to residents of Mercy Health Bethlehem Home for the Aged. Some residents have been isolated for several weeks and we know the letters and contact will be very welcome.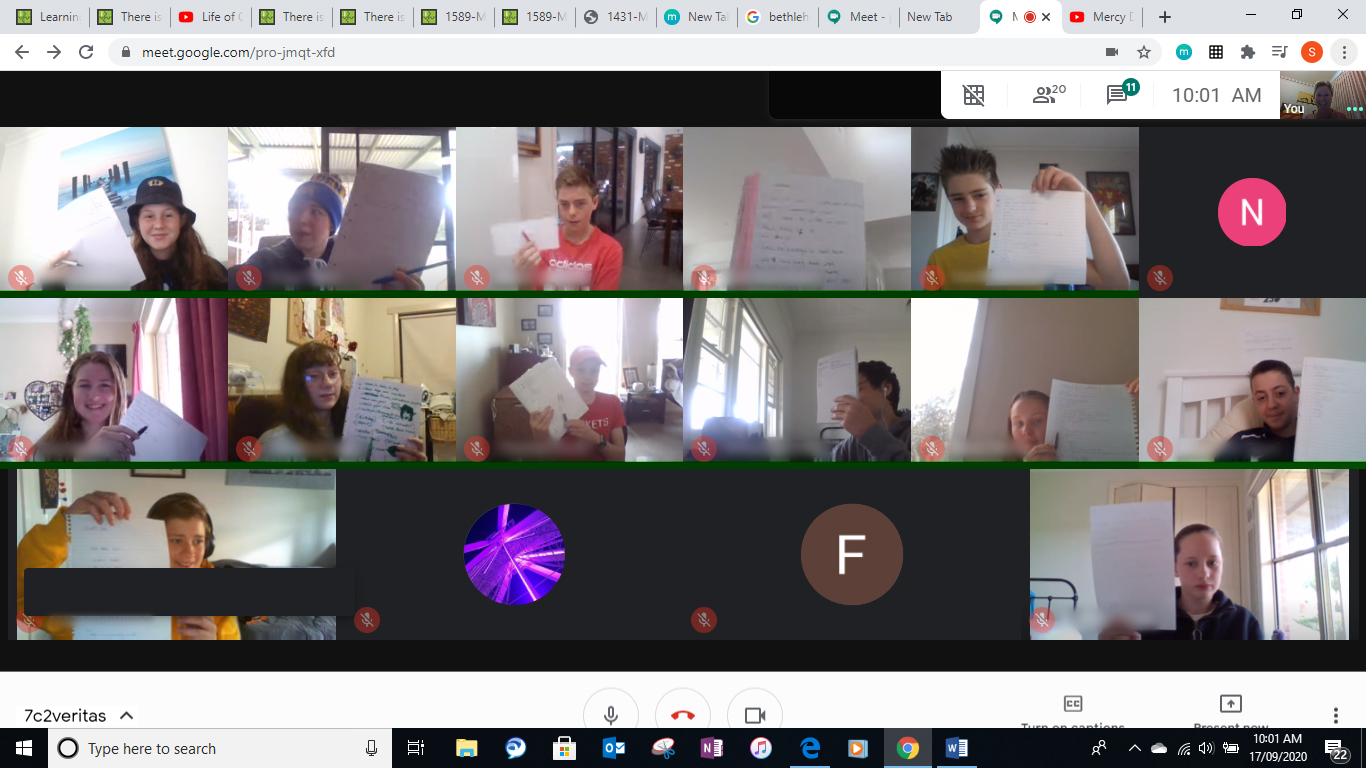 Mrs Giblin's 7B4 legends responded to the call to action by putting together a video to let those in our Mercy community who are isolated know we care about them…
We see you…We feel you…We miss you…
Watch the Mercy Day Liturgy 2020 in full
Find out more about Mercy, Mercy Works and the Call to Action
Many students sent photos of themselves in house colours and these are showcased in the Time to Shine – Colours of Mercy Day video below.
Thank you to all the students and staff who worked to put together a unique Mercy Day so that we could be together in spirit although not in person. Thank you also to all those who participated in the liturgy, call to action and by dressing up to enjoy being together as a community on this special day.