Careers – April 2020
22/04/2020
Welcome back to Term 2.
We hope our families are safe and well and adjusting to the new way of remote learning. If we can continue to be resilient, utilise our strengths and talents, together we can discover inspired ways to connect, communicate and continue to achieve our learning goals.
This is an incredibly stressful and challenging time for our Year 12 students, The following article has some great advice for families supporting their Year 12 students:
https://www.theparentswebsite.com.au/help-year-12-students-get-tough-year/
The careers staff are available to support students and families. If you would like to arrange an appointment email careers@cmc.vic.edu.au.
Make sure you access our new careers google site for the latest updates and information https://sites.google.com/cmc.vic.edu.au/careers-and-pathways-cmc/home
RMIT Flight Training Centre
Our Careers Team, Mrs Sarah Duckett and Mrs Mehgan Dickson, visited the RMIT Flight Training Centre at the Bendigo Airport late in Term 1. This is a specialised unit within RMIT University, dedicated to training pilots through two degree programs.
We currently have CMC graduates studying there. On the day of their visit, our Careers staff were lucky enough to catch up with Sophia Eldridge (2019) while she was doing a pre-flight check of a Cessna Skyhawk.
Riley O'Shea (2014) and Harrison Skinner (2018) are also training there.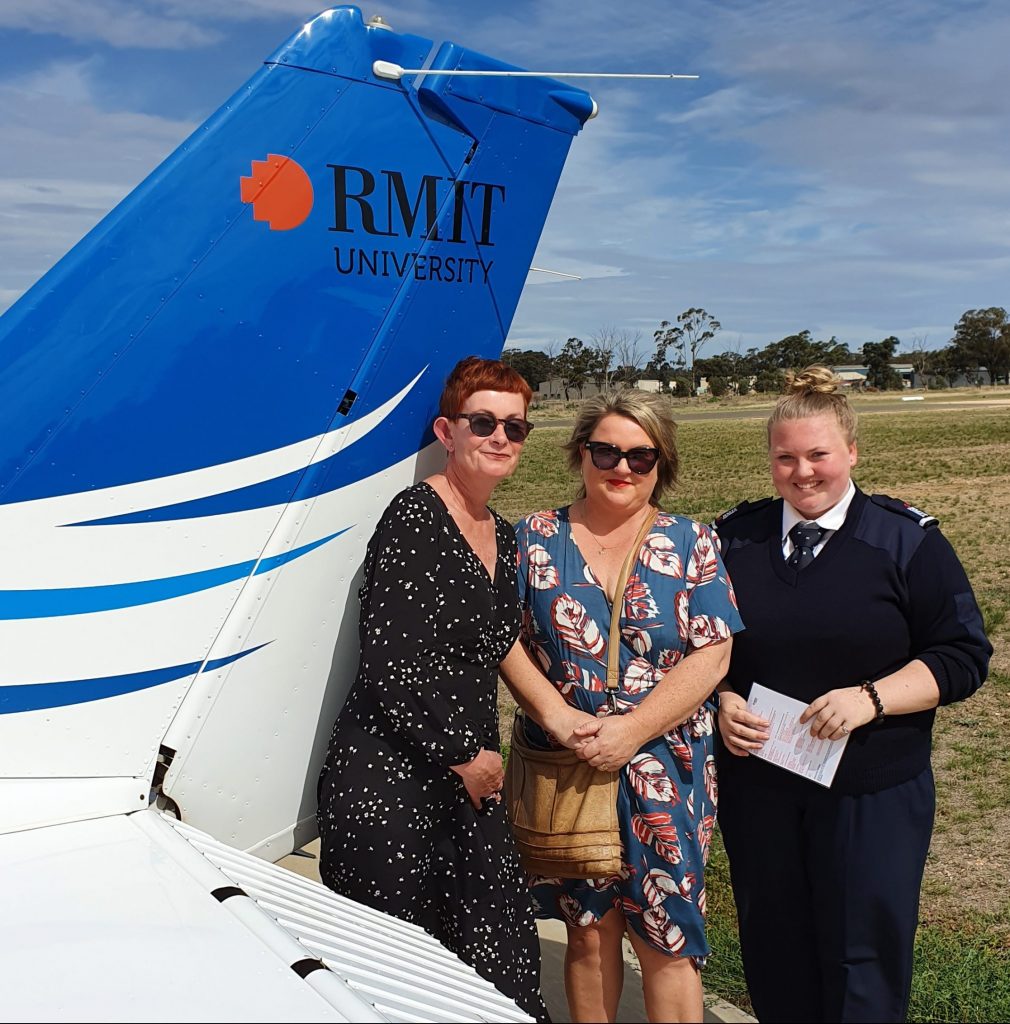 Virtual Careers Expo
This expo is an Australian first!
The Virtual Careers Expo is an innovative and interactive collaboration between Australia's major tertiary education providers, designed to showcase the wide range of options available to students as they prepare for life after school.
You and your family will be able to:
 Explore the Virtual Careers Expo Hall
Visit more than 50 stands hosted by exhibitors from across the country
Talk to staff and student ambassadors through text or video chat
Head to the Webcast Hub for live and on-demand video presentations
Meet other students in the virtual social lounge
Explore the virtual campus
Attend from the comfort of your own home
Learn more about how COVID-19 will affect your school year.
This event is vital for anyone considering studying at university or TAFE in the future.
All face-to-face university experience days and career expos have been cancelled across Australia this year – this event will assist you to research your post school options and prepare for university and TAFE applications.
When: Thursday 7 and Friday 8 May, 2020
Information and RSVP: https://bit.ly/2VE4uzk
Inspiration from Careers With STEM
Cassie Steel looks at the following STEM + health careers dedicated to fighting COVID-19 from the front line:
Vaccine scientist
Epidemiologist
Medial lab technician
Pharmacy technician
Biostatistician
Infectious diseases
Access the article at https://bit.ly/3aIeptV
VCE & Beyond – Virtual Careers Expo
This virtual expo is being coordinated by InspirED and is for students and their families. You will be able to:
Connect with Universities
Visit virtual booths from over 80 University and Higher Education providers!
Access faculty-specific information
Ask live questions or book a video chat with student advisors
Early admission information, scholarship applications and other relevant topics
Connect with VCE Experts
Pick and choose daily webinars delivered by career experts!
Specific career strategies for success
Dealing with stress, maintaining motivation
Parent-specific tips to support your child as they transition from school to their chosen pathway
When: 10 – 14 June, 2020
Information and RSVP: https://bit.ly/2XMrz5r
University offers based on Year 11 results
Through the Schools Recommendation Schemes program, some universities make 'unconditional offers' based on Year 11 results and a school recommendation.
Macquarie University
Macquarie University has just announced that any applicant who meets the criteria for their Early Entry Schemes, which offer students a place based on their Year 11 results, will be made an offer to study in 2021.
NSW students can apply now, and Victorian students can apply in August, https://bit.ly/34OYjwd
University of Canberra
University of Canberra has released the list of courses eligible for the 2021 Schools Recommendation Schemes program. You can access the list at https://bit.ly/34OySLt
NSW students can apply now, and Victorian students can apply in August, https://bit.ly/34XIdkl