Brilliant Intermediate Soccer
24/06/2021
SCHOOL SPORTS VICTORIA –  SANDHURST DIVISION
Our Intermediate Boys Soccer Team had a brilliant day at the Sandhurst Soccer tournament on Friday 23rd April.
After a bye in the first round, the boys played their first match against the traditionally strong team from Bendigo South East College. It was a terrific game, with both teams displaying some amazing skills. At the end of 24 minutes, the teams could not be separated, and a nil-all draw resulted.
Game 2 was against Victory Christian College. This was another tight game; however, it was Hea Ven Poe who managed to find the back of the net in the first half and the boys went into the break-up 1–0. Victory then scored early in the second half to level the scores. With time running out Jacob Floyd showed some great skill to elude a few Victory players and strike the ball perfectly to find the back of the net and secure the 2–0 victory.
Game 3 saw the boys play Weeroona Secondary College. This was another game where the teams were quite even. It was great teamwork that saw Jesse Rye and Jacob Floyd score to deliver another victory 2 goals to nil.
Despite not losing a game, the boys finished 2nd in their pool (on goal difference) and took on Girton Grammar in the Semi-Final in what was a brilliant game. Jacob Floyd was unlucky not to score several times in the first half as the boys created quite a few scoring opportunities, only to be denied by the very skilful Girton goalkeeper. Girton, however, did not waste an opportunity; they managed to score 3 goals for the match. The score did not reflect the true closeness of the game.
This result then saw the boys play for 3rd place in the competition against Castlemaine Secondary College. It was here that the boys showed off their depth of talent. Goals to Min Min Soe, Hea Ven Moo Poe, Eh Ni Thar Taw, Lachlan Osborne and Carter Shevlin was the end to the competition that they deserved – winning 6 nil and placing 3rd for the day.
All the boys were amazing and fantastic ambassadors for the College. Their Sportsmanship was exemplary, and they should be proud of how they all played on the day.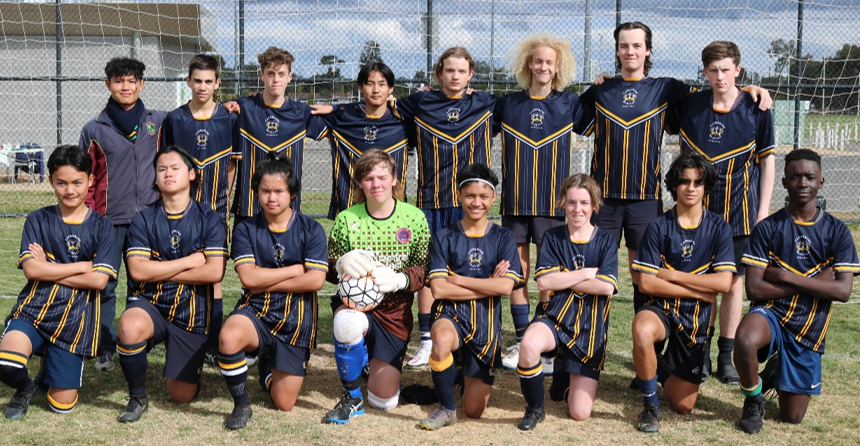 Back Row L-R: Ma Kor Hser Thay (Coach), Joseph Artavilla, Noah Kelly, Lin Win, Jacob Floyd, Benjamin Kirby, Carter Shevlin, Max Schintler
Front Row L-R: Eh Ni Thar Taw, Hea Savior Moo Poe, Hea Ven Moo Poe, Lachlan Osborne, Min Min Soe, Jesse Rye, Joel Feeney, Tamba Basha