Basketball State Finals
27/11/2019
Intermediate Girls
SCHOOL SPORT VICTORIA
On Tuesday 19 November, the Intermediate Girls team travelled to Melbourne Sports and Aquatic Centre (MSAC) to play in the SSV State Basketball Finals.
With injury depleting the team again, it was going to be a very tough day for the girls, however with their depth of talent, they were determined to have a red-hot go.
In Game 1 the girls came up against the very strong unit from Maribyrnong Sports Academy. Maribyrnong got off to a fast start, scoring early, but the leg speed and skill of the CMC crew started to find the net and were making inroads. As the half progressed the girls hit the lead and started to put a gap on their more fancied opponents.
The second half started with a bang as Maribyrnong started with the first 3 baskets. The CMC girls then steadied, but as the half went on our girls tired and Maribyrnong's height advantage in the key was the difference in the end. They took the lead with less than a minute on the clock and were able to hold on despite the desperate efforts of the CMC team in the dying seconds. The final score was Maribyrnong 37 to CMC 34.
Game 2 saw the girls play Melbourne Girls College. This was a more free-flowing game as the girls were able to dominate the tempo of the match and the scoreboard. All players were able to get some valued court time and a lot of fun was had as the team took out a great win 34 to 21.
Game 3 was against the giants from Templestowe College. This was a challenging match as Templestowe were clearly a very talented team. Their start reflected this as they hit the score board with dominance early and our girls did not seem to have any answers. A time out was called, and it was then that the switch flicked, and the CMC team and ball work began to gel, and the speed of our mosquito fleet started to reduce the deficit. It was a terrific display as the lead of 20 points to Templestowe was depleted to 7 early in the second half. The girls were putting in a fantastic effort, but much the same as in Game 1, the girls started to tire late in the match and Templestowe were again able to get the match back on their terms. The end result may have been an 18-point loss, but it was a terrific game. Final score CMC 28 to Templestowe 46.
Congratulations to all the girls on an amazing 2019 journey. To make the State Finals is an incredible achievement, and we are very proud of your efforts. Thanks also to Mr Damian Driscoll for coaching the team.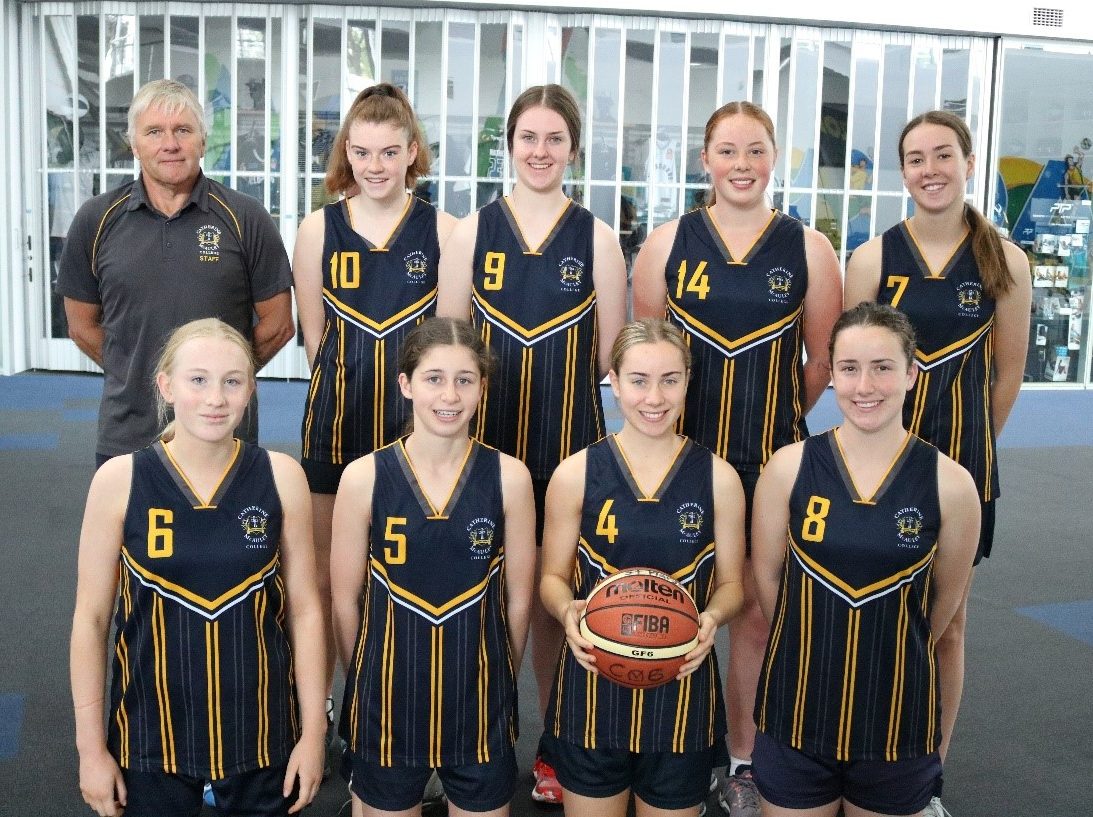 Back Row L-R: Mr Damian Driscoll, Isabella Allan, Jessica Abe, Emily Collins, Ellie Vlaeminck
Front Row L-R: Amaya Schmidt, Sequoia Rodda, Meg McCarthy, Abbey Clohesy