Basketball Intermediate Sandhurst Division
31/08/2022
SCHOOL SPORT VICTORIA – SANDHURST DIVISION
Intermediate Boys
The boys played in Pool A against with East Loddon P-12 College, Victory Christian College, Eaglehawk Secondary College and Castlemaine Secondary College.
The boys played solid basketball in all their games, defeating East Loddon 28 to 12, Eaglehawk 28-4, Victory 30-20 and Castlemaine 34-17. The boys had back-to-back games leading into the Grand Final. They played against a very talented, well-drilled Marist College Bendigo team who were solid rebounders. The boys put up a valiant effort, but the team from Marist was just too strong and really shut CMC out, 15–40.
All boys should be proud of their efforts and their attitudes made for a fantastic day.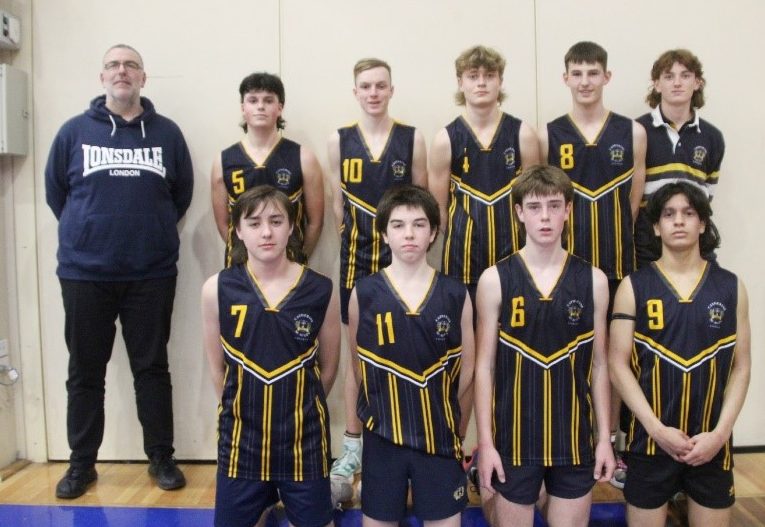 Back L-R: Mr David Mitchell (Coach), Oli McNicol, Thomas Davie, Madden Guthrie, Cooper Cunnington, Archer Billings
Front L-R: Llogan Mayman, Jack Harvey, Rossi Stevens, Joel Feeney
Intermediate Girls
On Thursday 31 August, our Year 9/10 students competed at the Sandhurst Intermediate Basketball competition held at Red Energy Arena in Bendigo. The girls played 3 other schools in their pool and then a final.
With Marist College Bendigo being the first game of the day, the girls knew they were in for a challenge. With no experience playing together, the girls went down 54-11.
The second game against Victory Christian College proved to be another tough game. The girls were now starting to gel together and find their groove. The second half saw them dominate play and finish strongly. They were able to shorten the margin, but sadly still went down 24-16.
The final game was against Crusoe Secondary College. After the previous games, the girls were confident they could win. CMC started with a strong lead, but Crusoe's defensive pressure allowed them to catch up. The girls maintained their efforts and managed to get their first win of the day, 21-18.
To finish the day, the girls played East Loddon P-12 College in a consolation final in which they were able to secure another win, enabling them to finish 5th for the day.
It was a terrific effort from the girls considering that they don't get to train together, they should all be very proud.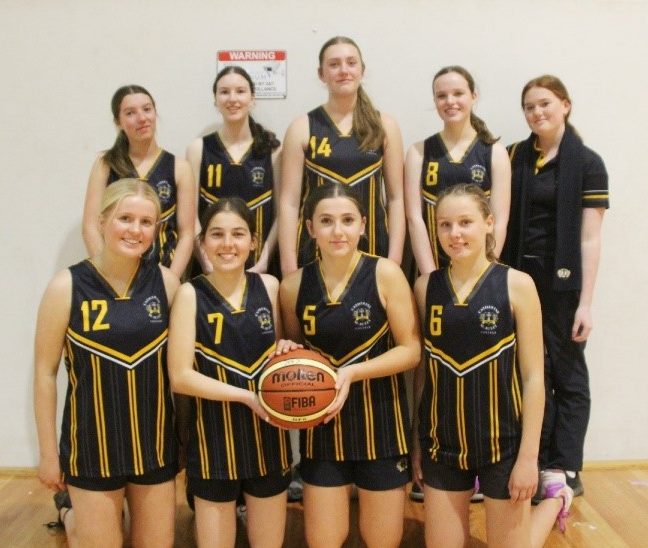 Back L-R: Mackenzie Allford, Madison Vincent, Ciarah McDermott, Zahli Waugh, Ava Perry
Front Row L-R: Ingrid Fisher, Caitlyn Kelly, Jaida Raco, Neve Pinner
Year 8 Girls
The girls played 4 games of two 10min halves and a Grand Final for the day.
The first game was against Weeroona College Bendigo, and the girls had a comfortable win 39-8. The second game was one of their toughest games for the day against Marist College Bendigo. The girls got off to a good start but Marist clawed their way back to be only 1 point behind at halftime. The CMC girls came out initiating a press defence in the second half and worked hard in offence to establish a good lead again, winning 35-14.
The third game was against Castlemaine Secondary College, and they also put up a good fight. The girls were able to come away with another win, 28-15. The last game was against Eaglehawk Secondary College, where a comfortable win was the result, 37-3.
The girls qualified for the Grand Final which was played against Girton Grammar School. The girls played exceptionally well to come away winners 31-12, to secure the title of Sandhurst Champions.
They will now go on to play in the Loddon Mallee Regional Finals on Wednesday 19 October in Bendigo.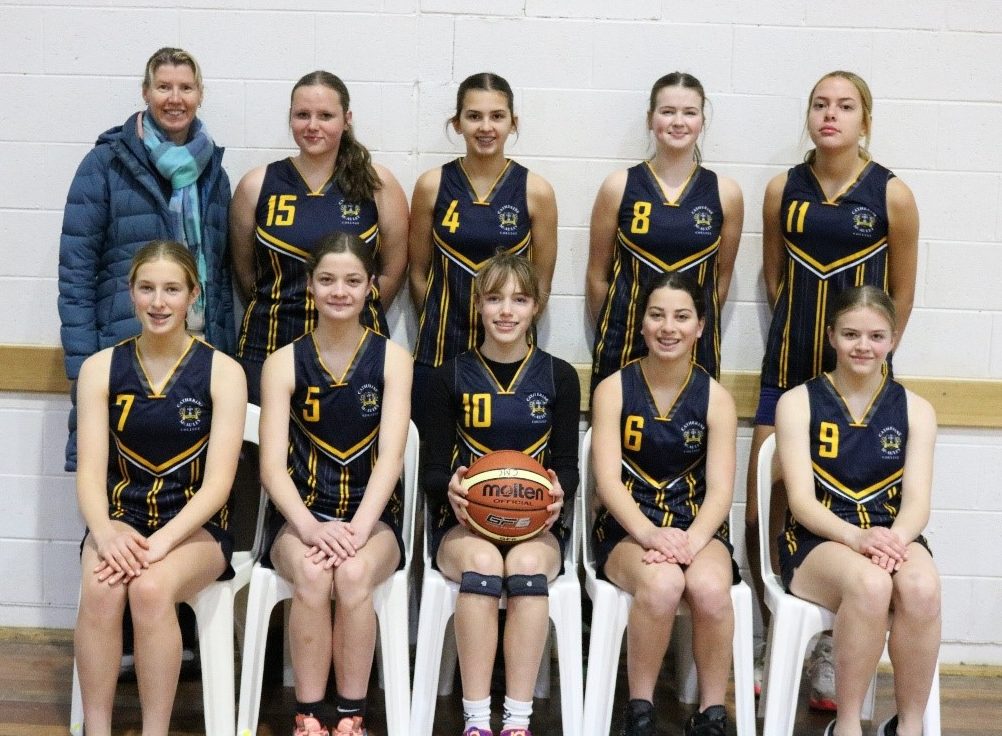 Back L-R: Mrs Julie Fennell, Sophie Tyrrell, Mia Harvey, Mia Morris, Eve Kalms
Front L-R: Abbey Reid, Lacey Nihill, Charlize Pinder, Alysha Boyd, Charli Simmonds-Lucas